'Supernatural' Emoji Spoilers From Castiel Himself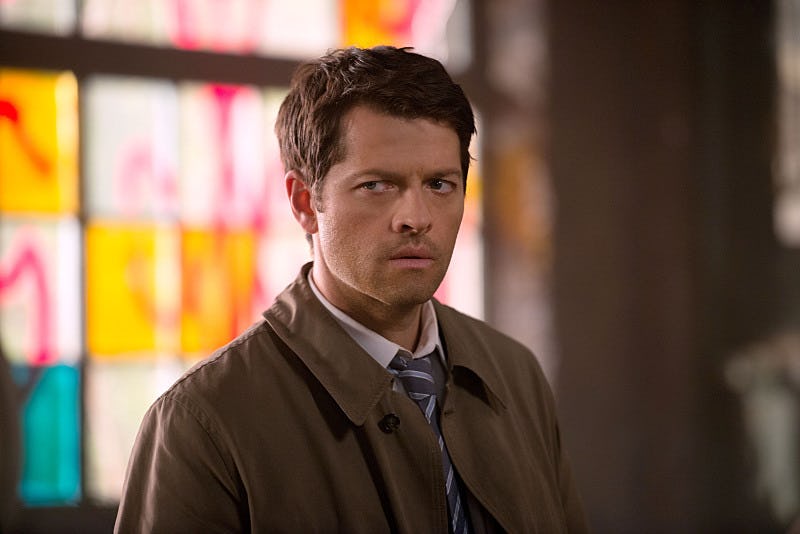 It's already been about two months since the Season 10 finale of Supernatural aired, which means it's time to start thinking about Season 11. Ever since Dean killed Death (does this mean he's the new Death?), the Darkness was unleashed, and Rowena set Castiel onto Crowley, fans have been patiently waiting to learn more about the new season. Of course, even more Supernatural Season 11 spoilers will likely be unveiled at Comic-Con 2015, but until that happens, how about some hints from star Misha Collins, aka angel Castiel?
Collins is nice enough to give away all the spoilers he could — and is allowed to — in emoji form. First and foremost, Collins confirms that he will return as a series regular, like he was throughout Season 10. Talk about great news. Other than that juicy bit of scoop, he isn't allowed to discuss too much about what's to come, but he does offer up some interesting clues using emojis. Hey, I'll take spoilers anyway I can get them, even if they are a little cryptic.
As you can see below, Collins is very detailed and animated with the spoilers. There's a lot to digest here, so let's get to it.
All Those Faces...
One's an angel, which clearly points to Cas, right? Another is the devil, which probably stands for Crowley. Does this mean Cas doesn't kill Crowley? *fingers crossed* According to Supernatural executive producer Jeremy Carver, who spoke with TVInsider, "Based on what happened in that room, both of these guys [Cas and Crowley] have far bigger things to deal with than the boys [Sam and Dean] at the top of the season." Well, that doesn't sound good. As for those other three faces, it seems like a lot of coolness, unhappiness, and flirtation will be happening?
Pizza, Burgers, & Beer
It's official: a lot of pizza, burgers, and beer will be consumed throughout the season. When doesn't that happen?
Money, Money, Money
Collins included a bag of money, an ATM, and a credit card. Hmm... is someone going to be rolling in some major dough? Or does this just suggest that, like always, the Winchester brothers will be using fake identities to sustain their lives as hunters?
The Police & A Knife
I'm going to assume, like throughout every other season, Sam and Dean will continue to impersonate federal agents. Also, I'm going to guess that knife either represents a lot future ganking, the First Blade, or the demon-killing knife. Basically, let's just expect a lot of bloodshed.
A Ghost? Uh Oh
Wait, does that ghost mean someone is going to die and become a ghost? Or, is there a chance an already dead character will return from the grave? Anything can happen on Supernatural, and based on this photo shared Wednesday, July 8, it looks like Samuel (Mitch Pileggi) just might be returning. If you recall, grandpa Samuel Winchester is dead...
Mysterious Black Boxes
What are those mysterious black boxes? Do they represent the looming Darkness promised throughout Season 11? Whatever the case, as Carver also told TVInsider, the Darkness will be a truly dark big bad. "It's safe to say this is the biggest thing to happen to the boys in a long time," he said. "We're starting to explore prebiblical territory, a part of the universe's history that hasn't been written about before. This is what happened before the Bible begins."
America, The Beautiful
Yes, Collins includes an emoji of the American flag, because Supernatural is very patriotic, duh — and probably because the boys travel all over America.
There you have it. Thanks to Collins, I'm now even more confused and excited for Season 11.
Images: Diyah Pera/The CW; Giphy (6)