'The Bachelorette' Needs Nick Viall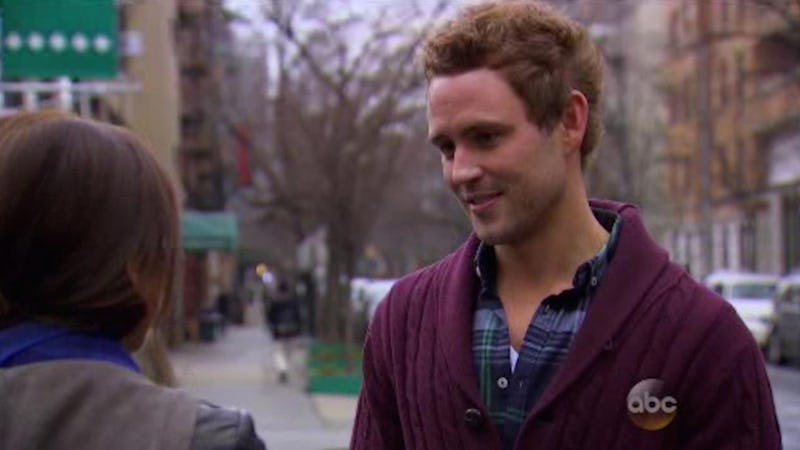 Let's face it, Nick Viall crashing this season of The Bachelorette was probably the most exciting part of the show. One of the things that I love about Kaitlyn Bristowe as the Bachelorette is that she doesn't take crap from anybody and anytime someone was shady or acted out, she dismissed them without even so much as a second thought. It's great, but it also means that more drama needs to be stirred up to keep things interesting. Luckily, that dose of drama was brought to us by none other than Nick Viall, and you have to love him for that.
As this season of The Bachelorette comes to a close, we are patiently awaiting Kaitlyn's big decision between Ben H., Shawn B. and Nick. Next week are hometown dates for the three remaining men and she will eliminate one more guy. My prediction is that Ben H. will be the next to go. She clearly has stronger feelings for both Nick and Shawn, in my opinion. That also means that Nick will be in the exact same place he was last year. I for one am patiently waiting to find out if he's finally the one to win the show, or if he gets the boot at the last moment… again. This is why we need Nick though, he brings the excitement to the show that we need. Don't worry Nick, I've got your back.
1. Everyone Wants A Villain
Correction, everyone needs a villain, which is exactly what Nick is this season. He is the guy everyone could point a finger at and call "the bad guy." Do you guys remember Kelsey from Chris' season? How about Courtney Robertson from Ben's season? We always need a villain. It's a fact.
2. There Would Be No Sex
Even though people shouldn't care that Kaitlyn hooked up with Nick, it was probably the most talked about moment of the season. Without Nick, the topic of sex on the show wouldn't have been addressed as openly, or talked about as frequently as it was this year. And sex is an important and necessary thing to talk about.
3. There Would Be Less Conflict
In pretty much every episode since Nick joined the guys, the cameras have focused on him. It's the only thing all the other guys talk about together. I am fully convinced if Nick wasn't there the other guys would have been twiddling their thumbs with nothing to say.
4. They Actually Have A Real Connection
Honestly, you can see that there is something between them. In fact, in comparison to other seasons, Nick and Kaitlyn seem to genuinely like each other, even if it's lust — at least it's real.
5. The Other Men Are Really Boring
Sorry, but no one this season really made their mark as someone we want to see around again. I do like some of the guys, but I feel like I really didn't get to know them.
6. He Takes Risks…
He brought her up to the roof and sang horrible mariachi to her and made a fool out of himself. Whether it's because he's done it before or not, he takes risks, which means he stands out above everyone else.
7. ...And Doesn't Care What People Think
Nick actually said he didn't care what people thought. He's going to do his thing and have a good time doing it. I respect that he was able to be cool about all the negative comments toward him.
8. He's Kind Of Hot
Have you guys seen this? Come on, even if you don't like his personality, you can't deny that this isn't extremely hot.
9. Nick Is The Only Reason This Season Was Exciting
He brings drama, drama, and more drama with every date.
10. His Moves Are Flawless
I dunno what he says to women, but Kaitlyn and Andi are both extremely attractive women and both of them were/are super him. The man's got moves, and we can't fault him for his charm.
11. His Beard Is On Fleek
I really don't know what that has to do with the show not being boring, but I had to mention it because I have a crush on his beard.
Images: ABC/Screenshot; ABC/Felicia Graham; WiffleGif (4); RealityTvgifs/Tumblr; GifReactions/Tumblr