9 Books to Read When You Just Miss 'Sherlock'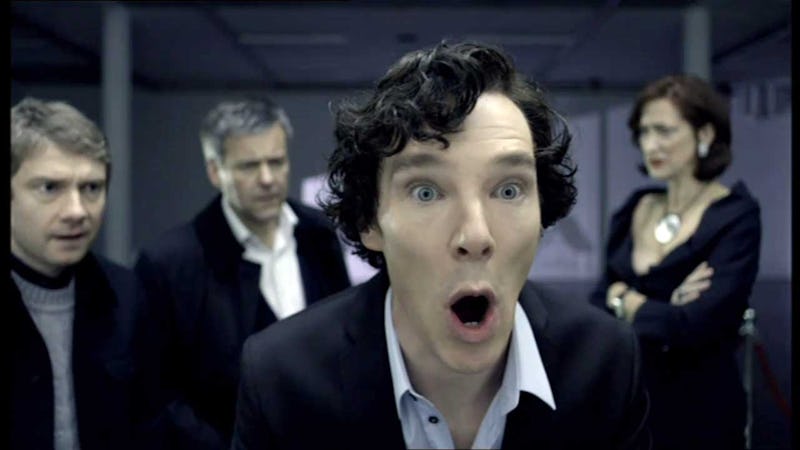 Anyone who loves the show knows that to be a Sherlock fan means to spend a lot of time waiting. Actually, you probably spend more time waiting for new episodes than you do watching them. But, hey, those three episodes every few years are well worth the wait.
Sure, you kind of forget what happened last season, and need to refresh your memory with a full-on Netflix binge before every new season, but you're more than willing to make the commitment. Plus, it's a good thing that everyone now loves Benedict Cumberbatch as much as Sherlock die-hards. Even if it means you have to wait a little bit longer.
Since BBC released the first glimpses of the Sherlock Christmas special this week, we're all counting down the days until we can see John and Sherlock in all their Victorian Era glory. And, well, we've all read the Sir Arthur Conan Doyle classics already, and there are only so many times you can revisit those. In the mean time, here are nine books to read to get you through the five-month waiting period before the Christmas special, and the zillion-year purgatory until Season 4.
Sir Arthur Conan Doyle is long dead, and one of his notebook was never found. A band of unlikely sleuths, known as The Baker Street Irregulars, will stop at nothing to recover the lost notebook, and unlock the secrets their beloved author never answered about Sherlock Holmes. When the lead scholar on the case is found murdered, the mystery takes an all too personal turn. Since it's 2015 and people are still obsessing over Sherlock Holmes and Sir Arthur Conan Doyle, Sherlock fans will feel nothing if not understood when reading this one!
Moriarty by Anthony Horowitz
The most iconic scene in Sherlock Holmes history is, without a doubt, the Reichenbach Fall. Sherlock's gruesome plunge off the top of a building left every fan in tears, and left us agonizing for years before revealing what happened. Anthony Horowitz, luckily, wrote a book that takes place directly after the classic fall. Full of criminal masterminds eager to take the place of Professor James Moriarty, Horowitz creates a world as exciting as Doyle himself!
It's 1914, and Sherlock Holmes is retired, living a quiet life, and keeping bees. When he meets Mary Russell, a smart as a whip 15-year-old, she quickly becomes his apprentice, solving small crimes together. As mentorship gives way to friendship, Mary and Sherlock are drawn into a murderous plot that just might ruin everything. If you love the friendship of Molly and Sherlock on screen, this is definitely the book to tide you over during the latest hiatus!
Another post-Reichenbach novel, The Fifth Heart gives readers the pairing of Sherlock Holmes and Henry James in 1893. An unlikely but amazing combo, James and Holmes are working together to solve the mystery of the death of Clover Adams, wife of an esteemed historian. This one is full of the suspense that fans of Sherlockhave come to know and love, and of course, would not be complete without the puppeteering of who else? Moriarty.
Deborah Halber proves that fandom can have some serious upsides in this nonfiction collection of fans turned heroes. Real, average people are solving some of the world's most difficult crimes, and they're doing it using the Sherlock Holmes method of observation and deduction. There are more than 40,000 unsolved murders, and The Skeleton Crew, as they've become known, are cracking them.
If Sherlock Holmes knows one thing, it's that death is nothing if not interesting. Caitlin Doughty had the same morbid curiosity that propelled her into a job at a creamatory. What she learns there is definitely not for the faint of heart, but does make for some excellent reading material. If you recall the "riding crop" scene from the very first Sherlock episode, you'll know that this is a book would be up Sherlock's own alley.
Andy Weir's Mars bound astronaut Mark Watney ahs no idea what he's in for when he takes on the mission. Sure, he's genius-level smart and can make the best of any situation, but still — he's trapped on Mars. If you love Sherlock's ability to assess and remedy any situation that comes his way, The Martian will be right up your alley.
The genius of Sherlock Holmes in the brain and body of a precocious 11-year-old. It's 1950 and Flavia de Luce wants nothing more than to be a chemist. She puts her chemistry and deduction skills together to solve the mystery of a dead bird found on her doorstep with a postage stamp pinned to its beak. "I wish I could say I was afraid, but I wasn't. Quite the contrary." Now, does that sound like Sherlock, or what?
Agatha Christie is a must-read for any fan of mysteries, but especially fans of Sherlock Holmes. Christie creates a less smug, less in-your-face detective in Hercule Poirot, the hero at the heart of the classic, Murder on the Orient Express. Fans of season one Sherlock and "locked room" mysteries will definitely find Christie's original more than satisfying.
Image: BBC