Natalie Pack's Swimsuit Wardrobe Is On Point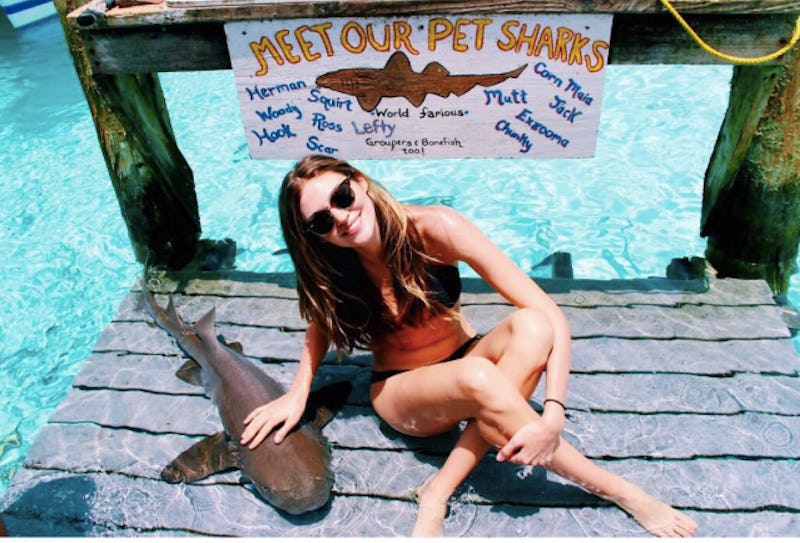 When models go on vacation, social media takes notice. It's the perfect time for them to show off their off-duty model style and give fashionistas everywhere some expert outfit inspiration. Natalie Pack's stylish swimsuits were at the center of her recent vacation to the Bahamas, proving that sticking to one sandy style is a thing of the past. She proves that versatility is key and that no style should go unnoticed. The former America's Next Top Model contestant wore just about every style of swimsuit under the sun on her most recent vacation. There was no bias here! She swam with sharks and soaked up the rays in everything from sporty one pieces to skin-bearing bikinis. Although she avoided the prints on her fashion forward vaca, she showed that there's no reason to discriminate when it comes to personal style.
And the rest of her social media posts shows no different. Pack isn't afraid to step out of the box with swim styles even when she's at home. Whether it's adding on the accessories for a shoot or keeping it simple and sweet, this girl knows no boundaries. The model shows that the right confidence can bring any fit to life and gives fashionistas everywhere a reason to follow suit.
1. Brightly Colored
The front-tied bathing suit give just enough personality to the classic trend, but the color gives it a leg up on the traditional.
2. Plain And Simple
Because when you're swimming with sharks, you don't really want to be the one that stands out.
3. All Wrapped Up
A good beach cover-up is a must-have for summer vacations, and Pack isn't afraid to show off her style.
4. One-Piece Wonder
She continued the classic trend with a simple one-piece that showed off her beach bod.
5. Accessorized
The embellishment on the front of her nude two-piece was just the right touch to make this look stand out.
6. Sporty Chic
Pack tried out the sporty look while still showing off some personality with the bright blue, front-zip one-piece.
7. Breezy Cutouts
Rounding out the trends was this fabulous white cutout, proving that no style is off limits.
Images: nataliepack/Instagram (7)