'BB17' Becky Is Totally Just As Awkward As You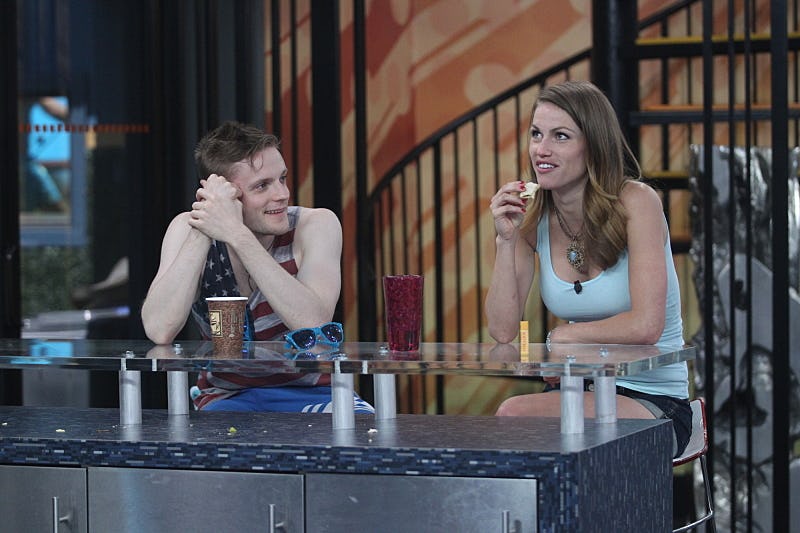 There is so much to love about Becky Burgess on Season 17 of Big Brother . But the thing I love the most? How adorably awkward she is. It's like we have a kinship, she and I. Like, I just know that if she lived nearby and we ran into each other at a coffee shop—probably after spilling cream all over the counter or something—that we would be fast friends. And there are so many moments from this season that have proven just how unbearably awkward she is. Like all of this talk about a Becky and Johnny showmance. The best part of all the rumors about the two of them is watching her act SOOOO uncomfortable in response to them. It's like she doesn't know what to do with herself ,and it's so beyond precious.
Big Brother needs more people like Becky on the show, if you ask me. Having people on reality television who are more normal than not and a little socially awkward makes me want to watch—and root for their success!—so much more. So in honor of Becky Burgess and all of her wonderfully awkward moments, here is a list of the best of them. The ones that prove she's super awkward. Maybe even as awkward as you.
When She Laughs Nervously
It's like looking into a mirror.
When She Played Board Games
Because sometimes that makes a super fun Friday night, OK?
When She Admitted She Double Majored in Finance
Because no one really wants to know about your love of differential equations.
When She Flirted Shamelessly With John
Adorakable.
When She Then Awkwardly Denied It
Nice try, honey.
When She Sucked At Pool
Because awkward girls are not good at bar games.
When She Impersonated Jace
Gotta love an awkward girl's conviction, am I right?
I'm not sure how far awkward will get Becky in the Big Brother house, but it's for sure working its way squarely into the center of my awkward little heart. AWKWARD GIRLS FOR LIFE!
Want even more Big Brother? Bustle's App has you covered. It's THE go-to place for any BB fan looking for round-the-clock Season 17 updates. BUT FIRST, you need to download the app from iTunes.
Image: CBS; BigBrotherNet/YouTube (2); BigBrotherHighlights/YouTube (5)