Is Bill Hader Really Jon Hamm?!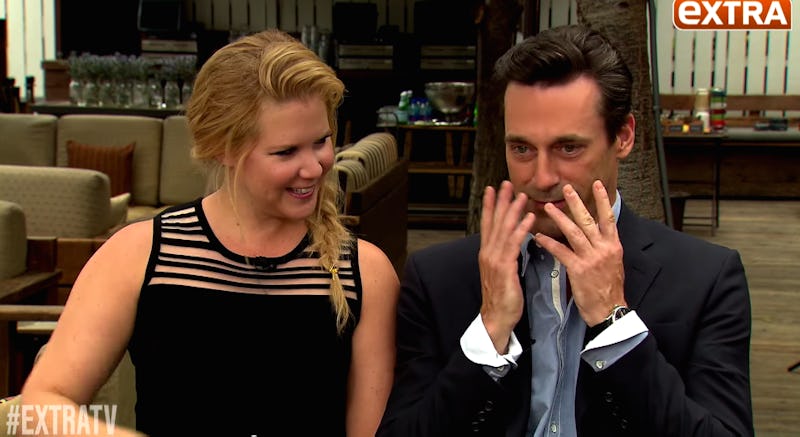 Amongst her many talents, one of the things Amy Schumer is really great at is improv, and playing the so-called "comedic foil" to any ridiculous situations going on around her. This is totally apparent in her Comedy Central series, Inside Amy Schumer, and also during her promotional appearances for her upcoming film Trainwreck. Case-in-point: Schumer promoted Trainwreck alongside co-star Bill Hader... who had turned into Jon Hamm, with no explanation whatsoever. I know — that's a deeply confusing sentence, but just go with me here.
In the interview, "Hader" is asked how being a leading man in a romantic comedy — a role that the actual actor, Hader, sadly isn't asked to fulfill all that often — has changed him. Schumer and "Hader" both agree that it hasn't... except, y'know, it has because he's now curiously identical-looking to Hamm.
Better yet, Hamm's impression of the Saturday Night Live comedian is dead-on, making it an amazing video to watch. To host Terri Seymour's credit, she stays in character and doesn't break into too many giggles, which is more than I can say after merely watching the video.
In the interview, Hamm remains totally straight-faced while Schumer manages to channel her amusement into the co-star adulation that is such a trope of these kinds of interviews. She asks "Hader" about his favorite characters, and he struggles to remember Hader's legendary SNL character Stefan — instead, hilariously coming up with "Starfin" as the name. By the end, Hader finally comes on to reclaim his place next to Schumer. Awkward! Luckily, Hamm makes up for it by giving Hader a big hug, which is a known cure for all kinds of bad blood.
Here's the hilarious interview, from Extra:
Image: ExtraTV/YouTube