Club Friendly Gym Clothes That Will Take You From Treadmill To Tipsy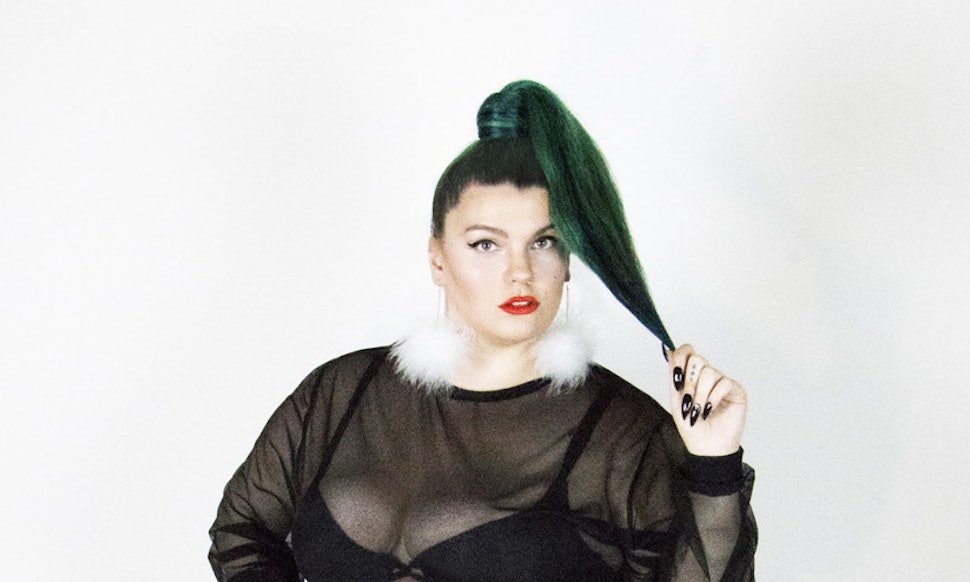 Yoga, boxercise, crossfit — whatever your go-to workout wunderkind, we all know that donning gym gear that's big on comfort but also savvy in style is a great way to motivate yourself to work out... but why let your gym gear's outing end at the gym? With so many bright, eye-catching patterns, stretchy, fitted styles, and satisfyingly sweat-proof fabrics, club friendly workout wear could be your most overlooked fashion friend when it comes to getting the most out of your night out.
Going from dance class to girl's night out with no time to head home? Don't sweat it: Just arm your after-gym bag with a sweet smelling deodorant, your favorite confidence boosting makeup, and your trusty dry shampoo, and feast your eyes on this little loot of multi-functional gym gems...
Lululemon Tu And Flow Wrap
Lululemon Tu and Flow Wrap, $128, Lululemon
Made from soft "Stretch Frenchy Terry" fabric, in a stretchy yet slouchy oversized fit, and available in a range of four colors, this draped boyfriend blazer-style cardigan is equally perfect for adding a quirky, laid back twist to bodycon cuts, or smartening up a plain vest and leggings for gym to vino fun.
Forever 21+ Distressed Union Jack Leggings
Forever 21+ Distressed Union Jack Leggings, $11, Forever 21
A stretchy, comfortable polyester and spandex mix with a distressed Union Jack pattern, these bright, striking leggings are the perfect piece to take you from workout to pub karaoke wonder in minutes. Just pair with a sweater and tennis pumps for the gym, or a longline shirt and ankle boots to head out for wine-friendly fun!
Sweaty Betty Match Point Tennis Dress
Sweaty Betty Match Point Tennis Dress, $31, Sweaty Betty
Need something to take you from tennis practice to cocktails with your colleagues? Then this little scoop necked, bubble hemmed tennis dress is your game, set, and match. With sweat wicking fabric, this tennis dress will keep you smelling sweet during practice, and feeling cool and fluster-free on the dance floor.
It even has side pockets for your cards and keys if you're left without a clutch bag (or, if you're like me, and just like slouching around). Just add a striking necklace and pretty patterned tights, and Bob's your uncle!
Boohoo Plus Gracie Lace Trim Chiffon Runner Shorts
Boohoo Plus Gracie Lace Trim Chiffon Runner Shorts, $24, Boohoo
Going straight from your after-work run to a tipsy picnic or barbecue? These cute lace-trimmed running shorts will keep you cool in the summer heat whilst also adding that sweet sartorial edge to ensure you look and feel top-dollar. Simply pair with a pretty scalloped-edge camisole or sheer white blouse for minimal effort and maximum style points.
Nike Leg-A-See Hawaiian Print Leggings
Nike Leg-A-See Hawaiian Print Leggings, $34, Nike
Made with stretchy tri-blend fabric for cozy comfort and easy jumps and jives, these colorful, eye-catching flower print leggings will look equally awesome at a spin class and a battle of the bands night. Just add a boyfriend blazer, clompy black boots, and an armful of festival wristbands.
Chubby Cartwheels Print Bike Shorts
Chubby Cartwheels Print Bike Shorts, $37, Chubby Cart Wheels
Bright, graffiti-print, and perfect for sweat-saturated clubs, these striking cycling shorts may make you look hot with a capital "H" on a bike, but would also look perfect paired with a black vest, black sheer shirt, or white crop and black leather jacket for a night spent dancing your cares away.
Boohoo Fit Aimee Oversized Lace Back Yoga Tee
Boohoo Fit Aimee Oversized Lace Back Yoga Tee, $30, Boohoo
With a draped, relaxed fit, breathable cotton fabric, and flirtatious full lace back, this casually stylish tee is the perfect partner for pilates to pub night escapades.
Curvissa Sports Bra
Curvissa Sports Bra, $28, Curvissa
This gorgeous purple and blue striped-print sports bra boasts a sweatproof Coolplus fabric, adjustable padded straps, and a traditional bra style back fastening. But with a print as pretty as that, why simply save it for gym wear? This sports bra would also look slick as a crop top with a high waisted skirt or wet look leggings, peeping through a sheer shirt, or paired with a leather jacket.
Lululemon City Summer Dress
Lululemon City Summer Dress, $18, Lululemon
Constructed from a light, airy-fairy sweat repelling fabric and with an open back for unexpectedly sensual ventilation, this pretty floral print sports dress would be equally at home on the tennis court, or at a hot, sweaty festival jumping around to your favorite artists until the early hours.