Meghan King Edmonds Is Just What 'RHOC' Needs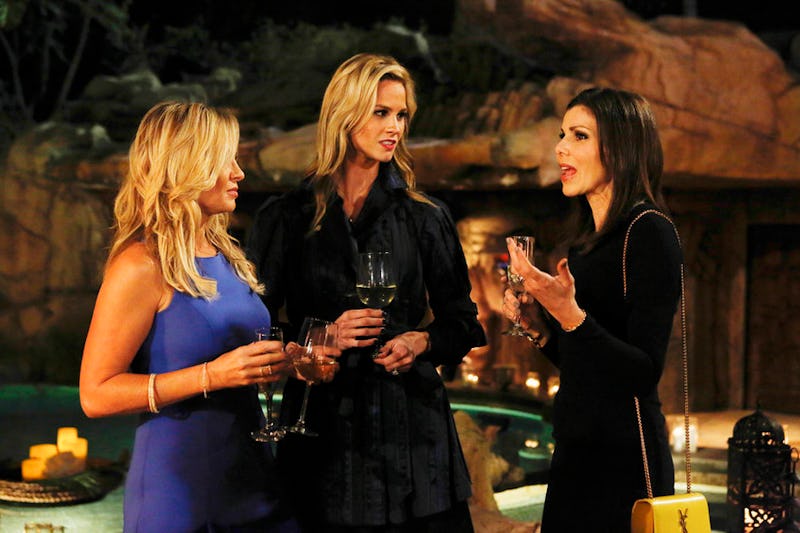 I've noticed that social media has some diverse opinions about Meghan King Edmonds, the newest Real Housewives of Orange County cast member. Some people love her, but just as many seem to hate her. And while in just a few episodes Meghan has already said her fair share of controversial things, I think it's undeniable: Meghan King Edmonds is exactly what RHOC needs right now. While the rest of the cast has proven they have staying power over the course of several seasons, Meghan only needed four episodes to show that she's a perfect fit. What some fans hate about her, I think are just what makes her so perfect for the show. She has a tendency to say exactly what she's thinking without ever considering how the other person feels.
Did that mean that Meghan called out Shannon Beador when some discretion was probably called for? Yep, but that also means Meghan said what everyone watching was thinking! It might not be the most likable quality, but I want TV stars to pick "entertaining" over "super nice" every time. The audience doesn't have to be friends with Meghan. And honestly, most of the 'wives aren't IRL BFFs anyway. Treat this show not as a documentary about women who are best friends, but as a months-long event where people with divergent personalities are forced to hang out together at a series of dinner parties, like a fancy version of Big Brother where they get to give up at then end of the night and sleep in their own beds. It just makes things even more fun.
Thinking of RHOC like that, an adult version of camp with many types of wine, I see Meghan as only a good thing for the show. Shannon has her own friends she can call for emotional support. Brooks, presumably, has some kind of doctor. Meghan is not making real decisions for these people. Instead, she has some kind of inside track to whatever unsavory questions the audience might have and asks all of them.
That said, Meghan's not just an agent provocateur. She is also a great time! It's nice that the familiar Housewives have a new, friendly, fun member of their clique. Meghan might cross the line every now and then (OK, in every episode multiple times), but she does have a sense of adventure, and judging by the fact that she's moved seven times, isn't opposed to impulsiveness. The combination of these traits makes for a live grenade thrown right into the middle of the already explosively fun Real Housewives of Orange County.
Images: Vivian Zink/Bravo; RealityTVGifs, FromtheMotionPicture/Tumblr