Meghan Edmonds' Appearance On 'SYTTD' Is Great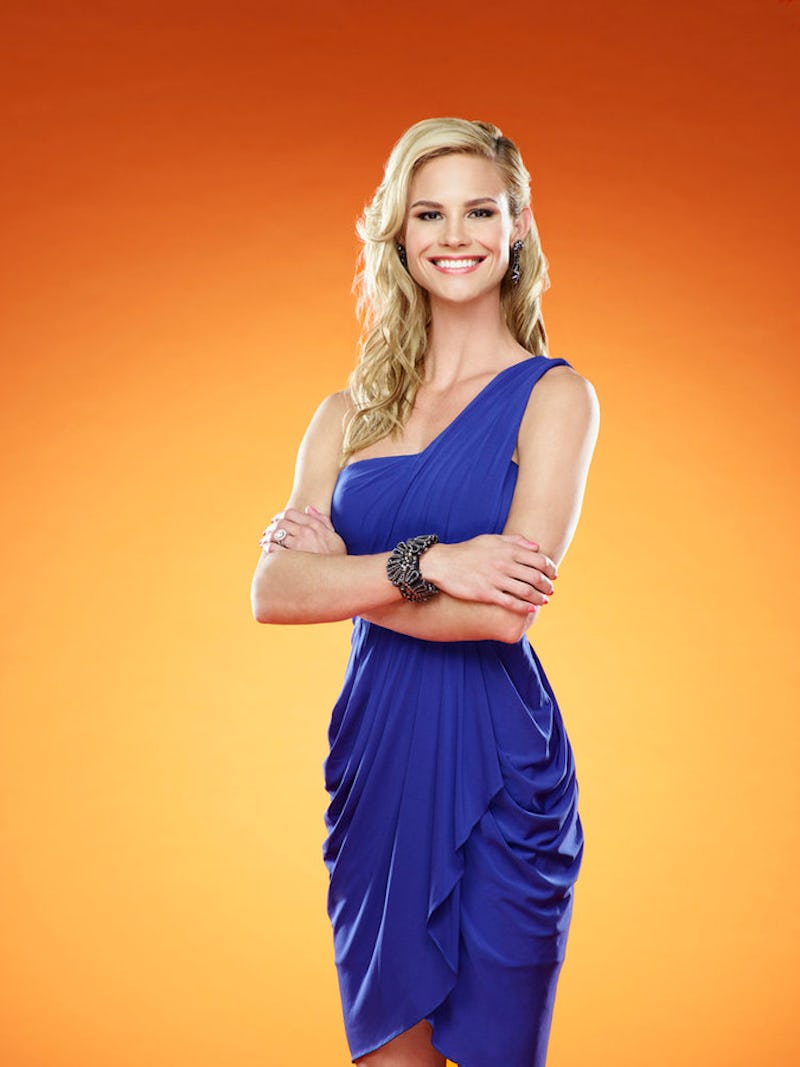 So far this season, new Real Housewives of Orange County star Meghan King Edmonds has been very upfront and blunt about everything. But she's been keeping quiet that she was already a reality star before appearing on RHOC, like when Meghan appeared on Say Yes to the Dress in 2014, in advance of her October wedding to former baseball star Jim Edmonds. You heard that right: there's more Meghan Edmonds reality TV out there. For the fans, you're welcome. Meghan appeared on Season 12 Episode 4, called "All Hands On Deck." And even though it might sound hard to find one random episode of a show that aired last year, there are actually plenty of places to watch it.
The episode is available on Amazon Instant Video in HD for $3.99. You can also buy the whole season for under thirty bucks, if you find SYTTD oddly soothing, predictable, and horrifyingly addicted to stereotypes about bridal purity — perfect for watching as you kind of fall asleep or while you attempt to use an elliptical machine — and want to watch more than just Meghan's episode. If urgency isn't your thing, SYTTD should eventually put Season 12 on Hulu, but you'll have to keep an eye on its page for the next year and be subscribed to Hulu Plus. The episode is even available in full on YouTube. Seriously, if you're interested in this episode, there are plenty of ways to find it, at literally every price point from "nice splurge" to "totally commitment and money free." Or, of course, you can try your luck with reruns — according to TV Guide, the episode isn't on tap for the next few weeks, but eventually it's sure to turn up.
For those who aren't convinced that Meghan is a great addition to the cast yet, watching this episode might help to convince you — she comes across pretty darn well for an episode that's only 22 minutes long.
1. You Get To See Meghan Looking Less Than Glam
Even this former model doesn't love the way she looks in everything. Meghan had to try on more than one wedding dress, and you get to see her in everything from her least favorite gown to the one.
2. The Theme Of The Episode Is Ladies Being Hard To Please, Which, LOL
Basically, the episode is about three high maintenance, hard to please clients. And that's a bonus because that means there are way more dresses to see and way more frustrated Kleinfeld employees. It also shows that Meghan is never willing to compromise — which any RHOC viewer will instantly recognize. Oh, and her friends were equally demanding, proving that maybe we need to see some of the St. Louis crew on RHOC sometime this season.
3. She Has The MOST Attitude In Her Talking Heads
Clearly she was born to give controversial statements into a reality TV show camera.
4. She Gets A Little Sappy About Jim
I was surprised to see that Meghan seemed really smitten with Jim, even though he's stuck back in St. Louis for this shopping trip. She doesn't wax poetic about her relationship that much on Bravo, so this was nice to see.
5. She Doesn't Overspend
While Meghan admits that Jim is willing to pay for the dress, she keeps herself to a budget of $5,000, saying that there's no reason to overspend just because her future husband has some serious cash. It shows that Meghan has a practical side, and disproves any claims that she's shallow.
6. She Wound Up Wearing A Totally Different Dress — Proving You Can't Judge Reality TV By The Edit
Meghan's edit on the show basically shows her only trying on a few dresses and ultimately deciding on a dress with a gauzy customized neckline. But photos of her actual wedding show that instead of the Bora Bora ceremony and Palm Springs reception she talked about on the show, she and Jim had family celebrate in a fall setting with leaves falling everywhere, with a dress that has a full skirt and a large bow in the center of the neckline. (Bora Bora was the honeymoon.) So even though Meghan did, indeed, Say Yes To the Dress, turns out her wedding ended up being totally different than it was described on the show... does this say something about how it's impossible to trust exactly what appears on television? Let's say it does.
Image: Paul Drinkwater/Bravo