7 Hair Hacks Perfect For Lazy Girls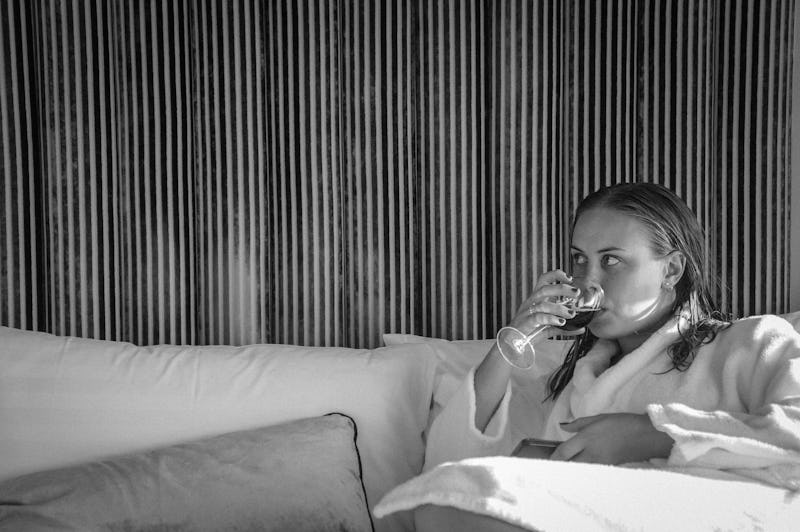 In the midst of answering an influx of emails, selecting an ensemble, painstakingly applying cosmetics, and mentally preparing for the day ahead ... all just moments after waking ... creating an elaborate hairdo doesn't always occupy a high place on the daily to-do list. Coupled with a natural predisposition for laziness, a hectic lifestyle may literally leave no time to craft expertly tousled curls or a red carpet-worthy blowout. Instead of assuming a glum attitude about the lack of time to experiment with your hair, why not accept the reality of your current coiffure situation and adhere to a handful of hair hacks to remedy the situation? Your favorite difficult and daring 'do may be simpler to achieve than you ever imagined.
Any hairstylist worth his or her salt will tell you that forging creative hairstyles is simpler when locks aren't freshly washed, so take your day-old 'do and design something deceptively simple. With a spritz of dry shampoo, a handful of barrettes, or a dab of pomade, you can create a hairdo that would make even Lauren Conrad weep with envy. From voluminous down-dos to swept-back up-'dos, here are seven time-saving hair hacks perfect for any lazy girl looking to create a show-stopping coif.
1. Try A Dusting Of Dry Shampoo
Batiste Dry Shampoo in Cherry, $6, Amazon
It is no exaggeration to state that dry shampoo can solve any manner of hair ills, especially when one has minimal time or energy to spare. Whether your locks are limp, overly product-saturated, or simply lacking texture, a dusting of dry shampoo is the panacea lazy girls crave. Massage a dash into roots for a lift, or ends for subtle texture.
2. Twirl Up A Gel Bun
Phyto Professional Wet Gel, $18, Walmart
If you don't understand the allure or chalky texture of dry shampoo, gel may be your jam. If you're dashing out the door with no time to tend to greasy strands, smooth a pea-sized amount of gel into your hair, twirl into a topknot, and pin at the crown of your head for an on-trend wet-look 'do.
3. Produce A Pomade Ponytail
Carol's Daughter Loc Butter, $17, Dermstore
With a dollop of pomade and an elastic that corresponds with the hue of your hair, you can transform a drab 'do into a streamlined look in mere minutes. After prepping hair with product, briefly run a straightening iron over the ends before slicking back locks with a dot of pomade to form a low ponytail at the nape of your neck. Secure the look with a trendy metallic clip or a slim elastic.
4. Use Color-Matched Hair Elastics For A Seamless Look
Blax Snag-Free Hair Elastics in Brown, $7, Amazon
Instead of favoring rainbow-hued hairbands to secure your bun or ponytail, pull together your coiffure with hair elastics that are either transparent or match the tone of your locks. By favoring naturalistic elastic hues instead of neon hues, you can transform even the most haphazard hairdo into something sophisticated and urbane.
5. Add A French Braid Headband To Streamline Your Style
Hairdo French 21" Braid Band in Ginger Blonde, $10, Amazon
Not everyone is blessed with the capability or endless lengths of hair to accomplish a milkmaid braid — but you can certainly simulate one in seconds by slipping a braided headband color-coordinated with your hair hue atop loose strands or an up-'do.
6. Get Creative With Beautiful Barrettes
Jennifer Behr Petite Metal Leaf Barrette, $82, Jennifer Behr
Occasionally, even a once-over with the curling iron is no match for the state of your strands. In such dire cases, turn to the ornamental barrette. Whether neon, beaded, embellished, or bowed, a hairpin or two is quite enough to distract from an abysmal hair day.
7. Braid Damp Hair Into A Low Coil For Tousled Waves
In an ideal world, properly drying one's hair would take one minute instead of 15, and no one would be forced to endure the hassle of catching the subway to work with streaming wet strands. If your damp strands simply aren't drying quickly enough, weave them into a simple braided bun whilst they dry. Your hair will achieve perfectly tousled waves within hours sans styling tools.
Image: Melbourne-71/Flickr