Will 'Brooklyn Nine-Nine' Ever Hit Netflix?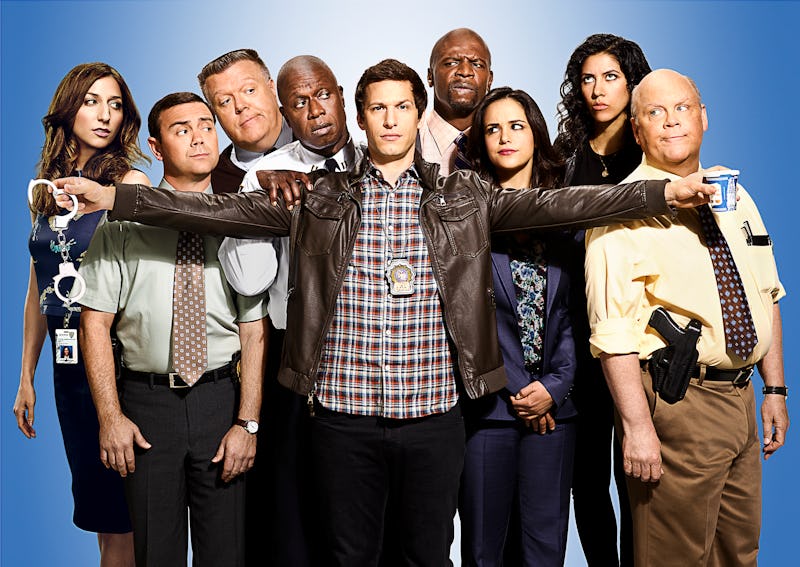 As we learned this year with Friends, there's almost nothing more exciting than a new show arriving on Netflix for the first time. I'm excited not only for old classics, but for new shows that I've gotten into in the past few years but haven't caught on with with all of my friends just yet. One of the best examples is Brooklyn Nine-Nine — will it be on Netflix? There has been no formal announcement about the sitcom, which will start Season 3 in the fall, in Netflix's July 2015 schedule.
Unfortunately, I don't think it's likely that Brooklyn Nine-Nine will be on Netflix any time soon, especially if it's not there already. While Glee, Bones, Family Guy, and New Girl has been steadily releasing seasons on the streaming service, other Fox comedies such as The Simpsons, 24, Sleepy Hollow, and The Mindy Project are not streaming on Netflix.
Hope is not lost! You can, however, watch the entire series of Brooklyn Nine-Nine on Hulu Plus or purchase the episodes on iTunes, Amazon Instant Video, or Google Play. If you have basic cable, it wouldn't hurt to check your OnDemand listings as well. With the advent of all of these apps, we forget that most cable services still hold previously aired episodes for us to watch on our own time. It's not as hard to binge watch shows that aren't on Netflix as you think.
That's not saying Netflix shouldn't pick up Brooklyn Nine-Nine. It's a fantastic, award-winning, diverse sitcom that could use the audience bump that Netflix could provide. Perhaps we'll see it streaming in the early fall, just in time for folks to catch up before Season 3 — especially with all of the comedy cliff-hangers at the end of the last season. What's going to happen with Jake and Amy? Who is the new chief going to be, and what will he or she be like? It's possible to watch Brooklyn Nine-Nine other ways, but Netflix is a great way to draw people in and make all of that feel urgent all over again.
However, if you're too loyal to Netflix and won't try other streaming services but still looking for laughs, I respect that. For you, I would suggest Parks and Recreation, The I.T. Crowd, Chelsea Peretti: One Of The Greats, Don't Trust The B in Apt. 23, and Scrubs as Netflix sitcom alternatives. These all have similar upbeat senses of humor and even share some of the same cast members and writers as Brooklyn Nine-Nine.
Images: Scott Schafer/FOX; Giphy