Nicky's Husband Is Rich, But What Does He Do?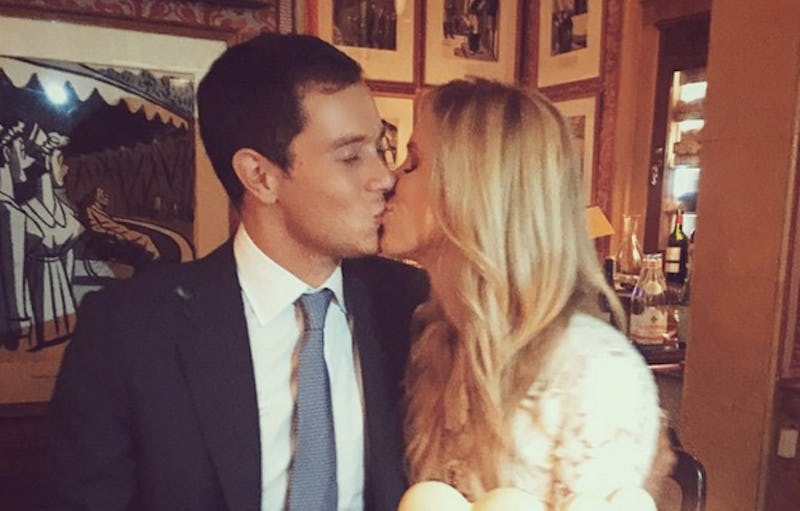 On July 10 at Kensington Palace, Nicky Hilton married James Rothschild in arguably one of the most gorgeous wedding gowns I have ever seen in my life. Like true American royalty, the wedding was a three day affair, and the newlyweds certainly did not skimp on any of the details. Photos of the nuptials have been making the rounds, so people who are already familiar with Hilton, might be wanted to find out more about her new husband. For instance, what does James Rothschidl do? Well, Rothschild comes from an extremely wealthy family and he is following right in his family's footsteps.
I mean, when your wedding is at Kensington Palace, you must have some pretty epic standing to your name, right? Now that Nicky Hilton is a Rothschild, there will undoubtedly be a lot of attention thrown to the man by her side and James Rothschild will just have to get used to it. While he seems to be very private, his last name gives us a few clues into what he does. He is a member of the famous Rothschild family, who have been in banking since the early 1800s. There are estimates that put the family's net worth at over a trillion dollars.
With that kind of money it only makes sense to continue on in the family business, because they seem to know what they're doing, amiright? James Rothschild could easily have followed the path of many rich, young, and attractive people by simply sitting on his inheritance and getting into all sorts of trouble, but he has made it a point to work for his own money. According to a business profile on Rothschild in BusinessWeek ,
Rothschild serves as a Partner and Vice President at Monument Capital Group Holdings LLC. Mr. Rothschild also serves as a Partner at Lepe Partners LLP. He served as an Analyst at Hargreave Hale Limited from 2005 to 2006. Prior to that, Mr. Rothschild also served as an Analyst at JNR UK Ltd. He began his career as an investment banking professional at N M Rothschild & Sons Limited.
N M Rothschild & Sons is the investment banking company controlled by his family, and he joined the ranks, just as his father Amschel Mayor James Rothschild had done in 1987. As for his current position, he is still seemingly still a part of Monument Capital Group Holdings LLC, based in Washington, D.C. I will be frank, business jargon throws me off pretty easily, but all I know is that Rothschild is a very smart man who works with a lot of money, and he seems to be very good at it all.
Image: Paris Hilton/Instagram