Ranking All The Best (and Worst) Time Frame Films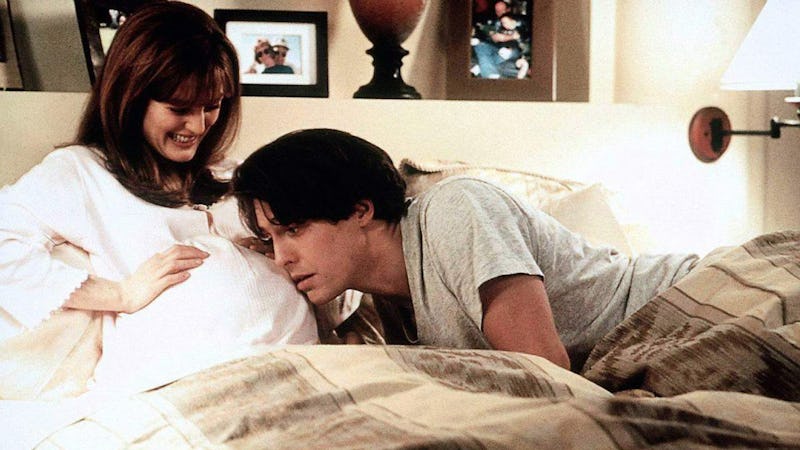 Hugh Grant has made a lucrative career out of being the most charming, fumbling, and British man in the room. The mid-to-late '90s were peak Hugh Grant times. He was all over Hollywood, wooing leading ladies, spilling lemonade, and being terrible at that whole commitment thing, but being delightful enough to be forgiven for it. Nine Months, the story of how two very different people in love cope with an unexpected pregnancy, was released 20 years ago — and it is everything you could ever want from a Hugh Grant rom com. Julianne Moore co-stars as Rebecca, a woman smart enough to see through Samuel's (Grant) nonsense and brave enough to go it alone when he freaks out about becoming a father.
Unlike most man-child comedies, Nine Months isn't about a shrill baby and/or marriage-crazy woman who traps a once cool dude. Instead, it's Grant who is painted as the foe — Julianne Moore is, as always, perfection onscreen and anyone who would walk away from her is an outright madman. I always appreciated that in the end, it's not about man vs. woman or responsibility vs. freedom, it's really about two people coming together for something bigger than themselves. It's a simple story with great performances and a script that's just sweet enough without being too saccharine.
In honor of Nine Months' 20th anniversary, here's 23 of the best and worst time frame films ranked:
23. Year One
Who let this happen?
22. The Five-Year Engagement
A movie with this good of a cast should not have been such a chore to get through.
21. One Day
GTFO with that accent, Anne Hathaway.
20. Around the World in 80 Days
This felt more of a parody of a movie than an actual movie.
19. Six Days Seven Nights
SNAKES IN PANTS? NOOOOOPE.
18. One Hour Photo
BRB having nightmares.
17. 28 Weeks Later
Scary, but in no way lived up to the original.
16. 40 Days and 40 Nights
Look, I know this movie is garbage, but I'm a real sucker for Josh Hartnett cheese fests.
15. 30 Minutes or Less
Aziz, forever and always.
14. 30 Days of Night
GENUINELY HORRIFYING FILM.
13. 2 Days in Paris
Julie Delpy can do no wrong in my book.
12. Gone in 60 Seconds
This movie is ridiculous, but it's certainly entertaining.
11. 48 Hrs.
An absolute '80s classic.
10. How to Lose a Guy in 10 days
How to catch every Rom Com trope in 10 seconds or less! It's a total cliché of a movie, but you better believe I will curl up to it with my pink wine.
9. (500) Days of Summer
This scene destroys me every single time. Aside from the aching pain of love, it's got a young Chloë Grace Moretz stealing the whole thing and one of my all-time favorite lines from a movie, "Robin is better than the girl of my dreams. She's real."
8. 127 Hours
Thankfully you only have to endure 94 minutes of the agony.
7. Two Weeks Notice
EVERYONE SHUT UP SANDRA BULLOCK IS SPEAKING.
6. One Fine Day
George Clooney has never been more delightful and Michelle Pfeiffer has never been more chic.
5. Nine Months
So much '90s perfection happening in all of this.
4. Seven Years in Tibet
The golden era of Brad Pitt.
3. Nine to Five
Jane Fonda, Lily Tomlin, and Dolly Parton are all national treasures...as is this movie.
2. 28 Days Later
ZOMBIES AREN'T SUPPOSED TO BE THIS FAST. This was a truly ground-breaking horror film that changed an entire genre. Cillian Murphy's performance was electric.
1. 12 Years a Slave
Quite simply one of the most important films ever made.
Image: Twentieth Century Fox