5 Bathing Suit Styles That Will Make Your Tan Pop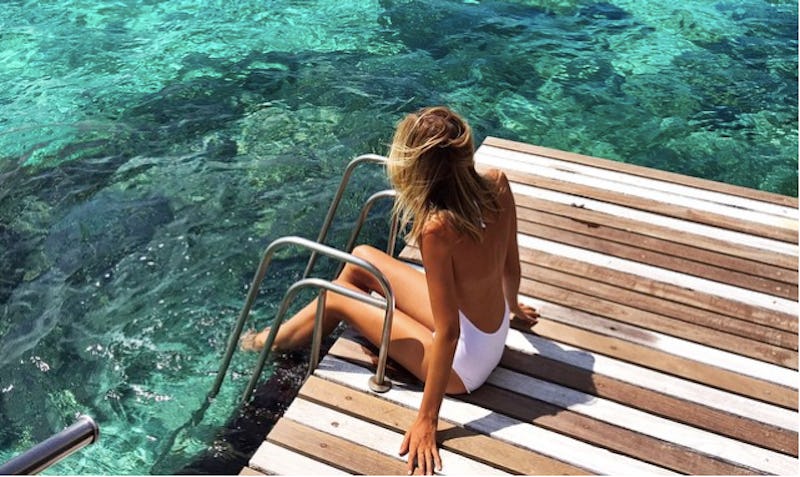 Now that summer is in full swing, you deserve to show off your hard-earned tan (hard-earned, with appropriate protection, that is) in the best way possible — especially when you hit the beach. What better way to put your efforts on display than in your favorite new bathing suit? After all, nothing feels sexier than coming out of the ocean knowing you're rocking gorgeous beach hair, killer color, and of course, a kick-ass swimsuit. Who can forget Pierce Brosnan checking out Halle Berry in that orange bikini in Die Another Day? Or any paparazzi shot of Jessica Alba, ever? Talk about #summergoals.
So how do you pick the perfect suit to go with your glow? Regardless of your skin tone (everyone has either warm, cool or neutral undertones), the same general rules apply. Certain styles make your tan look bolder. The starker the contrast between the suit and your skin, the better. Brighter colors tend to work best with a tan, though white is also a fantastic go-to. That said, your best bathing suit look is always going to be the one that makes you feel most confident. After all: You're sun kissed and fabulous, and you deserve to rock it.
1. A White One-Piece Swimsuit
Everyone knows white is the best color for showing off a tan — why do you think there are so many white parties over labor day weekend? Opt for a one-piece that covers more surface area than a bikini to show how much darker your skin is compared to the suit. Just make sure to test how see-through it is before you get in the water!
2. Anything Neon
When it comes to looking tan in a bathing suit, the brighter the color, the better. Neon styles with black outlines, like the one pictured, are the absolute best for showing off your mid-summer color, because they offer stark color contrasts both between the black and the neon and the neon and your tan. Added bonus: the outlines also make your boobs look bigger.
3. A Mix And Match Bikini
Mixing bikini tops and bottoms is a great way to get more bang for your buck — four bikinis for the price of two! Pairing a bright, solid colored top with a complimentary bottom will really make your tan pop. Bonus points if you can find a yellow wall to take a Instagram photo in front of!
4. Red, Red, Red
Red is a great alternative for a bright, attention grabbing suit if you aren't quite ready for the full neon effect. And if that doesn't convince you? One word: Baywatch.
5. Something Colorblocked
If it's bikini-queen Kim Kardashian approved, you know it must be worth a try. Colorblocked suits, like mix-and-match bikinis, have multiple different colors that contrast with and offset your tan. Bright colors look great, but even black and white suits can give the desired "glowing goddess" effect.
Images: tuulavintage, triangl_swimwear, kellyrohrbach, swimsuitsforall, nlpwomen/Instagram