Britt & Brady Are Dunzo, You Guys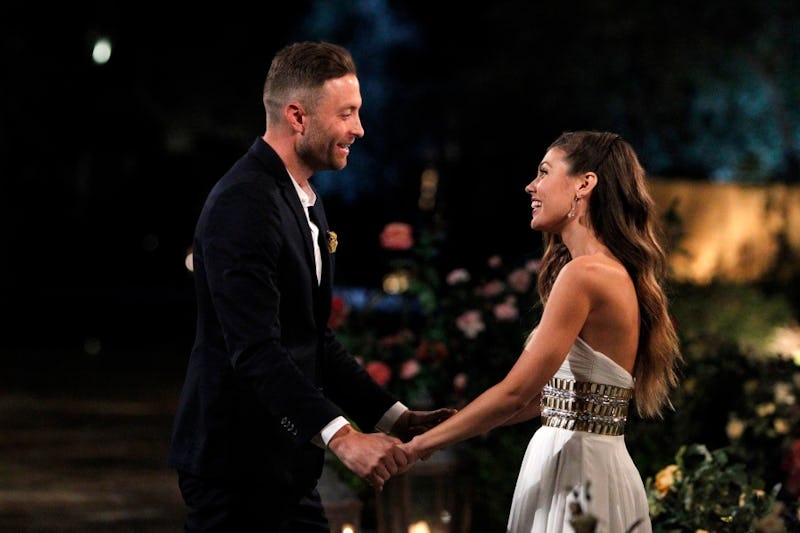 Bachelor Nation giveth and Bachelor Nation taketh away. Right on the heels of the glorious rumors that Ben Higgins has been chosen as the next Bachelor, super heartbreaking reports started to roll in that adorable Bachelorette couple Britt Nilsson and Brady Toops have split. I know what you're thinking: How is this even possible, when they're so perfect for each other? It's what I'm thinking, too! Since Brady ditched the show to see if he could be in a relationship with Britt when she wasn't voted in as the Bachelorette, it seemed like fate. They connected instantly, and their chemistry was undeniable. And since ABC began chronicling them as a couple, it's all been smooth sailing — 'til now. Reportedly, they're over, so is love even real anymore?
Unfortunately, the sources that reported the breakup to E! didn't seem to have any details to share on what went wrong ... or anything else. All we know at this point is that they're most likely no longer together, and that might be all we know until Britt or Brady decide to speak up on social media or in an interview about what went on behind the scenes. When Bustle reached out to ABC, they had no comment about the split. At this point, all I want to do is look at the ridiculously adorable photos of these two crazy kids together and think of the adorable reality TV future that could have been.
As cute as they were, this isn't the most surprising news in the world. Most Bachelor relationships aren't built to last — not even the ones that didn't start out in the most conventional way. And for weeks now, there have been rumblings that a breakup was on the horizon, especially after Britt deleted all traces of Brady from her Instagram. And being that Britt and Brady's last update on The Bachelorette revealed that they were about to try out the long-distance thing, it seems logical that the difficulty of being apart and maintaining an LDR could have been the cause of their split.
Even if I saw it coming, I'm still super bummed that there will never be an adorable hipster TV wedding celebrating their love. And that the irony that the woman not chosen as the Bachelorette actually did find love because of the show is no more. It's OK, guys. We can make it through this together.
Want more Bachelorette? Bustle's app provides 24/7 coverage on ALL of the rose-colored ABC franchises. So download the app from iTunes for more articles, GIFs, and memes about this season and beyond. You'll enjoy it for all the right reasons.
Image: Rick Rowell/ABC