As If We'd Forget About These 'Clueless' Tie-Ins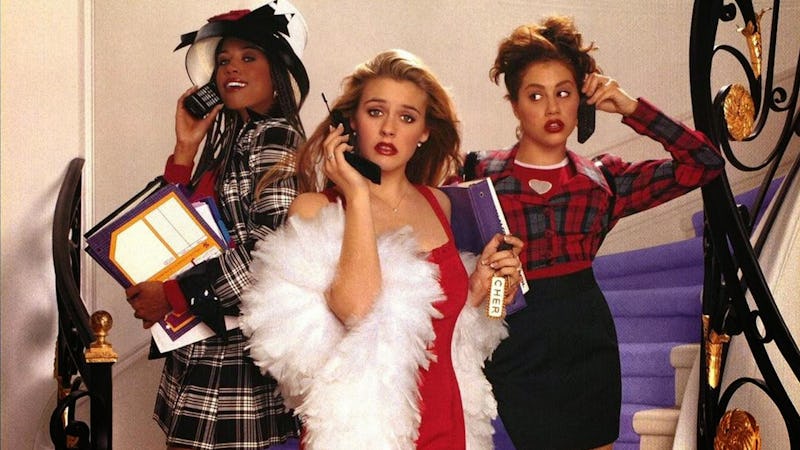 A confession: like anyone who grew up in the mid-90's, I lived and breathed all things Clueless . Those fateful— and let's be honest—traumatic middle school years were made so much more tolerable thanks to having a mini-backpack full of fuzzy pens (just like the ones Alicia Silverstone's iconic Cher used!), fashion aspirations (all the gingham and platform shoes, please) and unforgettable phrases to quote to your friends in the hallway ("As if!"). Twenty years later and I'm still totally buggin' over pretty much everything related to this comedy classic. It's hard not to get nostalgic about the Amy Heckerling masterpiece this week, especially all the things that give you major flashbacks to the summer of 1995 when the comedy hit theaters and changed our pre-teen and teen lives forever.
While Clueless wasn't a runaway smash hit when it came out (it made just $56 million at the box office), it became a word-of-mouth cult darling and basically the only VHS you ever needed for a sleepover. Once the industry figured out that every young person loved the flick, there was no shortage of Clueless merchandise, promotions, and tie-ins. And, personally, I couldn't get enough of it.
In honor of the 20th anniversary of the movie, let's take a trip down memory lane ("Is that in the Valley?") and look back on all things Clueless that 90's kids coveted and collected.
Alicia Silverstone: Cover Girl
If you wanted to plaster your bedroom walls or line the inside of your locker with your teen idol Alicia Silverstone in the mid-90's, well, it wasn't tough. The breakout star appeared on everything from Rolling Stone (which declared "The girl from the Aerosmith videos grows up") to Seventeen to Teen People to Vanity Fair to Entertainment Weekly to FHM.
The Posters
That said, you better have left some space on your walls for those essential Clueless posters.
The Paperback Books
If Mr. Hall had let us do book reports on paperbacks like Cher's Guide to...Whatever , Cher Negotiates New York , An American Betty in Paris , or Achieving Personal Perfection we wouldn't have had to negotiate the grades on our report cards.
Fuzzy Pens
Can't stress enough how essential these were. Luckily, if you lived within driving distance to a mall that had a Limited Too, you could stock up. (Now you can buy them on Etsy! Let's bring them back!)
Tee Shirts
If you couldn't afford Cher's crazy/fab wardrobe (and, let's be real, who could?) showing your love for the movie through fashion was doable through tees. Specifically, ringer tees. Shirts with images of the poster or the film's countless quotes ("Whatever!") could be found in stores like Wet Seal.
The Organizer
As if you'd miss any important dates with a total Baldwin when you had your Dear Diary Clueless Electronic Tiger Organizer!
Keychains, Buttons, and Other Assorted Knick-Knacks
All the merchandise you could handle from stores like Icing and Spencer Gifts allowed you decorate your life in all things Clueless.
The Soundtrack
Hope you didn't forget to put your blue sticker from The Wall on the back of this cassette, because you definitely played the hell out of Coolio's "Rollin' With the Homies" with the Tai or Elton in your life.
The Dolls
Now, let's clarify something here: the Clueless Barbie dolls were from the short-lived TV series, not the movie. While the doll did have the all-important teddy bear backpack and that aforementioned fuzzy pen, she didn't have any of the famous outfits from the movie, just a blue ensemble that TV Cher (Rachel Blanchard) wore. The doll was sort of a Monet of sorts, really. From far away you could pretend it was the real Cher Horowitz, but up close it was a big old mess. (Oh, and there were Dionne and Amber dolls, too!)
The Barbie Add-Ons
Hey, if you're going to have a designer imposter Cher Horowitz, the least you can do is give her her beloved white Jeep to practice her driving in.
Images: Paramount Pictures; Amazon.com; Ebay.com; Amazon.com; Paramount Pictures; Pinterest.com; Etsy.com; Icing.com; AllMusic.com; Amazon.com; Ebay.com