These 'Game of Thrones' Actors Could Get Emmy Nods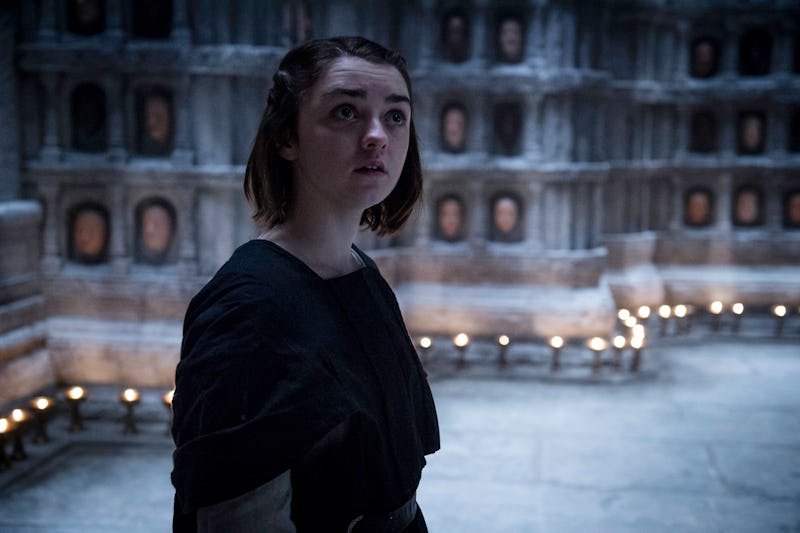 Game of Thrones has the most sprawling cast on television. Even with the higher than usual cast overturn due to all of those pesky character deaths, Game of Thrones only seems to add more talent to its roster with each passing season. Due to the sheer volume of actors on the show, it doesn't seem everyone's name is submitted come Emmy time (even though they should be) — that's why only 10 Game of Thrones actors are eligible for an Emmy in 2015, as the Television Academy's 2015 Emmy nominations ballots revealed. So, if you have found yourself wondering why Gwendoline Christie hasn't been honored for her work as Brienne or why there's no Emmy buzz surrounding Alfie Allen's tortured performance as Theon, it's because their names weren't put in the Emmy hat in the first place.
This is, likely, partly strategy. Unless an actor had a buzzy storyline or is instantly recognizable to Emmy voters (like Peter Dinklage and Emilia Clarke), then entering into the race can be pretty futile — and possibly even draw attention away from other cast members due to vote splitting in the supporting actor/actress categories
So, who are the lucky 10? The actors who had the most daring and high profile stories in Season 5, or who had at least one flawless moment. If your fave didn't make the list, never fear, they could end up being front and center by the time next Emmy season rolls around. For now though, these are the Game of Thrones actors who could be taking home Emmy gold in September if they make it through to the nominations stage.
Peter Dinklage — Outstanding Supporting Actor
No surprise here — everyone loves Dinklage as Tyrion. The actor has been nominated four times previously, with one win to his name so far. Season 5 found Tyrion meeting Dany after a long voyage away from Westeros, so it is no wonder Dinklage is in contention for a nomination. At this point, he is pretty much the face of Game of Thrones, especially come awards season.
Nikolaj Coster-Waldau — Outstanding Supporting Actor
I love Coster-Waldau, but his trek through Dorne was not the best Jaime story the show has done. However, despite the comical costumes and relative calm of his story in Season 5, Coster-Waldau had one heartbreaking moment in the season finale that makes his inclusion in this year's crop of contenders make sense. Was there a dry eye in the house when he lost Myrcella? I don't think so.
Kit Harington — Outstanding Supporting Actor
Harington had a huge year as Jon Snow met the White Walkers, led the Night's Watch as Lord Commander, and... you know, died. (I WILL NEVER GET OVER IT.) Given how much buzz he generates for the show, I'm shocked Harington doesn't win all the awards, to be honest.
Emilia Clarke — Outstanding Supporting Actress
Clarke is just as much the face of Game of Thrones as Dinklage is and she is generally always given a strong storyline. It's no wonder she's in contention again this season.
Natalie Dormer — Outstanding Supporting Actress
Dormer is a fan favorite, and even when she doesn't have a huge year, I can see why she would be up for a nomination. The supporting actress field is likely far too crowded this time around, but she's such an amazing actress there's no reason she shouldn't nab a spot in the category.
Lena Headey — Outstanding Supporting Actress
After that walk of shame, not only is Headey a well-deserved contender, but there is also a very good chance she will end up with a golden statuette.
Sophie Turner — Outstanding Supporting Actress
Only Jon Snow had as many essays penned about him as Sansa Stark did during Season 5. As the beloved character dealt with her marriage to the sadistic Ramsay, fans got angry — but Turner shined. It's good to see she has a chance to be nominated this season, even though her story was hard to watch.
Carice Van Houten — Outstanding Supporting Actress
Off all the actors who are in contention for Game of Thrones, Van Houten is the most surprising. Melisandre is an underrated character in my opinion, and Van Houten is excellent in the role, but she's not a hugely recognizable contender.
Maisie Williams — Outstanding Supporting Actress
Believe it or not, Williams' name has not been submitted every year, which is crazy because there is no year in which she hasn't been Emmy-worthy. Here's hoping she finally makes her way into the race.
Diana Rigg — Outstanding Guest Actress
Finally, there is Rigg, who is the only actor who could be nominated in the Outstanding Guest Actress field. Who could deny her when she's basically the Dowager Countess of Game of Thrones?
There you have it, Game of Thrones fans. Those are the 10 actors who could be nominated for an Emmy on Thursday, July 16, so no crying when Christie's name isn't called. As much as I would love to see her (and pretty much everyone in the cast) earn a nod, only these actors are playing the Emmy game. May the Seven be with them.
Image: Helen Sloan/courtesy of HBO; Giphy (10)