9 Best "My Kind" Music Video Moments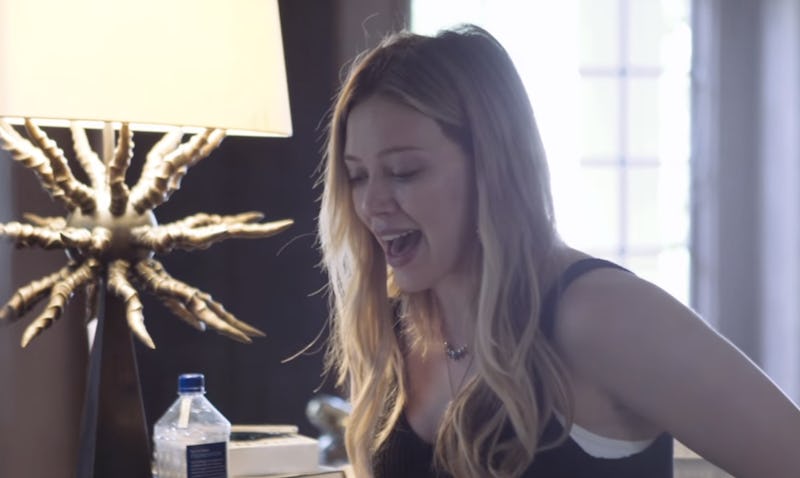 Ole Lizzie McGuire is at it again! "Chasing the Sun" singer Hilary Duff released the music video for "My Kind," off her latest album Breathe In. Breathe Out. Compared to the massive production values and insane costumes of most pop videos these days, "My Kind" is a refreshingly subdued look at a day in the life of Hilary Duff. The video follows Duff at a singing rehearsal in what appears to be her beautiful Los Angeles home, then catches her later at a dance studio practicing some sick moves.
Duff released the video on Twitter, explaining that the footage wasn't originally intended for anything in particular: "Actually shot this footage at a rehearsal for Sparks but happened to work with my fav song at the moment #MyKind!" Anyone who's seen the totally delightful "Sparks" video will indeed recognize some of the dance moves; in that sense, "My Kind" is basically a behind-the-scenes look at the making of "Sparks."
As per usual, Hilary Duff comes across as charming and immediately likable, and it doesn't hurt anything that "My Kind" is catchy as hell! Here are nine moments from the video that capture a day in the life of Duff. Being a pop star looks fun!
1. Time To Start The Day
What better way to jumpstart a morning than with singing rehearsal in your living room?
2. Singing Rehearsal
Hilary's just waking up, so she needs some time to warm into it. Her friend on the other hand? Killing it immediately.
3. Now She's Feeling The Song
All right, she's awake. Time to let the song move through her body.
4. No More Singing! It's Time To Go!
Hilary Duff leads a busy life, you guys. She can't sit around singing all day when there's dancing to be done.
5. IS THAT MILEY CYRUS?
No, but, for at least two glorious seconds, I thought that Miley Cyrus was Hilary Duff's dance instructor.
6. Learning Some Moves
...or taking in some jazzercise? Either way, she looks great.
7. Making Sure She Gets It Right
Why don't I look this adorable when I use a plastic water bottle as a microphone?
8. It All Comes Together
The isolated elements that make up a music video look really strange out of context; like any video, however, it all starts to make sense once you add in backup dancers.
9. No More Dancing! It's Time To Go!
Hilary's really busy, you guys! She can't stand around dancing all day when there's driving to be done! Bye guyzzz.
Check out the video below. It's actually really charming.
Image: YouTube (10)