Reactions From Friends & Family Of Sandra Bland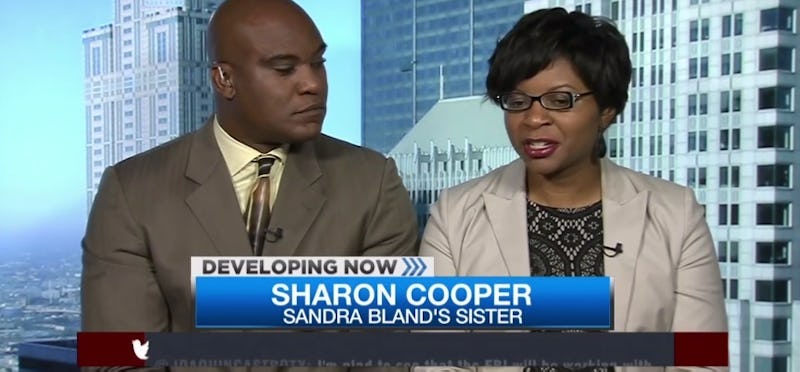 By now, you may already have heard the name Sandra Bland. Her story is harrowing, and clouded in uncertainty — on July 10, she was pulled over in Waller County, Texas for an ostensibly routine traffic stop, then arrested on charges of assaulting an officer. And then, on July 13, she was found dead in her Texas jail cell. The Waller County Sheriff's Department said that an autopsy concluded she committed suicide, but some of the people who knew her best don't believe it: Sandra Bland's friends and family have reacted to her death, which has quickly become another grim flash point in the Black Lives Matter movement.
Bland's arrest — and thus, her subsequent death — became highly visible thanks in large part to a citizen who filmed her arrest. You can see the video here, if you so desire, which shows a prone Bland yelling that her head was slammed into the ground, and thanking the bystander for filming the encounter. Now, with activists calling for additional scrutiny, and the FBI getting involved, it seems as if we're going to hear a lot more about this.
And that's just fine by some of her friends and family, because they aren't buying the suicide explanation. Here's what a number of her friends and family have said about her death, as reported by ABC 7 Chicago — some of them allege wrongdoing on the part of Waller County authorities.
Bland's friend, Cheryl Nanton: "I do suspect foul play. I believe that we are all 100 percent in belief that she did not do harm to herself."
Her sister, Sharon Cooper: "Each one of us feels like we lost a part of ourselves and it's hard, it's going to be hard for a very long time."
Her longtime friend, LaNitra Dean: "The Waller County Jail is trying to rule her death a suicide and Sandy would not have taken her own life. Sandy was strong. Strong mentally and spiritually."
As detailed by The Guardian, a 57-year-old counselor named LaVaughan Mosley also has his doubts. Bland was planning to stay with Mosley while getting acclimated — she was in Texas to take on a new job in student outreach at her alma mater, Prairie View A&M University, a historically black college. Mosley described Bland as "upbeat" and "looking forward" when he spoke to her after her arrest, days before her death.
I talked to her on Friday night. She was upbeat, looking forward to posting bond and moving forward. This is a girl who had a thirst for life … she did not exhibit any suicidal characteristics.
Cooper also appeared on MSNBC on Friday, alongside her attorney, and reasserted that she couldn't believe her sister would've taken her own life.
Simply put, there's a lot of disbelief going on among the people most proximate to Bland that this could've happened. Obviously, that doesn't mean it didn't — people are blindsided by suicides all the time, and contrary to Dean's remarks to ABC, it's not as though people who give off an impression of strength can't be harboring deep pain, sadness or struggle.
Waller County District Attorney Elton Mathis, for his part, has stood behind the suicide reports; he told ABC 7 Chicago that "I do not have any information that would make me think it was anything other than just a suicide."
Image: MSNBC