The 'Ghostbusters' Names Have Been Revealed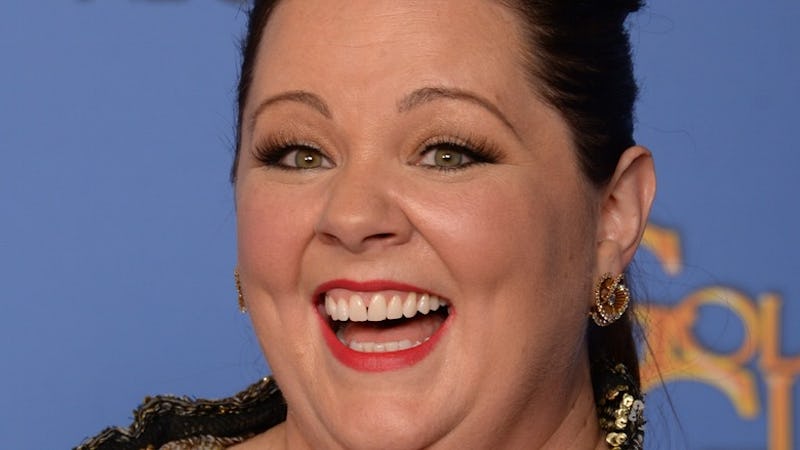 I don't think I've been as excited for a film as I am for the all-female Ghostbusters in a really long time, possibly not ever. With an all-star cast including Melissa McCarthy, Kristen Wiig, Leslie Jones and Kate McKinnon, I was already on board, but then I found out that Paul Feig is directing and I nearly lost my mind. The movie has already started filming and we've been privy to on-set pictures, but much of the reboot is shrouded in mystery. Well, it was, anyway — Feig has been amazing about sharing details of project via his Twitter page, and on Saturday we were lucky enough to learn the new Ghostbusters character names, proving that this is real and it's happening and oh man, is it gonna be good.
After being asked by the account @REALGBNYC if he'd be willing to share more about the roles, Feig delivered, confirming that the four ladies would be named Erin Gilbert, Jillian Holtzmann, Abby Yates, and Patty Tolan. To be more specific, McCarthy will play Yates, Wiig is Gilbert, McKinnon is Holtzmann, and Jones is Tolan. And while it may seem that just knowing the Ghostbusters character names isn't much in the way of "news," for those of us who are dying to see the new, all-female version of the original, it's very exciting.
Feig had already revealed McKinnon's character name on Friday in response to another fan, but the full line-up is another welcome piece of the puzzle as fans all anxiously await the new Ghostbusters' release — which, sadly, won't be until 2016. Plus, given that no one even knows the plot of the movie yet, I'll happily take any little tidbit I can get when it comes to figuring out what all of us have got to look forward to next year. Maybe if one of the fans asks nicely enough, Feig will reveal some storylines? Doubtful, but it wouldn't hurt to try.
Making a movie — particularly when it's an update of a classic — in the social media age has proved to be a blessing so far when it comes to Ghostbusters. Feig's genuine enthusiasm for the project and willingness to engage fans throughout the filming process has done so much to get the public more involved and animated about the upcoming film. Basically, Feig's Twitter page is worth keeping an eye on, since you never know what might pop up next. If you're anything like me, you'll be refreshing his account pretty regularly as you wait with bated breath for Ghostbusters to hit theaters. I'm getting my costume ready now.
Image: Getty Images