This Dress Took Over 1000 Hours To Crochet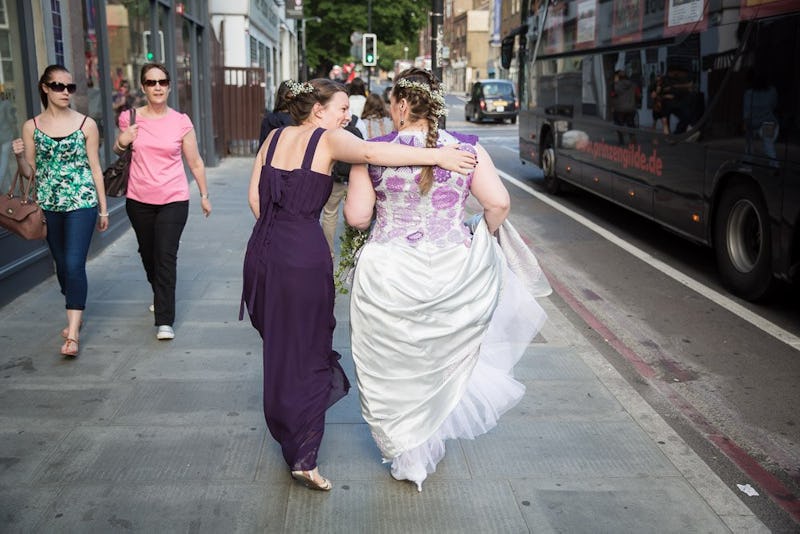 We hear the stories and see them on all of the wedding TV shows: Women who are willing to do anything, travel any distance, and pay any amount for their dream wedding dress. A crocheted wedding dress is going viral for taking that to the extreme. Tania Jennings from Chesham, England spent over 1,000 hours creating the 150 pieces for her unique, offbeat wedding gown, reports Yahoo! News.
On her blog, Jennings wrote:
"It was *never* my intention to wear a white wedding dress, as ours was not a white wedding. My grown daughters walked me down the aisle to give me away to my new husband. It is not that I could not have found a store made wedding dress had I wanted."
Using various shades of purples and silver, the pieces making up the overlay and train took Jennings seven months to create — including the last few hours before the wedding. "The photographer asked me, 'Tania, do you think you might actually finish the dress today?'" she told WHAS-11. "I just laughed and said, 'Yes, I will finish at three o'clock.' They asked how I knew and I just said, 'Look, that's when I have to get my hair and makeup done so I can go marry my best friend.'"
Jennings continued on her blog:
"The fact is that I never looked at nor tried on a single dress because I already knew the dress I wanted...and then when I decided to make my own I used a little bit of that dress (a purple Mexican Quinceañera dress) as inspiration ... I made my dress because I dislike white. I abhor machine-made lace because it is flat and repetitive. It was very important to me that I cover up my tattoos, so a strapless gown was not an option. We have a friend who is a costumer and helped me design my underdress as her present to us, so I took her up on it. My husband loves purple and asked me to use darker colours (I initially began the dress in only pale lavender and silver) so I would match his vest on our wedding day."
The various pieces of the dress took between two and 80 hours to complete, depending on the size. Jennings told ABC News that she has been crocheting since she was three years old, but she had never crocheted lace before — which posed some challenges and made her question her decision. "There were a lot of tears along the way as I tried to learn new techniques, ripped out pieces that just weren't working right, and tried to envision what it was going to look like," she said.
The final result not only allowed this bride to wear something uniquely suited to her tastes, but it also celebrated her family and the people in attendance. Jennings also told ABC News that she added different little pieces that were meaningful to people in her life like "an elephant for my younger daughter Bridgette, a tulip for my daughter Gabby, my husband wanted a martini glass on the dress, a friend of my daughter's requested a giraffe, another a turtle, and so on… It became a bit of a game at the reception for everyone to find 'their' piece."
In her blog post, Jennings also wrote:
"My story is of a dress made with love and worn as I walked down the aisle with my daughters holding my arms, and then marrying my best friend in the church where our great grandparents worshiped nearly two hundred years ago."
On a day about celebrating love, commitment, and family, there couldn't be another dress more perfect.
Editor's Note: A previous version of this article included incorrect assumptions about Tania Jennings' wedding, her dress, and her experience. Bustle regrets these errors.
Images: Mike Taylor/SimpleImages