10 Male Models Talk The Hardest Part Of The Job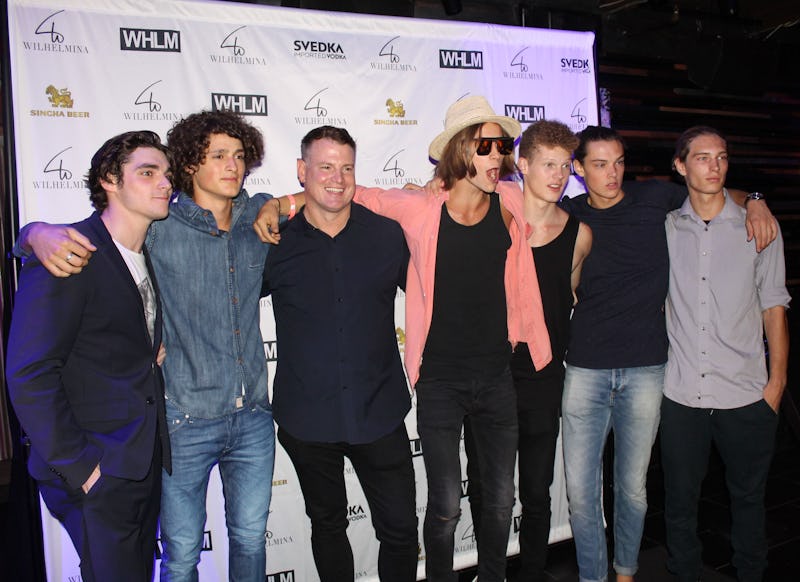 They say, "Do what you love and you'll never work a day in your life," and if the pretty faces I met at the Wilhelmina Models party during New York Fashion Week: Men's were any indication, those guys will never "work" again, as long as they keep their good looks. Models can sometimes get a bad rep — seen as vacuous beauties who spend most of their time being flown from one exotic locale to another, paid just to stand around in gorgeous designs that cost more than what most Americans make in a year. But it can't be all champagne and caviar, right?
Although I consider myself a writer and not a model, I have actually modeled for a few places besides my style blog, including Fashion to Figure, Fame & Partners, Cool Gal Blue, and Eloquii. Smizing like Tyra Banks and finding the light to showcase my favorite angles has never come naturally, and it only takes a little bit of sunshine to turn me into a squinty mess. Since typically more than half my photos look like a blooper reel, I've always wondered if it was challenging for "real" models (e.g. people who do this as their career), or if it really only came down to finding your inner Derek Zoolander.To find out the answer to my burning question, I asked 10 male models at the Wilhelmina Models party, "What's the hardest thing about being a model?" Keep scrolling to see their responses and see if there's more to it than just being "really, really, ridiculously good looking."
"Its instability I would say if anything, basically one week you could be working a lot, the next week you could be chilling on your couch doing nothing."
"I don't think it's difficult, it's easy."
"Honestly, I moved out here four weeks ago from Utah, I think the hardest thing is being away from my family, otherwise its a breeze."
"Travel I guess. When you have to travel from spot to spot over a month, it's kind of exhausting. Apart from that, everything is great and if you like what you're doing, you're going to do it anyways and it won't be too hard for you."
"Probably doing Fashion Week, it's crazy man! Spend all day long in New York and they treat you like an animal but it's meant to be like this and the rest of it is amazing so it's worth it!"
"Having the confidence. Being a model in general, you have to have a lot of confidence and at times, I'm not strong in the confidence department; but at the end of it it's about having the belief and not allowing your fear to manipulate you."
"To do a presentation topless and show our muscles off."
"I guess competing with the females. There are so many cool females in the industry that are killing it but it's all good."
"Boredom."
"Consistency of work."
Images: Liz Black