'Southpaw' Was Inspired By Who?!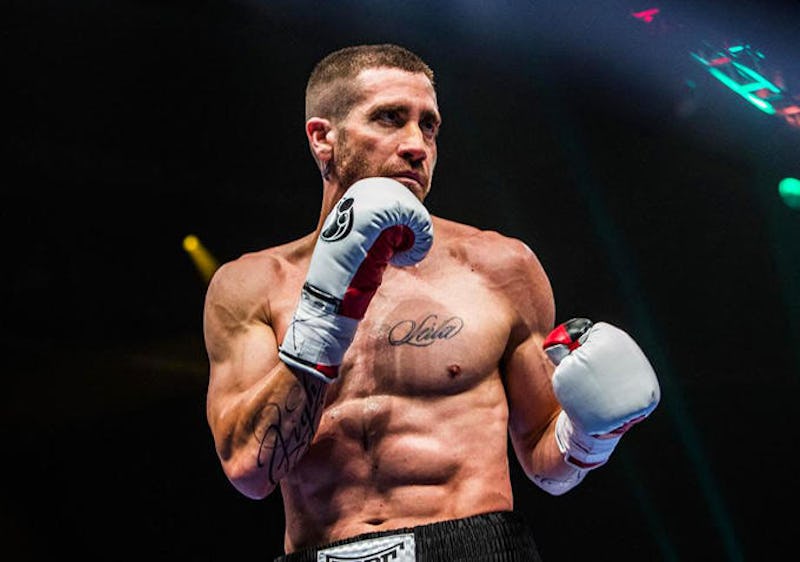 I am a total sucker for a boxing movie, especially when it has its roots in a true story. It adds emotional kick to the film, and usually results in a couple of Oscar nominations. (Think The Fighter, or Cinderella Man). So when I heard about Jake Gyllenhaal and Rachel McAdams's new boxing drama, I immediately wondered, is Southpaw based on a true story? It turns out that the drama does have its roots in reality — but you'd never guess which person inspired the events of its plot.
None other than Eminem — yes, that Eminem — was the motivation behind Southpaw. In fact, the rapper, who's admittedly much better known for his musical talents than his athletic ones, was originally poised to star in the movie. The screenplay of Southpaw was penned by Sons of Anarchy showrunner Kurt Sutter; Sutter found his creative muse in the musician's turbulent life, and decided to adapt his struggles to the world of competitive boxing. Back in 2010, Sutter told Deadline about where he sees the Eminem connection in Southpaw:
He is very interested in the boxing genre, and it seemed like an apt metaphor, because his own life has been a brawl. In a way, this is a continuation of the 8 Mile story, but rather than a literal biography, we are doing a metaphorical narrative of the second chapter of his life.
The intended collaboration was the result of seven years of meetings between Sutter and Eminem's team as the two searched for a project to do together. But behind-the-scenes maneuvering is likely to blame for Eminem's departure from the process. Dreamworks, the studio originally set to produce the movie with Eminem in the lead, dropped out of production in 2011. Sutter still seemed confident about Southpaw 's prospects in a GQ interview later that year, saying that "we have four or five people that are pursuing it" and "as soon as we can pin down Marshall's schedule, it'll move forward." Eminem officially removed his hat from the ring (pun intended) in 2012, with Jake Gyllenhaal eventually claiming the lead.
Yet even with Eminem's exit and the studio change, Southpaw retained much of its original creative team, including director Antoine Fuqua. And actually, Eminem didn't fully exit the film — he just moved behind the scenes. He stuck around to produce the music for the movie, proving that he was totally on-board with the film, despite its new casting. He even joined Gyllenhaal for a surprise theater appearance in Livonia, Michigan on July 19. "Jake did an incredible job," he said onstage, while Gyllenhaal returned the praise by saying that "It's an honor to have him even be a little part of the movie."
If the rapper had stayed in the lead role, Southpaw would have been Eminem's first feature film role since 2002's 8 Mile, which is surprising since that movie was so well-received. (It's holding at 76% on Rotten Tomatoes.) Southpaw mirrors the redemption that Eminem cataloged in his album Recovery: including the loss of a friend and re-gaining the trust of his family. While Jake Gyllenhaal is sure to be electrifying in the role, I can't help but wish that two versions of Southpaw could be released, one with each actor taking the lead. Or, at least, I hope that Eminem will find his way back onto movie screens soon.
Images: The Weinstein Company; Giphy