You Can Now Have Lunch With Stephen Colbert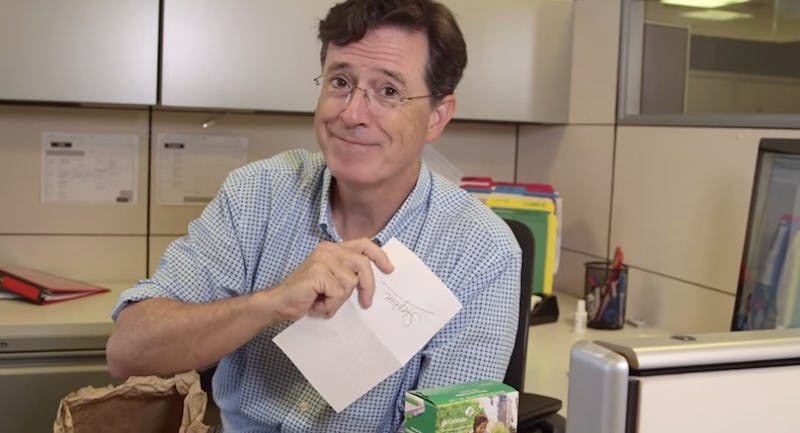 Hold on to your GoGurts and PB&J's, because lunch breaks are about to get a whole lot more appetizing. Upcoming The Late Show host, Stephen Colbert, launched a new web series on Monday, July 20, titled Lunch With Stephen, where the former Colbert Report host engages in faux conversation with fans while enjoying lunch at his desk. "What better way to bond with you guys than over lunch? After all, these days a lot of people eat lunch alone at their desks watching videos like these," Colbert says by way of introduction in the video. The series will provide new episodes each day of the week leading up to the host's The Late Show debut, and I for one could not be more elated to have Colbert as my new lunch buddy. As one who works from home on a regular basis, my falafel wraps and soy lattes have been in dire need of some company. Who better than an uproarious television host?
In the series' first installment, Colbert virtually converses with you about portion control (he is only eating "small-sounding foods," and displays this by whipping out a Little Caesars pizza, Thin Mint cookies, and baby back ribs), future pursuits, relationship issues, and previous jail time. It is legit one of the best things the Internet has bestowed upon us IMHO.
The video alone makes a case for itself on why Colbert would be the best lunch buddy anyone could ask for. If you're not properly convinced, however, I have compiled a list of reasons that the funnyman would make the lunch hour the best hour of anyone's day.
1. He Would Keep You Laughing
This one is basically just me stating the obvious.
2. Every Lunch Convo Is Bound To Be An Interesting One
The lively debates he would offer would be sure to energize you for the rest of your workday — and we all know how difficult sustaining energy can be after the inevitable post-lunch food coma.
3. He Would Listen To Your Romantic Woes
As illustrated in the first episode of Lunch With Stephen, Colbert will not only listen to your relationship haggles — he will validate all your concerns. "Just remember, relationships are complicated," he says. "You're doing the right thing and that's what counts." Thanks, bro!
4. He Would Have The Best Stories
Duh.
5. He Would Bring The Most Delicious Lunch Items
Do I need to remind you that we just watched Colbert whip out a Little Caesars pizza, a box of Thin Mints, and baby back ribs? I'm sure he wouldn't mind sharing.
6. He Would Be Up-To-Date On All The Latest News & Culture
Who needs water cooler conversation when you've got this guy to fill you in?
7. It's Stephen Freakin' Colbert
What other explanation do you need?
I think I've made my point [insert where I drop the mic here].
Images: The Late Show with Stephen Colbert/YouTube; Giphy (7)