How To Make Ice Cream Bars From Scratch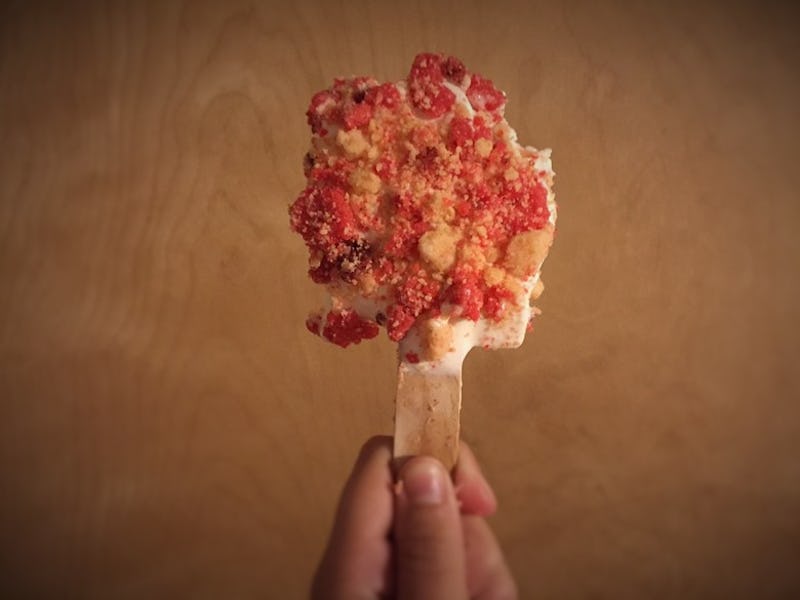 Is it just me, or have all the ice cream trucks gone missing? Aside from the occasional Mister Softee truck I used to see in New York, I haven't come across a good old-fashioned ice cream truck (or even heard that unnerving music in the distance) in forever. Maybe it is because of where I live (read: in the middle of nowhere), but because all of the ice cream trucks in my neck of the woods have disappeared, I've had to learn how to make classic ice cream truck bars myself if I want a throwback ice cream treat — which, of course, I always do.
If you've ever had a Good Humor ice cream bar — let's be real, who hasn't? — then you know that it's a delicious ice cream bar covered in a dessert topping, and conveniently served on the end of a stick. You can choose from traditional flavors like strawberry shortcake, chocolate eclair, and original (vanilla ice cream covered in a thin chocolate shell), or you can treat your tastebuds to flavors like birthday cake, toasted almond, and even Oreo.
When I set out to make my own DIY Good Humor bar, I stuck to my personal favorite, strawberry shortcake. The brand-name bar has strawberry ice cream on the inside, vanilla ice cream on the outside, and a coating of strawberry shortcake crumble. When I was a kid, I used to savor each crumb one at a time, to the point where my ice cream would be nearly melted by the time I got to that layer. Yeah, it was that good, and I like ice cream that much. And, as it turns out, the homemade crumble was still my favorite part of the DIY version I tried. In keeping with my personal motto to always work smarter, not harder, I bought some already made ice cream, and used that as the base of my dessert popsicle, and then tried my hand at making my own shortcake crumbles.
If you want to try to make your own ice cream bars at home, here's the best way to do it:
Ingredients
3 oz. package of strawberry jello mix
3 oz. package of instant vanilla pudding mix
1 cup butter, diced and chilled
1 cup flour
Strawberry ice cream
Vanilla ice cream
Directions
1. Let the ice cream soften while you prepare the dessert coating. Preheat the oven to 350 degrees. In a small mixing bowl, combine strawberry jello mix with 1/2 cup of butter, and 1/2 cup of flour. Mix together with a fork to form a crumble. In a separate bowl, repeat the steps with the vanilla pudding mix.
2. Spread crumbles out on a parchment paper-lined cookie sheet. Bake for eight to 10 minutes. Keep an eye on the crumbles to make sure they do not burn. Set aside, and let cool.
3. On a different parchment paper-lined cookie sheet, spread a layer of softened vanilla ice cream, about 1/4 inch- thick. Place six popsicle sticks down. Cover popsicle sticks with a layer of strawberry ice cream. Spread a top layer, about 1/4 inch-thick, over the strawberry ice cream. Freeze until hardened.
4. When pops have hardened, remove them from the freezer, and use a knife to cut them into rectangles. Roll pops in dessert crumble. Serve.
The Verdict
Though not a perfect recreation, these four-step MYO ice cream bars are still a lip-smackingly good summer treat. Crunchy, creamy, and just the right amount of sour, they hit the sweet spot and make your lips pucker. The best part is the dessert crumble which, if I am being completely honest, I am casually munching on as if it were popcorn as I type this. Seriously, it's addicting!
Though the strawberry shortcake flavor is by far the best one, you could easily make the chocolate eclair-flavored pops by switching out the strawberry ice cream for chocolate, and the strawberry jello for chocolate pudding. Come on, you know you want to experiment! Great things, like this pop, happen when you do.
Images: Sadie Trombetta