Remember Britney Spears' "I Wanna Go" Music Video?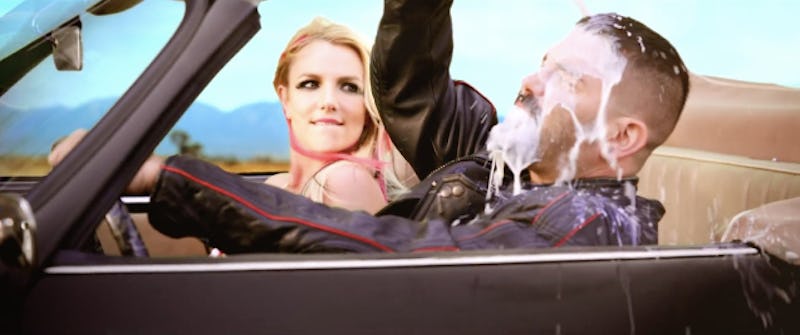 Throughout her extensive career as a pop sensation, Britney Spears has released some eyebrow raising music videos. Starting as early as "Oops I Did It Again" (what even WAS that Titanic intermission) and most recently the music video "Pretty Girls" with Iggy Azalea, our girl has never been afraid to showcase her shockingly rich sense of humor. But nothing compares to the next-level absurdity of the 2011 music video for "I Wanna Go," four and a half minutes that reach the upper echelons of bizarro music videos.
True story, I'd forgotten all about the existence of "I Wanna Go" before today, and I'm now not sure how I've gotten this far in life without remembering it was, like, a thing. "I Wanna Go" lampoons some of the strangest rumors surrounding Britney's career, laden with pop culture references and imbibed with a surrealist twist. OK, that sounds a little generous — but trust me, it's an effort that deserves a second glance. So, since I'm feeling a little retro today (sincerely a little, because this music video was only four years ago) I decided to revisit the weirdest moments from "I Wanna Go."
So feel free to relive the magic with these 18 crazy things from Britney's best/worst music video, "I Wanna Go"
1. Junk Food, Smiles, Candy, And Laughter Were All Banned From Her Femme Fatale Tour
The rumors were confirmed at this very official press conference.
2. However, She Was NOT Having Brad Pitt's Love Child
It's quintuplets.
3. The Verdict Is Still Out About Whether She Hates Puppies
She refused to comment.
4. She Did, However, Go On A Tirade And Tell All Of The Press Conference Attendees Off
Except for this guy.
5. These Hair Streaks
...which she may have colored herself with that sharpie.
6. Then She, For No Reason, Takes Off Her Top
And flashes this father and child.
7. After Being Accosted By A Police Officer, Out Girl Walks Away With His Handcuffs As He Buttons Up His Shirt
50 Shades of Britney.
8. These Over-Spiked Boots
That are somehow totally undone.
9. Oh, Cool, Britney's Wearing A Bikini Top Under This
I spent the first half of this video thinking she was topless.
10. The Dogs That Are Lined Up Watching This Hot Mess
My actual expression right now.
11. The Long-Awaited Sequel To Crossroads
Finally, twice the fun, twice the roads to cross.
12. When Britney Violently Knocks The Paparazzi Out With A Microphone
Which begs the question, why is Britney carrying a microphone around?
12. BUT THEN THEY ALL END UP BEING TERMINATORS!
Big "what" and "why" to this.
13. Then This Guy Comes To Britney's Aid
Come with him if you want to live.
14. And Then He Pours Milk All Over Himself While He's Driving
Because that's how I drive a car.
15. AND BRITNEY'S SEXUALLY ATTRACTED TO IT
??????
16. AND THEN HE ENDS UP BEING A ROBOT?
What a twist!
17. But JK, It Actually Was All A Dream. And He Assures Britney He "Likes Dreams."
"...and seashells."
18. But Then They End It With A "Thriller" Reference?!
WHAT YEAR IS THIS? WHAT'S HAPPENING? WHO AM I?
I don't know what just happened. Maybe you can figure it out?
Images: BritneySpearsVEVO/YouTube (23)