This Instagram Series Crushes Gender Norms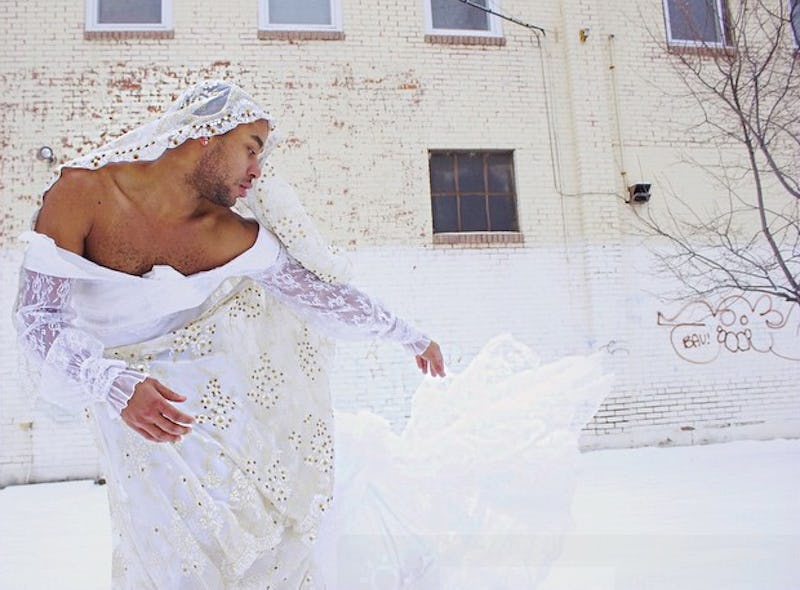 While androgyny has occupied a niche in fashion for decades, it's typically a very predictable sort: thin, white women in menswear, with a thin, white man in a poofy dress thrown in every decade or so for variety. Antonio Marziale's breathtaking "Man As Woman" Instagram series, however, turns every concept you may have had about gender norms on its head. The subjects are men of all ethnicities, sizes, and sexualities; the one constant is the theme. "LOVE WHAT IS FEMININE," reads the Instagram page, and it's clear that Marziale, at least, has taken that to heart.
"I have always looked up to women and connected with them as role models," the actor, who does photography in his spare time, said in his artist's statement. He described questioning gender roles from an early age, eventually growing frustrated with a culture that simultaneously idealizes masculinity and demonizes femininity. "We are allowed to glorify what is traditionally masculine, and are shamed for what is feminine," he told Bustle over email. "I think that's really sad, that so many men will never get to experience that power the comes from femininity."
For an example, just look at the fashion shoots mentioned above. Women are photographed in traditionally "male" fashions so frequently that it's not even revolutionary anymore, but when Andreja Pejic, who at the time had not yet publicly begun identifying as female, wore a wedding dress for Jean Paul Gaultier for Paris Fashion Week in 2011, it was all anyone could talk about.
Many of Marziale's photos have religious overtones, which he says are intentional. "I wanted to create my own holy place, so I captured Jesus a woman and made Mary a man in women's clothing… That to me is power," he wrote to Bustle.
He began the series in part as a response to the lack of diversity in LGBT photography, and as a result, he has included many queer models in the series. With his straight subjects, however, he has noticed a trend. "When I asked them to put on female clothing... and adopt traditionally 'female' poses... they become softer, more present, more vulnerable," he said.
The models themselves notice a change as well. "Almost all the straight men that I photograph say the same thing: 'I feel beautiful,'" Marziale wrote.
Although he said that the understands the series could be "disarming," Marziale says that the response has been nothing but positive so far. Most importantly, he hopes that it makes men more comfortable with embracing their femininity. Not only does this affect their own emotional health, but it affects others' as well.
"Until men respect the femininity within themselves, I do also fear that there will continue to be violence towards woman (trans women especially)," he said. Considering the shockingly high rate of violence toward the trans community, it's not an unfounded fear.
Most of Marziale's subjects have been friends so far, but he's recently begun looking for other models in the Los Angeles area. (You can submit yourself on the Man as Woman Instagram page.) As for us ladies, don't be too disappointed just yet; Marziale says he plans on shooting his first Woman as Man this weekend.
Check out more from the Man As Woman series on Instagram.
Image: Man As Woman/Instagram (12)