Andreja Pejic Tells Us Why She Came Out Now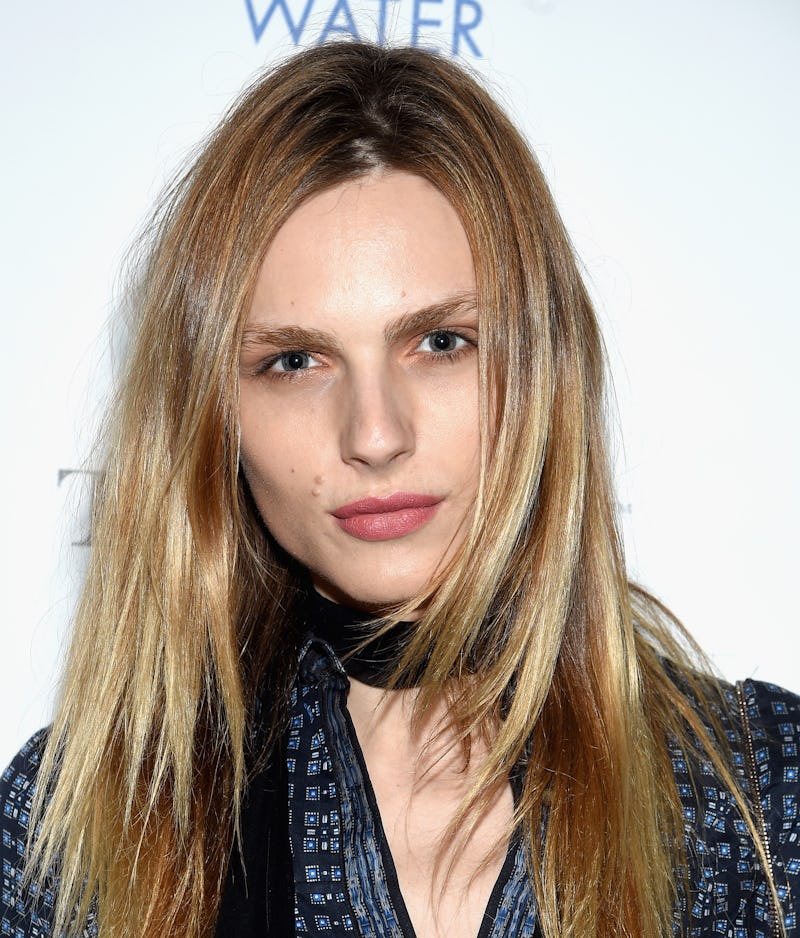 Dimitrios Kambouris/Getty Images Entertainment/Getty Images
Last week, the model Andreja Pejic, famous for her androgynous looks and for modeling both men's wear and women's fashion, came out publicly as a trans woman, officially becoming yet another prominent role model for transgender individuals to look up to. I was fortunate enough to get to speak with her, and as a trans woman myself, I wanted to ask her some of the questions that I felt hadn't been asked in the media frenzy following her announcement. Andreja told Bustle over email what transitioning has meant for her, and her hopes going forward as an out trans woman and an advocate for trans issues.
KAT: I read what you said in Style about knowing you wanted to transition but being afraid to do it right away, and instead presenting androgynously. Could you say a little more about that?
ANDREJA PEJIC: I think androgyny is a common part of the transgender experience. It allows you to express your femininity or masculinity without having to explain gender identity to people. Society is just not very educated about "transsexualism" which makes it harder for trans people to come out.
It's exactly that — a compromise, but usually a temporary one. It makes sense for someone who is going from one physical sex into another to stop and linger in the middle for a while. Androgyny will always be a part of me, of my style, and my expression.
You also talked about trying to suck it up and be a boy. It was similar to experiences I had. Could you explain what that was like?
I went through this right after childhood had ended. It suddenly was no longer cute to play with toys and I couldn't get away with putting on skirts. Society was telling me it's time to grow up and be a "boy." The period lasted for five years. It felt like a 24 hour, seven-day-a-week performance. My imagination got me through it, though.
I was wondering if you had any thoughts about the People magazine's headline: "Andrej Pejic Now Andreja After Sex Reassignment Surgery"? Some people have taken issue with it, implying that the surgery was the point you became Andreja.
I don't think it's my surgery that turned me into Andreja. I was already perceived as a girl by those close to me before the surgery, and I had identified as a girl from a very young age. However, I announced my SRS [sexual reassignment surgery] at the same time that I came out to the world as female, and the press, for the sake of drama, interlinks the two.
I actually feel like my "coming out" to the world is in fact part of my transition into womanhood and a point of validation as big as any physical change. Gender also has a social component. It's not enough to simply change your body — every trans person wants to be accepted by society in a role that matches their gender identity. I also am very aware that many transgender individuals chose not to undergo SRS, it was [a] necessary step for me but, that's all it is, a step in a long process.
Why did you feel like this was the moment to come out?
It was an organic process. At the beginning of last year, I decided I can't keep putting transition off for any longer and I went for it in secret. Frankly, I didn't want anything to stop me. It's a very personal process for which one needs tremendous strength, and I didn't desire to have anyone else's opinion but that of my therapist. Once the most challenging part of the transition was over, I was recovered — and I told the world.
Have you had any trans role models that have influenced you or that you have found particularly inspirational?
I read Caroline Cossey's books when I was growing up, and her story definitely gave me courage. Lynn Conway [a trans activist] and her website contributed a lot to my understanding of myself. Then there were beauties like Candy Darling and April Ashley who I admired. Today, individuals like Laverne Cox and Janet Mock are doing great work at spreading awareness about trans women of color.
What has been the most encouraging thing about this journey for you? The most difficult?
The most challenging thing was to stop being ashamed of who I am and of what mother nature gave me — to gain pride. That pride is now the most encouraging thing for me.
Have you received any negative backlash from friends or fans?
The response has been incredible and definitely exceeded my expectations. I am beyond happy.
How do you feel about the general state of affairs for trans people? What issues would you like to see people focusing on to make life better for girls like us?
It is no longer a secret that the transgender community is one of the most disadvantaged social minorities in this country and [many others]. I think access to employment (unemployment stands at twice the national average) and healthcare (the attempted suicide rate stands at 40 percent) are of primary importance. Education about transgenderism in schools and institutions is vital. Laws need to be put in place to protect individuals from discrimination. As Janet and Laverne have pointed out many times, the murder and abuse of trans women of color in this country must stop!
I always saw you as boundary-breaking just by being unashamed and being you, but now, after coming out, are there any more explicit activism goals you have?
I would love to do more speaking. I also have a few projects in the works, but I can't discuss them right now. I think my career was very much about breaking boundaries and I honestly believe that I can keep doing that. There are still plenty of boundaries that need to be broken!