EJ Johnson Is the Hardest Working 'Rich Kid'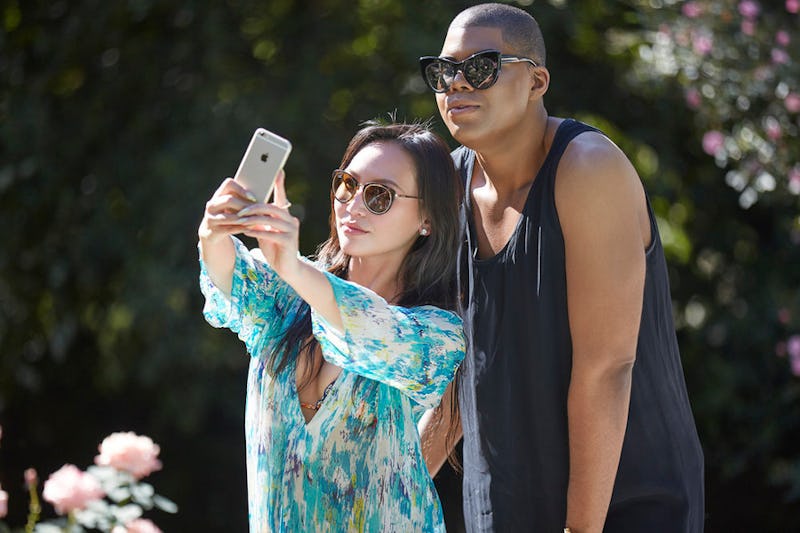 Even though it was supposed to be all about Morgan Stewart and Dorothy Wang's friendship, the breakout star of the Rich Kids Of Beverly Hills is undeniably EJ Johnson. And, he's wonderful not just because he most perfectly represents the cross-section of people wanting to be him and hating him for how ridiculous his life is, but because of what EJ Johnson does for a job. Even though he is basketball legend Magic Johnson's son, EJ doesn't just rest on his dad's reputation. Not only is he pursing a career that could not be farther from sports, but you really don't hear EJ namedrop his dad. The topic of his father only comes up when EJ is joking with his sister, or he's talking about how much he doesn't want to rely on his famous name.
It also probably helps that "EJ Johnson" is something of a common name — though he was briefly TMZ famous before Rich Kids for being so different from his dad. One of the best things about seeing EJ on television is that his family is 100 percent behind his dreams of taking over television. So, here's all EJ has under his belt for now — and fans can expect big things from him in the future, I'm sure.
He Supports The LGBT Community
In the summer of 2014, EJ was one of the Grand Marshals of the San Francisco Pride Parade, and has been a representative of the gay community since that TMZ video. That may not be a nine to five job, but it's certainly a responsibility, and EJ has handled it well so far.
He's Giving Inspirational Interviews All Over The Place
Last winter, EJ was given a spread and interview in Teen Vogue. You realize that's basically like Anna Wintour's version of having you ride a bike with training wheels, right? I mean, sure, she'd deny it, but I'm positive if you even make it onto Teen Vogue, that means she's got her eye on you.
He Used His Instagram Prowess For The New York Post
During Fashion Week this winter, EJ took over the New York Post's Instagram account in order to prove that no one knows that app like a style-savvy Rich Kid. And, while his snaps of supermodels and the front row were, of course, perfect, it was his own street style that managed to pull a ton of faves of Fashion Week, after Anna Wintour's own pics, of course. (Seriously, when those two meet for real, it will be amazing).
He Should Rightfully Be On Fashion Police
Before the show was cancelled, EJ was a guest host on Fashion Police, and he can dish about fashion with the best of them. Unfortunately, he was never able to graduate to full time member of the panel. If they had bet on EJ and put him on a panel with people like Kelly Osborne, the show may have survived the loss of Joan.
But, He's Making Do With E! News
EJ has also been a guest host on E! News, injecting some charm into their daily rundown of celebrity goings-on. If it were possible that he could be a regular contributor, I know I'd start watching the show religiously. Of course, EJ is probably far too busy for that.
Because He's Also A Full-Blown Socialite
I define a socialite as anyone who makes it their job to show up to exclusive events wearing beautiful clothing and being the most interesting person in the room. And, at least according to his Instagram (and how else can you judge a Rich Kid?) EJ fits that definition perfectly.
And, Ultimately, It's All So He Can Get His Own Show
EJ has talked on Rich Kids about how he basically wishes to eventually become a more fabulously dressed version of Oprah. And, since he's already taken over so much in just his early 20s, I think he's going to achieve it. Because, defying all stereotypes about the Rich Kids, EJ Johnson isn't afraid to work. Even if he prefers to do so with a cold drink and a pair of designer sunglasses on, he's still getting results... he just looks amazing doing it.
Image: Mathieu Young/E! Entertainment