Britney Spears Fans, You're Gonna Wanna See This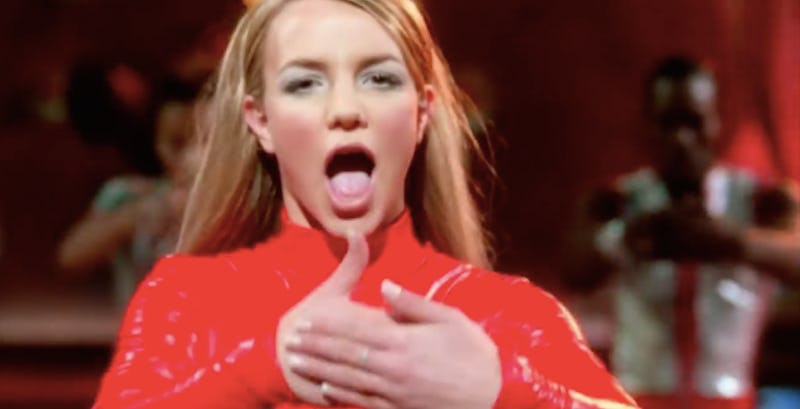 The world hasn't been the same since Britney Spears solidified herself as a both the princess of pop and queen of Mars in the "Oops ... I Did It Again" video. That iconic descent with Spears clad in a red latex catsuit? It's an image that I'll fondly bring to my death bed. But do you by any chance remember the actual making of "Oops ... I Did It Again"…that is, the MTV Making The Video special that preceded its world debut?
Even if you don't, don't fret: If you, too, have access to basic Internet connection, it's available with minimal digging. The best part? The video uncovers not only some behind the scenes secrets of the "Oops" video (apparently, according to the special, that catsuit was constructed within 13 hours of ordering it) but I came across a dash of turn-of-the-millenium weirdness. I feel so much more culturally rich for having watched it, and I know you will, too.
So take a gander below at the true story behind your favorite Britney jam, "Oops ... I Did It Again." OR, just cut to the chase and check out my rapid fire quick recap of all the wonderful things I learned from watching the creation of this true masterpiece.
1. Britney Actually Wears Glasses! That Is, Bright Neon Green Glasses
And she's wearing them indoors, so I'm just going to stick by to my gut feeling and assume those are fancy rich people reading glasses.
2. She Also Has A Penchant For Abercrombie And Fitch
It was the dawn of the new millennium, though, and no one can blame her for that.
3. "Oops ... I Did It Again" Doesn't Actually Target One Guy Like You May Have Thought — It's Actually About A Girl Who's Being Pursued By SEVERAL Guys
Britney loves it because it's really different and special that way, and it is. "Oops ... I Did It Again" is the first song about mass friend-zoning, and that makes me very, very happy.
4. "Mars Is populated By The One And Only Britney Spears, And It's Britney's True Home."
FINALLY, THE MYSTERY REVEALED! You can read more about this shocking revelation in the book Britneys Are From Mars, Christinas Are From Venus.
5. Britney Likes To Be Comfortable When She's Floor Swimming
This is understandable.
6. Britney's Catsuit And Big Hair Is Actually Based On Elizabeth Hurley's Look In The First Austin Powers Movie
This brings me back to simpler times, when peace and love reigned supreme, and Mike Myers still had a career.
7. BRITNEY HAS THIS CUTE DOG
I'm not sure if this is Hannah Spears or another pooch, but I'm glad that it gets to be a part of the magic.
8. Britney's Long Hair Is Nothing But An Illusion!
She has a really short do throughout the making of video, and it only dawned on me afterwards that she is Extension City right here.
9. Apparently, The Astronaut Has A Name
Good for him.
10. The Eyebrow Raise He Makes When Britney Asks If He's Hot And Says, "I Think It's Gonna Get A Little... Warm."
Like... are you trying to be witty somehow, or are just stating a basic fact?
11. WAIT, THEY DIDN'T ACTUALLY SHOOT THIS ON MARS?
MY ENTIRE LIFE IS A LIE.
12. And, Most Importantly, Britney Likes Cute Guys As Much As Any Of Us
Even with her whole being-Britney-Spears thing, she is not above gossiping about the cute muscular minions with her back up dancers. SO YOUNG. SO INNOCENT.
Rewatch time, anyone?
Images: Zona Britney/YouTube (13)