Rainbow Chip Frosting Makes A Triumphant Return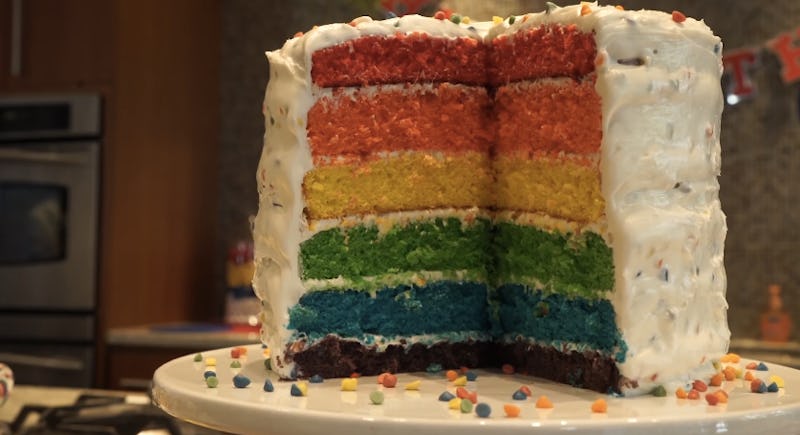 What do you miss most from your childhood? While I don't miss having to ask for ice cream every time I want it (which is often, to be honest), I really miss the whole "not having a care in the world" thing. I miss someone else paying my bills and not having to make the long drive to see someone because I couldn't drive. I miss the guarantee of a party and dinner and seeing family on your birthday. And I miss the cake. Speaking of/cue cake related segue: Betty Crocker Rainbow Chip frosting is back on the shelves, so the non believers can now come out of the woodwork and rejoice.
Betty Crocker Rainbow Chip frosting was a childhood staple that was ruthlessly taken off the shelves two years ago. It forced us all to opt for the less favorable rainbow frosting with lowly sprinkle alternatives and was wildly unfulfilling in comparison. While you, perhaps, didn't even notice the transition, I can promise you that the absence of Rainbow Chip did not go unnoticed. There was a Facebook support group and a petition to bring it back. This uproar was bigger than the campaign for a Taco emoji. People sold Rainbow Chip on ebay, and there was an extreme amount of public lamentation.
Since bringing back the frosting, there's been a swell of social media support:
Betty Crocker: Making birthdays special again.
And people are celebrating the end of the dark days:
Florence + the Machine will probably be commissioned to sing at the celebratory gala they should undoubtedly host.
People have been praying for this day to arrive:
And in celebration, Betty Crocker put out this video:
Look at all this happiness:
If you aren't halfway to the store already, what are you even doing?
Image: YouTube