Get Ready For 'Mission: Impossible 6'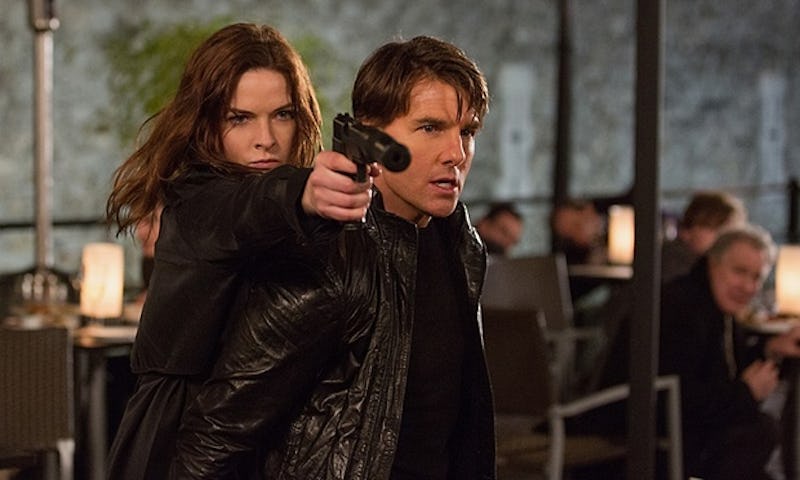 On July 31, Mission: Impossible - Rogue Nation will hit both IMAX and regular movie screens. And if the franchise's history is any indication of moviegoers' current level of excitement for another round of spy games with superstar Tom Cruise, then this fifth outing will also be a blockbuster success. The Mission: Impossible series has been around for almost two decades now, and has pulled down over $2 billion so far in worldwide box office. That kind of track record begs the question: why stop now? It's a fair bet that action fans can look forward to another chapter in the Mission: Impossible story to follow Rogue Nation. So, when will Mission: Impossible 6 come out?
TrackingBoard.com reports that plans for M:I 6 are already in motion at Paramount, with a core team of producers and a studio overseer already in place. Paramount released the first five films in the franchise, starting with the original Mission: Impossible in 1996, which starred Cruise, Jon Voight, Emmanuelle Beart, and Jean Reno. The first movie adaptation of the '60s TV show was a hit financially, grossing over $170 million in the U.S., but received a middling critical response. Mission: Impossible II debuted four years later, and added Dougray Scott and Thandie Newton to the mix with Cruise. As is usually the case with sequels, the budget expanded. The box office did as well, even though the critical opinion dipped. No matter. By that point, M:I was unstoppable.
In 2006, the third film in the series came out, after a fairly lengthy hiatus. This one was helmed by hot-shot director (and the holder of all our Star Wars hopes), J.J. Abrams. In his hands, M:I III was the most well-regarded Hunt adventure so far, and it also introduced Simon Pegg's character to the franchise. But it was 2011's Ghost Protocol, which was directed by Pixar auteur Brad Bird and brought Jeremy Renner and Paula Patton into the fray, that really showed cinephiles what Team Impossible could really do. Entertainment Weekly's Owen Gleiberman wrote that the fourth M:I movie "proves that in a Hollywood action-ride ­culture drenched in fake adrenaline, it's cathartic to encounter the real thing."
The series welcomes another new director, Christopher McQuarrie, in its fifth time around. Don't expect a substantial reboot in Rouge Nation, though. McQuarrie, who has other Cruise credits with Jack Reacher, Edge Of Tomorrow, and some input in M:I 4, told Yahoo News that he intended to continue the momentum generated by Ghost Protocol:
I had worked on Ghost Protocol with Tom. We found a sort of tone that we loved and really wanted to preserve that over into this movie. I was determined to do something lighter and more fun, but then this villain evolved, the story evolved, and our team evolved and took it into a different direction.
There has never been less than a four year break between Mission: Impossible films. The movies themselves are massive undertakings, and, of course, are not the only projects on Tom Cruise's calendar. Right now, IMDB lists two more exciting sequels in his future: Jack Reacher: Never Go Back and (be still my '80s heart) Top Gun 2. Going off of the series' past release schedule, fans shouldn't look for another M:I movie until about 2019. The good news is that, after July 31, they'll have five other installments to rotate while they wait.
Image: Paramount Pictures; Giphy