Holy Katy Perry & John Mayer PDA!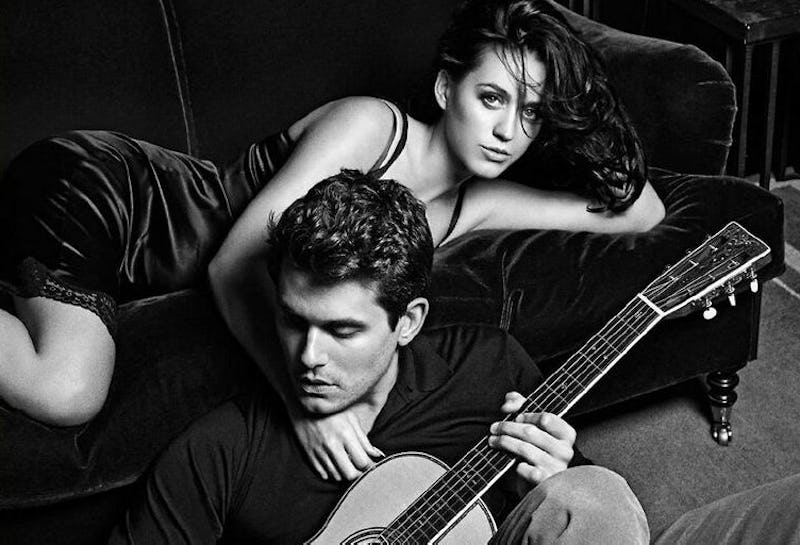 Aww, it looks like these two crazy kids may have finally pulled it together. According to MTV UK, John Mayer and Katy Perry have revealed cover art for "Who You Love," their duet which was released this past September. The picture itself was tweeted by John Mayer, who commented along with the image, "'Who You Love' is here. Proud of this song, proud of this artwork, proud of this girl. - JM" Isn't it just so sweet to see a couple in the stage of their relationship where they feel comfortable enough to record a song together and pose more seductively than anyone ever should with a guitar? Sigh. One day, we'll all find someone who makes us feel like we're living a teenage dream.
If you haven't heard the song yet, you can check it out in full below. It's actually the third single to come from Mayer's most recent album Paradise Valley, which was released back in August of this year. Of the track, Mayer has previously said that he brought it to Perry because he believed in it, and she did as well: "I wouldn't have brought her a song if I didn't think it was good and great and she wouldn't have said she would do it if she didn't think it was going to be great. So it was a completely artistic transaction."
If there's any truth to recent rumors, however, there might be more reasoning behind it: Apparently, Mayer is rumored to be looking at engagement rings for Perry, while Grazia reports that the two are already secretly engaged.
If it is true — aww, how sweet. You know, Mayer actually once described his perfect marriage during a 2010 interview with Men's Health , considering all these wedding rumors, maybe we should take a look at what he said! Let's see: "When I find the person I can relate to... and who is also a pinup and who also says, 'Can I please take pictures of your [butt]?' then I am going to get married to her. That I can promise you."
Welp, that wasn't in the song.
You can check out the new cover art below.
Image: JohnMayer/Twitter