Are Shawn & Kaitlyn Shacking Up?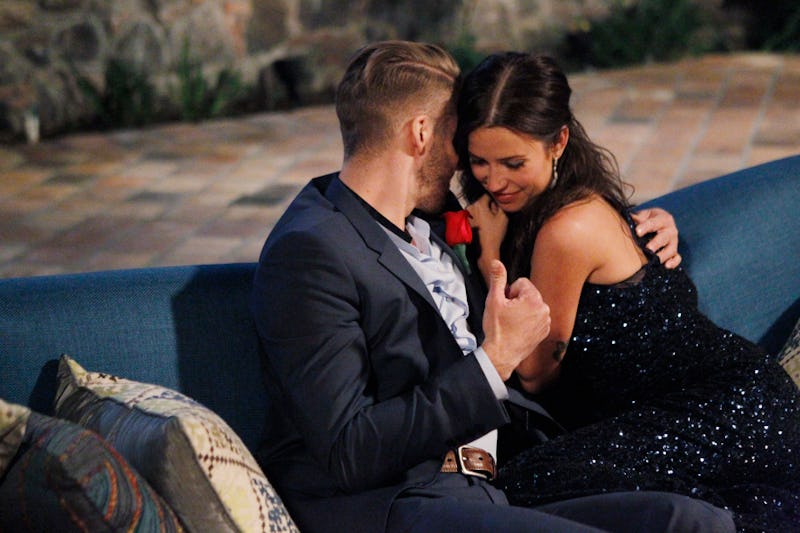 Now that the end of The Bachelorette is here and we've seen Kaitlyn and Shawn showing off their engagement on live television (yay!), it's time for this lovely couple to ride off into the sunset together. Okay, well, maybe not ride into the sunset, because here comes the usual couple stuff — heading to Trader Joe's on Saturday morning, running out for ice cream, agonizing over what to make for dinner, and fighting about leaving wet towels on the bed. It's time to get rid of the rose ceremonies and get into the real world. But before any of that can happen, this cute couple has to decide where they're going to lay their heads. Are Kaitlyn and Shawn living together yet?
Shawn is an insurance consultant-turned-fitness-instructor who, though originally from Connecticut, calls Nashville, Tennessee his home. He's got plenty of proof of love for his musical city — his Instagram is full of pics of him about town, and he's best pals with a few country stars. Kaitlyn is from Alberta, Canada, and she moved to Vancouver to pursue a dance scholarship. Vancouver's rugged terrain and cool, laidback vibe perfectly suits Kaitlyn. Both cities have their merits, so maybe it will be easier for Kaitlyn and Shawn to pick up and try a new city — one that they've chosen together.
Obviously, the happy couple has no pictures together on social media (save for that one Snapchat issue last month), so we can't even see their geotags. Rude, right? Their interview on the After The Final Rose special was equally as ambiguous. I'm sure that a couple this happy (and with that much chemistry) has already started keeping more than a toothbrush in the same house, but we have no proof. Come on, guys! Where are you living? What are you doing? I need to know! Personally, I think they'll choose to live in Nashville, because Kaitlyn has moved around a lot and doesn't seem to have real roots anywhere. I could totally see her living in Nashville, but I'm not sure I could see Shawn in Vancouver, you know?
Guess we'll just have to stay tuned to these two (and ABC) to find out.
Images: ABC/Rick Rowell; Giphy