9 Drugstore Beauty Tools You Need ASAP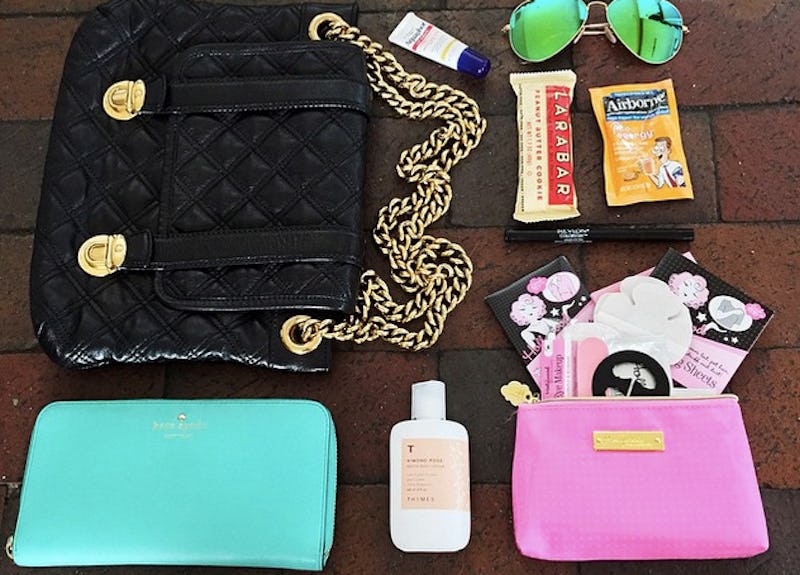 Forget about brushes and eyelash curlers. We all already know about those — or at least we've heard of them. It's time to pay attention to all the other fabulous drugstore beauty tools out there. No, I'm not talking about expensive beauty splurges. It's time to turn to the drugstore for some of the coolest beauty tools that you didn't know you needed. From everyday beauty mistakes to once in a lifetime problems, there is a tool out there for every makeup mishap. It's amazing all of the little drugstore finds that can completely change your beauty routine.
Once you know about these tools, there's no turning back. Now, there is no reason to waste any more product or have messy eye shadow fall-out. The beauty world has heard your problems, and now there's help. The beauty of buying things at the drugstore is that the deals are pretty much endless (and you can pick up some snacks while you're there). All of these products together costs under $65. You can literally change your entire beauty routine for less than what you probably pay for your monthly cell phone bill. Here are some amazing drugstore beauty tools that will change the way you look at your beauty routine.
1. Beauty Spatula
Don't you just hate it when you can't scrape out every last bit of your foundation or concealer? It's the worst. I always feel like I'm wasting so much product (aka money). Well, not anymore. If you're a lover of liquid products, you have to try out a beauty spatula. These things are awesome for getting every last drop out of your bottle.
Every Drop Beauty Spatula, $10, target.com
2. Real Techniques Miracle Complexion Sponge
I love this product as it's a cheaper version of the famous beautyblender sponge. Simply wet the sponge, squeeze out any water, and blend in your makeup. It's great for getting that airbrushed look.
Miracle Complexion Sponge, $5.99, ulta.com
3. Artificial Lash Placement Tool
False lashes can be so tricky to place onto your eye. I feel like the glue just gets everywhere! With a lash placement tool, you can take the work out of applying falsies. The tool is curved to fit both the eyelashes and your eye, which makes it easy to pinch the false lashies into place.
Lash Placement Tool, $10, ulta.com
4. Shadow Shield
Tired of your eye shadow falling onto your cheeks? Use a eyeshadow shield. Another trick is to flip the shadow shield, and use it to keep mascara from getting onto your eyelids. This thing is so handy for those (myself included) who have a hard time with their eye makeup.
e.l.f. Studio Mascara and Shadow Shield, $3, eyeslipsface.com
5. Dry Body Brush
Dry body brushes are amazing for exfoliation without all the hassle of messy scrubs. Over time, dry body brushes can improve circulation, and the overall appearance of your skin. What a win-win!
Eco Tools Dry Body Brush, $4.99, ecotools.com
6. Nail Polish Remover Pot
I swear by these things. All you have to do is dip your fingernail into the pot, wiggle it around a little bit, and voila — your nail polish is removed. It's insanely simple.
Nails Inc. Express Nail Polish Remover, $11, ulta.com
7. Skin Clearing Tool
For everyone who can't resist popping a pimple, this product is for you. This stainless steel extractor allows you to remove blackheads and pimples without the germs from your hands getting onto your skin. While popping pimples isn't normally recommended, this is a great too if you feel the need to remove any pesky zits.
Ulta Professional Skin Clearing Tool, $10, ulta.com
8. Eye Makeup Removing Swabs
While these make look like your average cotton swab, they actually pack a big punch. These swabs contain a small amount of eye makeup remover. These are amazing at cleaning up any eye makeup mistakes or creating a flawless cat eye.
Hollywood Secrets Eye Makeup Corrector, $5.99, ulta.com
9. Brow Trimmers
Are your eyebrows getting a tad too bushy for your taste? Trim them back with disposable brow trimmers. Not this may seem drastic, but it's actually super simple. Brush your brown hairs upward, and glide the trimmer above the highest point of your brow moving along to the tail.
Ardell Brow Trim & Shape Grooming Tool, $3.49, drugstore.com
watch weird spacing like this
Now, go be fabulous!
Images: Pexels (1); Courtesy Brands (9); Giphy (1); hollywood_fs/Instagram