29 Clothing Basics For Fall 2015 Because Normcore Lives On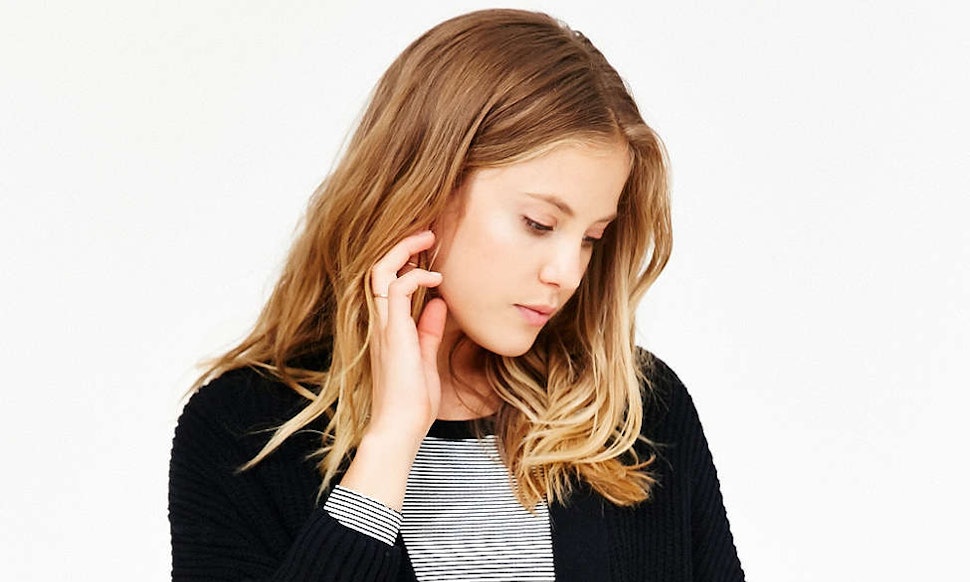 If you were a fan of the laid back stylings, neutral color palettes, and sneakers that took over last fall season with the insurgence of normcore, you're in luck because the back to school fashion forecast is calling for a 100 percent chance of basics styling and the normcore recurrence could be even stronger than its debut. Crop tops are transitioning to cozier fabrics for sweater weather, denim is relaxed and loose fitting, all white sneakers will live long past Labor Day, and knits are getting a sexy Christian Grey style makeover. Fall is, once again, for basic babes and normcore lovers.
What does this mean for your wardrobe as the temps begin to cool? For one, the leaves will be the most colorful aspect of the changing season as everything from staple pieces to trend silhouettes are set to range from white to gray to black (maybe a heather oatmeal if you're a rebel!). Baggier boyfriend-esque shapes are back in a big way, both on top and bottom. Also, expect to see loads and loads of layering.
Whether you're pairing your relaxed ensemble with a backpack full of school books or simply transitioning your wardrobe for work and weekend jaunts, here are 29 staples pieces that will have you living that normcore life. Get your basic on.
Bright White Sneakers
Bright White Sneakers
A classic Adidas is basically the definition of normcore footwear.
Bright White Sneakers
Our beloved Keds with a modern twist.
Keds Double Up, $50, Keds
Bright White Sneakers
A sweater that easily pulls over, a boyfriend jean that easily pulls up, and a monochrome sneaker that slides right on.
Perf Leather Slip-On, $60, Vans
Bright White Sneakers
The Slim Boyfriend Jean
Skin tight skinnies are on their way out and the slim boyfriend is taking over.
The Slim Boyjean In Hatfield Wash, $128, Madewell
The Slim Boyfriend Jean
Move over gender stereotypes. These jeans aren't just for the boys anymore.
Plus Size Slim Boyfriend Jeans, $80, jjill
The Slim Boyfriend Jean
A classic Levi in a light wash is basic in all the right ways.
501 Jeans For Women, $88, Levi
The Slim Boyfriend Jean
Light washed and loose fitting — that's basic, baby.
Women's Plus Boyfriend Skinny Ankle Jeans, $43, Old Navy
Cropped Sweaters
'Tis the season for shrunken sweaters.
Gracie Knit, $28, Brandy Melville
Cropped Sweaters
Shorter sweaters and longer layering pieces make for the perfect pair.
Marled Cropped Sweater, $27, Torrid
Cropped Sweaters
Normcore isn't totally without its frills. Get girly with your basics by choosing a cropped sweater with a fancy trim.
Kimchi Blue Lace Trimmed Cropped Sweater, $39, Urban Outfitters
Cropped Sweaters
Even cardis are cropped and just waiting to be layered over a tank or tee.
Cropped Sweaters
The ladies of Clueless called. They want to borrow your sweater.
Nasty Gal Sergeant Pepper Crop Sweater, $21, Nasty Gal
Cozy Co-Ords
Cozy Co-Ords
Monochrome separates in comfy materials can be dressed up or down with a switch of the shoes or a swap of accessories.
Open Knit Top, $53, EloquiiStudio Open Knit Midi, $75, Eloquii
Cozy Co-Ords
Matching sets are sweater weather ready and easily paired with your basic bright white sneakers for the most up-to-date laid back look this season.
Casey Knit Scoop Neck Crop Top Grey, $30, MissguidedMadelynn Knit Midi Pencil Skirt Grey, $30, Missguided
Basic Babe
The plain white tee lives on. This season, crew necks will steal the spotlight.
Classic Knit Tee, $8, Forever 21
Basic Babe
For an all-over relaxed look, choose a tee with a fit as loose as your favorite of-the-moment denim.
The Slouchy Cotton Slub Crew, $28, Everlane
Basic Babe
Crop tops are not solely reserved for the summer months. Swap out the lightweight cotton version for its ribbed counterpart and layer under a sweater.
Always On Ribbed Crop Top, $32, Nasty Gal
Basic Babe
Because a gray crop top goes with everything this season.
Plus Size Ribbed V-Neck Crop Top, $10, Charlotte Russe
Normcore Stripes
There are few things a basic girl loves more than her stripes.
Cuffed-Sleeve Striped Tee, $13, Forever 21
Normcore Stripes
This season, stripes are mainly of the black and white variety, making them the normcore pattern of choice.
Deck-Striped Tee, $50, J.crew
Normcore Stripes
Darken up your neutral palette with a stripe based in black.
Simplicity On A Saturday Tunic In Black Stripes, $30, ModCloth
Normcore Stripes
Slouchy Sweaters
A slouchy cardi keeps your midriff warm when worn over the seasonal ribbed crop and helps keep coats in the closet as long as possible when paired with a long sleeve striped tee.
BDG Parker Cardigan, $59, Urban Outfitters
Slouchy Sweaters
Marled fabrics add texture to your all basic, all the time wardrobe and, bonus, match back to the variety of white, gray, and black tops you now own.
Women's Plus Marled Boyfriend Cardigan, $38, Old Navy
Slouchy Sweaters
Super soft fabrics and colors complement the lighter wash jeans that are pushing their way to the forefront this season.
Talula Lenox Sweater, $85, Aritzia
Slouchy Sweaters
Cropped in the front, longer in the back, this is basically the mullet of slouchy sweaters (in a good way).
Sejour Telstar Plus Size Long Cardigan, $69, Nordstrom