Beyoncé & Megan Thee Stallion's Chrome Renaissance Nails Are A Vibe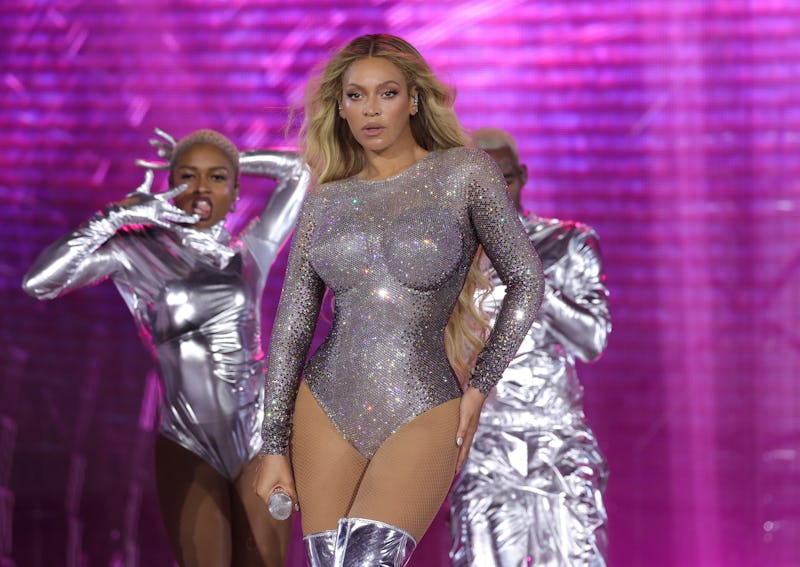 Kevin Mazur/WireImage/Getty Images
On the evenings of Sept. 23 and 24, San Antonio-born, Houston-raised Megan Thee Stallion joined the one and only Beyoncé (who also so happens to be an H-Town native) on her industry-shifting Renaissance Tour in none other than Houston, Texas. Live together for the first time, the duo performed their remixed version of Megan's viral hit, Savage, which all but ignited the crowd's room-shaking roar.
With a glamorous outfit change from all silver everything to an army print 'fit to match Megan, Beyoncé also coordinated nails. Stunningly detailed and extra-long, both sets featured a bit of chromatic silver to complement the tour's disco ball-inspired vibe.
Painted by Coca Michelle — a daring nail technician who has worked with clients like Cardi B, Bad Bunny, and Christina Aguilera in the past — the London-born artist created both Bey and Meg's Renaissance nails.
With the "Cuff It" singer's shorter nails concealed beneath glittering gloves, Michelle created XXL chrome stiletto press-ons to glue onto gloves. On top, the pair went with a mirror-like silver lacquer hue, made all the more shiny with silver gems placed at each nail's center. On the underside of each hand is a pure black polish topped with perfectly etched letters that spell "unique."
As for Megan, Michelle went with the ultra-long, lipstick-shaped French nails that have become synonymous with the star. With the base hue a shade of olive green that matches the Bongos rapper's outfit, the gradient French tip matches Queen Bey's silver vibe. Adding a whole lot of shine, the entire nail has an on-trend chromatic finish.
ICYWW, chrome nails of every color are definitively in at the moment. And while A-listers have access to some of the top manicurists in the industry, an expert has recently told Bustle about three different ways to achieve the chromatic look at home.