11 New Romance Books For Summer Beach Reading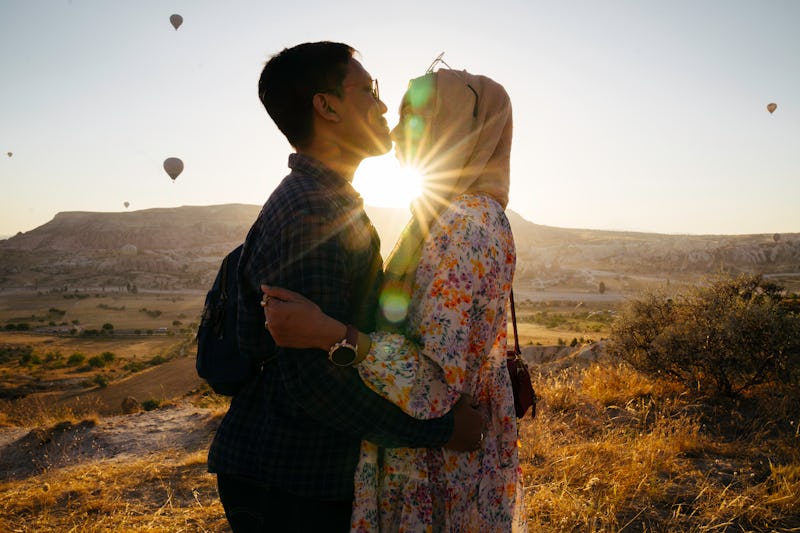 rudi_suardi/E+/Getty Images
The days are getting longer, your weekends are starting to fill with barbecues and clam bakes, and you've even dragged your sundresses and sandals out of the back of your closet — the countdown to summer has officially begun. While you're getting ready for the season, buying sunscreen and finding the perfect new sunglasses, don't forget to add some new romance books perfect for summer reading.
The perfect beach read is different for everyone, but there's something about romances that make them great companions on sunny summer afternoons. Maybe it's their ability to sweep you away in a whirlwind of wonder and romance or their unbeatable optimism and promise of a happy ending that make them so compulsively readable. Or perhaps it's their characters — the ones whose improbable love is the kind we can't help but root for, that make them the best kind of story to get lost in. Whatever it may be, romance books and summer reading go together like salt and sand, like sunglasses and tan lines, like ice cream and boardwalks — you get the picture.
Now that we're on the cusp of the summer season, those glorious few months meant for long weekend getaways, outdoor concerts in the park, rooftop bard drinking, and, of course, beach reading, its time to build your very best TBR with these 11 new romance novels. The only question is, what's hotter, the books or the weather?
1. Never Let You Go by Monica Murphy (May 3, Random Houe Publishing Group)
In the second installment of Monica Murphy's dark and sexy Never Tear Us Apart series, Katherine and Ethan just may get a second chance at love. Katherine, still reeling from her abduction and abuse, is struggling to get past Ethan's betrayal, but can she even imagine forgiving him, a man who deceived her so? Fate keeps pulling them together, but only time will tell if they will be able to find a way into each other's hearts again.
2. The Apartment by Danielle Steele (May 3, Delacorte Press)
In one of her best novels yet, Danielle Steele follows the lives of four young women, all of whom live in the same apartment, as they navigate their personal, professional, and, of course, romantic lives. In Apartment, Claire, a shoe designer, Abby, a writer, Morgan, and financial consultant, and Sasha, a medical professional, may all be completely different women, but they form a tight-knight family by choice — one that they'll need to rely on as they try and work though new relationships, exciting career opportunities, and personal conflicts. Sweet and sentimental with the perfect amount of hunky men, heartbroken friends, and hot romances, this is an engaging novel you should add to your summer reading list.
3. The Weekenders by Mary Kay Andrews (May 17, St. Martin's Press)
Though it's not a straight up love story, Mary Kay Andrews's The Weekenders blends together mystery, romance, and plenty of drama to keep romance readers turning the pages. When Riley arrived on Belle Isle, she was ready for a summer of relaxation and fun with her friends and family, but what she got instead was a nasty surprise: divorce, financial ruin, and social shame. Now, Riley must piece together the secrets of her life, the ones her husband had been keeping from her and the one's her friends on the island are trying desperately to hide. Witty and humorous, The Weekenders has just enough romance to make it her perfect summer read.
The first book in bestselling author Sarah Morgan's From Manhattan With Love series, Sleepless in Manhattan is a sweet, romantic story about finding love and magic in the best city on earth: New York. When Paige and her two childhood best friends, Frankie and Eva, move into Paige's brother's brownstone in Brooklyn, they're ready to take on the Big Apple, but things never go as planned. While Paige tries to make her fledgling company succeed, it seems like a man from her past — her brother's best friend and the man that broke her hear years ago — might be the only one who can help. Emotional and sexy, Sleepless in Manhattan is the start to a great new romance series.
5. The Island House by Nancy Thayer (May 31, Ballantine Books)
Nothing says summer read like a book about a beachy island getaway. In bestselling author Nancy Thayer's The Island House , Courtney Hendricks, a 29-year-old professor in Kansas City who has spent many summers at her best friend's house on Nantucket, is ready to return to the island to finally find out if the man she's been crushing on for years feels the same way. A touching story about friendship, family, and the uncertainty of love, The Island House is a charming novel perfect for casual summer reading by the beach.
6. The Memory of Us by Camille Di Maio (May 31, Lake Union Publishing)
In Camile Di Maio's breathtaking romance The Memory of Us , Julianne Westcott is living the life of young woman's dreams: a wealthy family, a beautiful wardrobe, and a long line of prospective suitors vying for her hand. But when Camille finds out about her brother, blind and deaf and institutionalized since birth, her entire world is turned upside down. Things only get more complicated when, while visiting her brother in secret, Julianne befriends and starts to fall for the hospital's groundkeeper, Kyle, an Irish Catholic boy studying to become a priest. Now, Julianne must decide whether or not to live the live she was meant to, or break free and follow her heart.
7. One True Loves by Taylor Jenkins Reid (June 7, Washington Square Press)
Taylor Jenkins Reid, the mastermind behind the incredible summer read, Maybe in Another Life, comes One True Loves , a sweeping love story about a woman caught between the love of two incredible men. After marrying her high school sweetheart, Jesse, Emma is thrilled to start their life together, knowing that only good things await their future.That is, until Jesse goes missing in a helicopter over the Pacific, and never returns home. Years later, Emma has finally found love again in an old friend, Sam, and just when she thinks she can be happy again, the impossible happens: Jesse is found alive. How will Emma choose between her first love, a man who has been fighting his way back to her, and her new love, a man that finally brought love back into her life? You'll just have to read it to find out.
From the author of How Stella Got Her Groove Back and Waiting to Exhale comes I Almost Forgot About You , an inspiring story of one woman's quest to find true happiness and fulfillment. Despite her seemingly perfect life — great job, wonderful friends, and a loving family — Dr. Georgia Young still feels stuck, so she decides to quit her job and move somewhere new. Having let go of her past, will Georgia finally find love again? A moving story about change and possibility, I Almost Forgot About You is a must-read novel about facing your fears and finally letting yourself find true happiness, whatever it may be.
9. Sweet Little Lies by Jill Shalvis (June 28, Avon)
The first installment in bestselling author Jill Shalvis's Heartbreaker Bay series, Sweet Little Lies is a seductive novel about secrets, lies, and learning how to tell the truth. Pru, a captain of a tour boat in the San Francisco Bay, loves her new life, but when she starts to fall for pub owner Finn O'Riley, things start to fall apart, because Pru has been hiding her real story from him. Will the truth set her free and make her wishes come true, or break her heart again? A sexy and intriguing story, Sweet Little Lies is setting the series up to be as addicting as all of Jill Shalvis's romances so often are.
10. Falling by Jane Green (July 19, Berkley)
Jane Green, bestselling author of summer reading essentials like The Beach House and Summer Secrets , brings us another heartwarming story about life changes, devastating losses, and true love. When Emma left England for New York, she thought she'd find the life of her dreams, but the big city took a bigger toll on her than she expected, and it didn't take long to figure out NYC wasn't for her. In Westport, CT, Emma thinks she finally finds what she's looking for — control and independence, a satisfying career, and a chance at love. But when fate threatens to take it all away, will Emma be strong enough to fight back? Enchanting and lyrical, Falling is summer love story you don't want to miss.
11. Swear on This Life by Renee Carlino (August 9, Atria Books)
When Emiline reluctantly reads mystery novelist J. Colby's newest novel, she can't help but see herself and her childhood best friend, Jase, in the pages of the book. When the similarities become to obvious to ignore, Emiline decides to find out once and for all if J. Colby is actually Jase, her old friend, her first love, and the man she hasn't seen in over a decade. Mysterious and compelling, Swear on This Life is the epic love story your summer needs.
Images: rudi_suardi/E+/Getty Images