A Definitive List Of Eurovision's Most Iconic Performances
From the camp to the chaotic, these are the 13 acts we think deserve a spot in the Eurovision hall of fame.s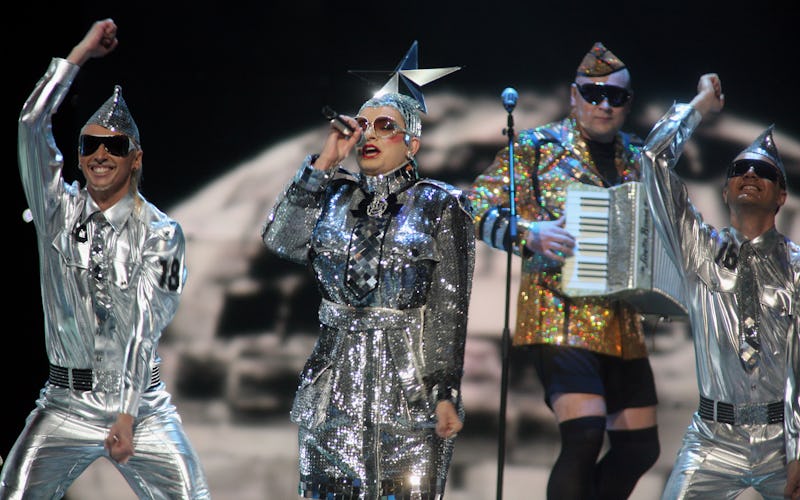 Johannes Simon/Getty
It's more camp than an actual camping site, cringe in the best way possible, and a must-see every year (well, except last year when it was cancelled, of course). Across the planet, groups of (six) people (or two households) will be sitting down to watch the world's ultimate talent show return for 2021. Maybe you have a COVID-safe party planned? Maybe you want to dress up as your favourite ever performer? I mean, there have been too many incredibly acts to pick from, but some performances manage to find the perfect combination of whacky costumes, catchy tunes, chaotic dance moves, and OTT pyrotechnics to make for a performance that's worthy of the Eurovision hall of fame.
Yeah, yeah, yeah — get off your high horse music snobs. Eurovision is not for everyone, I know. But it's Christmas come early for lovers of camp classics and trash Euro pop so just leave us to our fun, OK?
Below is a list of 13 of the most iconic Eurovision acts of all time, gathered together in chronological order. Eagled-eyed fans will spot that ABBA doesn't make an appearance on this because, let's face it, they've transcended Eurovision stardom at this point. It's time to make way for some lesser-known, but no less legendary, acts.
Among the list below, you may find a few familiar faces – I mean, who can forget Lordi and their legendary Hard Rock Hallulujah performance? Or Conchita and her ground-breaking win in 2014? – but also some acts that I believe have flown under the radar for far too long. There really is an option in here for every Eurovision lover so sit back and turn up the volume (... or, on second thoughts, maybe don't).
Contributions from Sam Ramsden.
This article was originally published on