Queen Elizabeth & Prince Philip's Love Story Began When She Was 13
He spent seven years courting her until they married in 1947.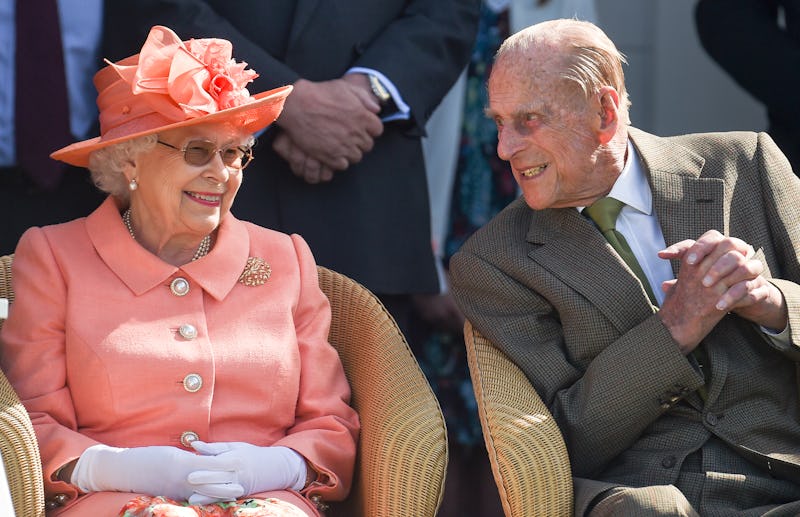 Antony Jones/Getty Images Entertainment/Getty Images
Queen Elizabeth II is a larger-than-life figure, so it's no wonder that it takes an entire Netflix series to tell her life story. Although The Crown strives to take a look at Elizabeth's full life, the series, which is planned to last six seasons of 10 episodes each, skipped Elizabeth's childhood to cover the queen's life from her wedding in 1947 to the present day. While this is certainly useful for the story, it does skip over the first 21 years of her life — years when Elizabeth met the man who would become her husband. The show may not cover it, but the story of how Prince Philip and Queen Elizabeth II met is still worth knowing, especially as she enters an eight-day mourning period following his death on April 9, 2021.
While some couples have grand, exciting stories of how they fell in love, it seems that the story of Prince Philip and Queen Elizabeth, who are cousins, started by being related and playing a game of croquet. That croquet game ended up planting a seed for a couple that would define the latter half of the 20th century (not to mention all of the 21st century so far) for England and the rest of the world.
It's widely believed that Elizabeth and Philip's relationship dates back to when she was only 13 years old. (Some reports say they were first introduced at a family wedding in 1934 when she was 8.) As Vanity Fair reports, "It wasn't until July 22, 1939, when the King and Queen took their daughters to the Royal Naval College at Dartmouth, that the 13-year-old princess spent any time with 18-year-old Philip, who was a cadet in training at the school." The Daily Mail later recovered a photo from that day, showing the two enjoying a game of croquet. Elizabeth's cousin Margaret Rhodes told Vanity Fair that after meeting Prince Phillip, Elizabeth "never looked at anyone else."
Philip spent the next seven years wooing the future queen until they married in 1947. The courtship that led to the wedding was anything but conventional, forcing Queen Elizabeth Prince Philip to keep from publicizing their relationship. As The Telegraph reports, "They tried not to be seen together and, if they were in the same party, took the precaution of not dancing with each other." Despite the barriers in place, the love between them was undeniable, and soon after Queen Elizabeth turned 21, they were married.
According to a different Telegraph article, before their marriage, Philip wrote to Elizabeth saying, "To have been spared in the war and seen victory, to have been given the chance to rest and to re-adjust myself, to have fallen in love completely and unreservedly, makes all one's personal and even the world's troubles seem small and petty." Built on a platform of love as strong as theirs, it's no wonder that their marriage has lasted until his passing in 2021. The Crown tells the fictionalized story of Queen Elizabeth II, but it also depicts the story of one of the greatest true romances of the modern era.
Image: Alex Bailey/Netflix
This article was originally published on