The Best Memes & Tweets From The 2021 Emmys
Twitter had a lot to say about that chaotic opener.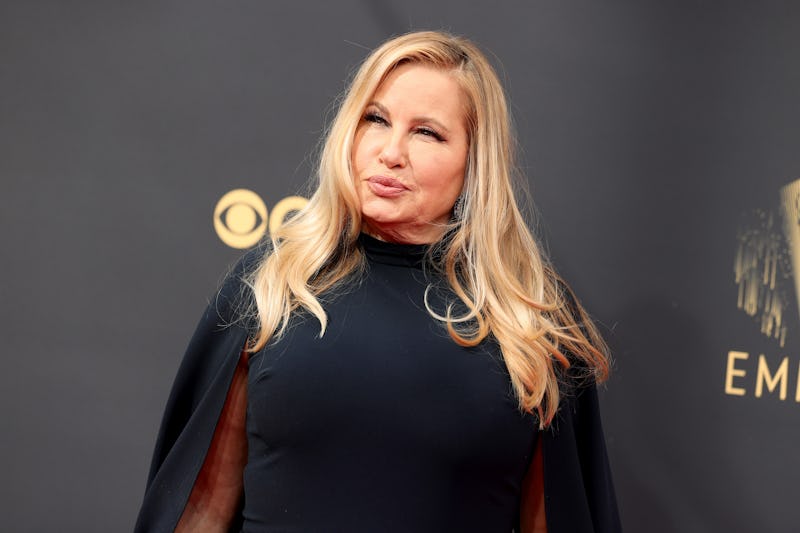 Rich Fury/Getty Images Entertainment/Getty Images
It's Emmys night! Which means the biggest stars of the small screen got their chance to be memorialized in the annals of television history — as did their outfits, reactions, and speeches, which the internet had plenty of thoughts about on Sunday.
Following last year's virtual ceremony, Hollywood reconvened in person for the 73rd annual show, airing live from what was said to be the Microsoft Theater in Los Angeles but what more realistically looked like a backyard wedding tent (as Seth Rogen was quick to note, there were a lot of people in there for a pandemic!). The night kicked off with a sweeping hip-hop musical number led by host Cedric the Entertainer. Lil Dicky, LL Cool J, and Rita Wilson each took turns serenading the audience to the tune of late rapper Biz Markie's "Just a Friend," but with a few lyrics swapped in about TV. It was an expectedly chaotic opening for a crowd that has been stuck inside for the better part of 18 months — and, as Twitter pointed out, the only natural succession to Glenn Close dancing to "Da Butt" at the 2021 Oscars.
Here are the best memes and tweets from the 2021 Emmy Awards.
The Unhinged Opening
Seth Rogen Was Worried For Everyone's Health
As one of the evening's presenters, Rogen wasted no time talking about how unimaginable it was that everyone was packed into a little room during a pandemic.
Too Many And Too Few Shows
Some viewers noticed the lack of variety among the winners this year, with wins mostly going to The Crown, Hacks, and Ted Lasso.
Justice For Kathryn Hahn
Marvel fans were rooting for Kathryn Hahn to win for her portrayal of Agatha Harkness on WandaVision, but alas, she lost the Outstanding Supporting Actress in a Limited or Anthology Series or Movie category to Mare of Easttown star Julianne Nicholson.
A Somber Night For Michael K. Williams
Following his death on Sept. 6, viewers were hoping Michael K. Williams would be recognized for his work on Lovecraft Country in addition to his decades of television work. However, that wasn't the case; Tobias Menzies won Outstanding Supporting Actor in a Drama Series for his role as Prince Philip on The Crown.
All Hail Jennifer Coolidge
Even though she only appeared as a presenter, viewers at home were rightfully delighted by Coolidge's appearance at the ceremony.
What Did Adam Driver Do?
After one of their several wins, the writing team for Last Week Tonight shouted out Adam Driver for reasons that no one seems to know.
Debbie Allen Got Her Flowers
Perhaps one of the most talented multi-hyphenates in Hollywood history, Debbie Allen received the evening's Governors Award for her exceptional career.
Frank Scott Wouldn't Get Off The Stage
Upon receiving his award for Outstanding Directing, Queen's Gambit director Frank Scott ignored several instances of wrap-up music to finish his speech.
Michaela Coel Won For I May Destroy You
Coel was deservedly rewarded with an Emmy for her writing on HBO's gripping miniseries I May Destroy You, which she created.