Glenn Close's "Da Butt" Dance At The 2021 Oscars Was Scripted & Twitter Doesn't Care
"Glenn Close and da butt won!"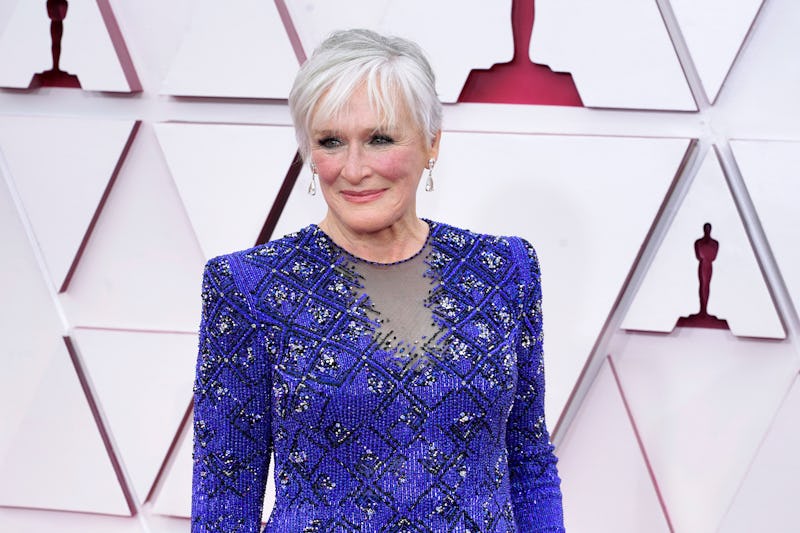 Pool/Getty Images Entertainment/Getty Images
The 2021 Oscars might be over, but the image of Glenn Close doing "Da Butt" will last forever. The Hillbilly Elegy star unexpectedly showed off her epic dance moves at the Academy Awards on Sunday, April 25, during a game of "name that song," leaving many viewers close to speechless. But if you thought for a second that the moment was spontaneous, we have some news: Per the LA Times, Close's twerk-session was totally scripted.
The hilarious moment came when actor Lil Rel Howery gave some nominees a chance to show off their knowledge of past award ceremonies by identifying songs and guessing if they were ever nominated. Andra Day, for example, correctly guessed that Prince's "Purple Rain" was not nominated for an Oscar in 1984. Then, Judas and the Black Messiah star Daniel Kaluuya incorrectly guessed that Donna Summer's "Last Dance" from 1978's Thank God It's Friday was not nominated when, in fact, it won.
Close, for her part, correctly identified Experience Unlimited's "Da Butt" from Spike Lee's 1988 movie School Daze. And although the song was never nominated for an Oscar, it clearly made an impact on the movie star. When Howery asked the 74-year-old actor if she knew the dance, Close rose out of her seat and gave viewers the show of a lifetime. "Glenn Close really did da butt dance at the Oscars on live TV and I'm still in shock," one person tweeted. "I did not have Glenn Close doing da butt on my Oscar bingo card but here we are," someone else wrote. Several other folks on Twitter were just as surprised, despite the fact that the bit was pre-planned.
Although she received so much love for twerking on live TV, Close did not receive the same recognition for her Hillbilly Elegy performance. She was nominated in the Best Supporting Actress category for her portrayal of Mamaw in the hit Netflix drama but left the star-studded event empty-handed. However, she didn't leave without breaking at least some records. Last night's loss marked the eighth time that Close has been nominated for an Academy Award but hasn't won, making her the most nominated actor to never win. She's also the only living actor to have lost eight times. It's OK — with dance moves like that, who needs an Oscar?
Close also earned Spike Lee's attention with her butt dance: