27 Moments From The Original 'Gilmore Girls' Finale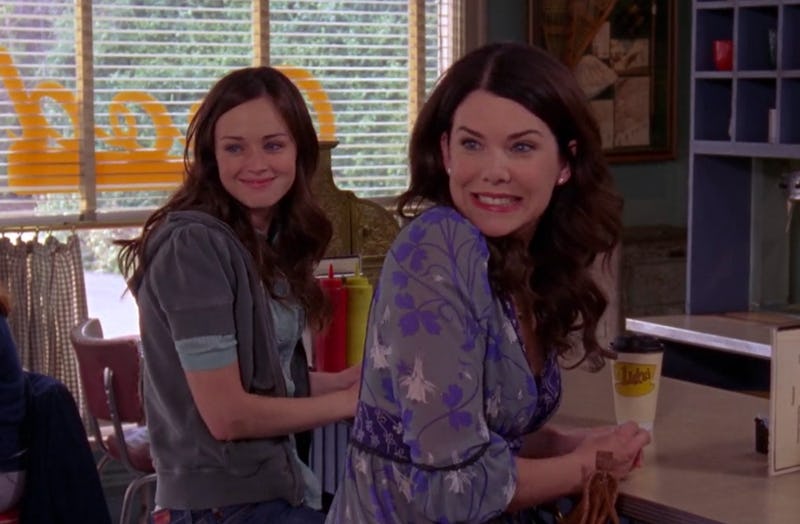 Warner Bros. Television
May 15 marks an important anniversary for fans of Gilmore Girls. Ten years ago, way back in 2007, the show finished its original run, leaving viewers wanting more. Obviously, since Netflix revived the series, fans of Stars Hollow have been able to indulge in the series once again. But, in light of new episodes, it's interesting to revisit the original series, and all of the things you forgot happened in the Gilmore Girls finale. Because the episode, "Bon Voyage," featured so many important moments.
Lorelai's role in the original Gilmore Girls finale is as crucial as ever. The episode starts with Lorelai and Rory planning a vacation to ride on rollercoasters all over America. When Rory's grandmother Emily asks why the pair intend on taking this trip, Lorelai says, "She's going to get a job, and who knows where. Y'know, she's going to move on. This might be the last time I can spend time with her like this." Little does Lorelai know that she will be reunited with Rory again, on Netflix. Still, her desire to savor the time she has left with Rory is beyond heartwarming.
Without further ado, here are just a few of the best moments in the Gilmore Girls finale that you forgot about.
1. Christiane Amanpour Makes A Guest Appearance
As Chief International Correspondent for CNN, Amanpour makes an impressive cameo on the show, and Rory fangirls like crazy.
2. Rory Meets Amanpour While Wearing Pajamas
Rory is having a PJ day in Stars Hollow. No big deal.
3. Lorelai Wears The Cutest Anchor Hoodie
Just the cutest.
4. Rory Doesn't See Logan
In a total feminist move, the finale is firmly focussed on Rory's career, and not the men in her life. She thinks about Logan, but doesn't call or see him.
5. Emily Suggests Lorelai Opens A Spa
Emily tells Lorelai, "I think you should add a spa to your inn." This is an important precursor to the Netflix revival, when Lorelai decides to expand the Dragonfly Inn.
6. The Final, Bittersweet, Friday Night Dinner
With Richard at the head of the table, this is a sad moment to revisit. But it's important to see Lorelai sitting with her parents, without Rory present, as it shows relations have improved between them.
7. The Residents Are Unhappy There's No Party
Rory's going away party gets cancelled, and the residents of Stars Hollow aren't happy about it.
8. Rory Reenacts Her Graduation At Luke's
"I am so happy to have graduated, Summa cum Luke!"
9. Lorelai Tells Everyone This Is Not Goodbye
It's almost as if she knew about the Netflix revival all along.
10. Sookie Knows Luke Is A Keeper
Melissa McCarthy doesn't play it cool in the finale. She knows that Luke is perfect.
11. This Stars Hollow Beauty Supply Bag
I want to shop there.
12. We Find Out Kirk's DJ Name
"Captain K."
13. Lorelai Is Convinced Rory Needs A Fanny Pack
A lime green fanny pack, no less.
14. Rory Is Worried About Her Writing Career
She's worried she won't be good at her job. Nine years later, in the revival, she's not great at it.
15. When The Weather Turns, They Consider Finding A Wedding Tent
Having decorated the town not unlike Luke and Lorelai's wedding in the Netflix finale.
16. Lorelai Cries
This is just too much.
17. Luke Makes His Own Tent To Protect The Party From Rain
He stays up all night. I'm swooning.
18. These Perfect Handmade Signs
I'm moving to Stars Hollow.
19. Lorelai & Rory's Perfect Party Entrance
Chic.
20. Kirk's Homemade Sash For Rory
Oh my god, no!
21. Lorelai's Parents Are Finally Proud Of Her
They realize just how great a mother she's been.
22. Emily Circles Back To That Spa Idea
It only takes Lorelai another nine years to act on this advice.
23. Taylor Makes A Disgusting Speech
Ewwwwww.
24. The Party Is On Fleek
What year is it?
25. Emily Gives Us All The Feels
Seriously, weeping.
26. Sookie Plays Cupid
Melissa McCarthy always steals the show.
27. Luke Shuts It Down
Seriously, Luke. I love you.
Season 7 of Gilmore Girls may have ended ten years ago, but it's just as perfect now as it was back then.