Amy Sherman-Palladino Defends Rory Gilmore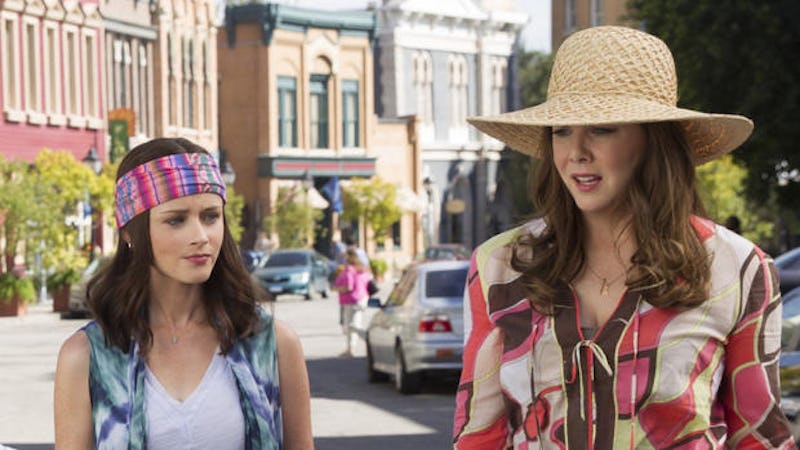 Viewers of Gilmore Girls: A Year in the Life may have been expecting closure when they watched the Netflix revival, but they got something else entirely. The final four words of Gilmore Girls have been talked about endlessly, and despite the fact that we now know what those words are, we're none the wiser about what they mean for Rory's future. Since we last saw the character in 2007, so much has changed, and in a new interview with The Hollywood Reporter, creator Amy Sherman-Palladino has defended how unlikeable Rory is in the revival. But are her responses satisfying enough?
Beware, because there are spoilers ahead. With the fairly surprising news that Rory is pregnant, and that Logan could be the father, fans were left perplexed about the new Rory. Even though the character had made several questionable choices in the original series, she was forgiven because she was a teenager at the time. Now, a woman in her 30s, fans couldn't help thinking that Rory should've evolved by now. For instance, was chasing Logan and sleeping with him, even though he had a girlfriend, really the best use of a Gilmore's time? Rory's behavior in the Gilmore Girls revival left a lot to be desired, and fans might not like Sherman-Palladino's reasons for it.
Speaking to The Hollywood Reporter, Sherman-Palladino justified Rory's treatment of boyfriend Paul, which included cheating on him with Logan. She said, "You can't go into any story-breaking process thinking, 'What if they come off as unlikeable?' You just gotta break the story because if you know who your character is, the story will tell you." While fans might not like this response from the creator, it certainly sounds as though Sherman-Palladino is dedicated to letting her characters speak for themselves. Rory's life is in a state of turmoil in Gilmore Girls: A Year in the Life, which includes not really knowing what she's doing relationship-wise. While every one of us has been a jerk, from time to time, Rory's actions didn't always feel in line with who she was, or who we assumed she'd turn in to.
Sherman-Palladino continued,
She was in denial about what her career was, in denial that her living situation was less than delightful and in denial about what her romantic life was. Some people go through times in their lives when they don't make the best choices. It doesn't mean they're bad people, it just means that's a particularly weird time that they're going through and later on, when they're old, they can sit there and go, 'Wow, I was kind of a dick for those six months.'
While I can completely empathize with the idea that Rory was going through a less than wonderful time in her life, it's more difficult to relate to a character that never seems to learn from their mistakes. When it comes to continuing a relationship with Logan, it's hard to understand why Rory would want to associate with him. Apart from the fact she really needs a place to crash when she's on business in London, Logan has very little going for him, as far as I can tell. His reluctance to break up with his fiancée to be with Rory should be reason enough for us to dismiss him entirely, so the fact that she keeps going back to him again and again makes Rory more than a little unlikeable. Especially when you bring her long-suffering boyfriend Paul into the mix.
While Sherman-Palladino doesn't think that Rory is unlikeable, hopefully the writer will take feedback from fans into consideration if new episodes of Gilmore Girls get made.