A Pretty Little Liars Reboot Is Reportedly Happening — Thanks To Riverdale
Got a secret, can you keep it?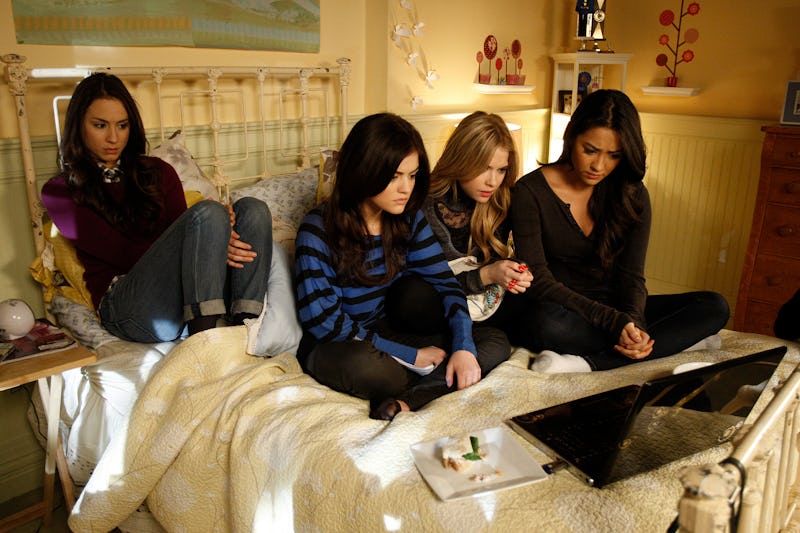 Gary Friedman/Los Angeles Times/Getty Images
Don't tell your friends, but rumor has it Pretty Little Liars might be getting a reboot soon — and it's all thanks to Riverdale. According to a new report, Riverdale showrunner Roberto Aguirre-Sacasa is developing a reboot of the popular book-turned-TV series. But, in true PLL style, the reboot comes with a twist. This new PLL reboot will reportedly focus on brand new characters, per The Hollywood Reporter. Bustle reached out to Aguirre-Sacasa for comment, but did not receive an immediate response.
Based on the initial reporting, it doesn't seem like the reboot will be connected to the world of the original series, which launched two unsuccessful spinoffs — Pretty Little Liars: Ravenswood and Pretty Little Liars: The Perfectionists — at least not where the characters are concerned. The original show aired from 2010 to 2017 and followed a group of friends, Aria, Spencer, Hanna, and Emily, as they were terrorized by a mysterious "A" figure, who knew all of their dirty little secrets.
It's unclear if any of the original stars, Sasha Piterse, Lucy Hale, Shay Mitchell, Troian Bellisario, or Ashley Benson, would return to reprise their roles as Rosewood's most talked about BFFs. While the stars have generally seemed open to the idea of returning to the show that launched their careers for a PLL reunion or spinoff, they have been pretty adamant that they want time to focus on their own projects. Before the cast reunited for a virtual Q&A session in May to raise funds for Feeding America, Hale said that she would be happy to consider a reunion — just maybe not this decade. "I feel like we'd need a little more time to pass," she told Entertainment Tonight at the time. "I feel like we would get more out of it if we were, like, 10 years down the road."
If the Pretty Little Liars reboot fails to bring back any original stars, at least the tone should be familiar. After all, PLL was, in many ways, the precursor to Riverdale, another show that started with a murder in a small town. Riverdale might have gotten a bit darker than PLL, but the basics — teenage friends who solve murders while entangled in romantic relationships — are all there. To say that Aguirre-Sacasa has experience in the this particular sub-genre of teenage television is putting it mildly. Still, it would be sad to return to Rosewood without the Liars, with or without a good murder mystery.