Abbott Elementary Fans Probably Missed This Parent Trap Easter Egg
Lisa Ann Walter paid tribute to the '90s classic.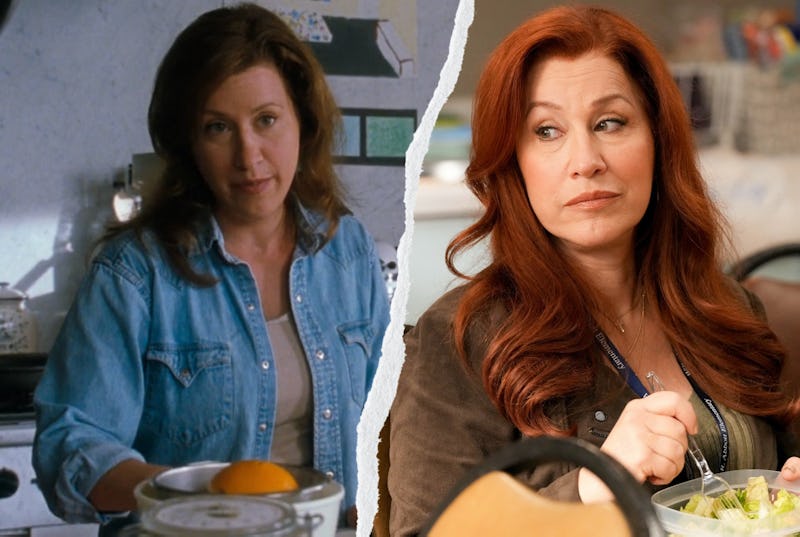 ABC/Scott Everett White & Walt Disney Pictures
As fans of Nancy Meyers' The Parent Trap will recall, the beloved character of Chessy (played by Lisa Ann Walter) remains a firm favourite among fans of the 1998 remake. Nowadays, Walter is better known as Melissa Schemmenti in the ABC comedy Abbott Elementary, and during one Season 2 episode of the Golden Globe-winning sitcom, fans may have noticed a Parent Trap Easter egg orchestrated by Walter herself.
A subtle reference to the '90s classic was featured in the Abbott Elementary episode "Principal's Office," during which Walter is shown wearing a familiar denim over-shirt that bares a striking resemblance to her Parent Trap wardrobe. Speaking to Entertainment Weekly, the actor revealed the character's choice of clothing was an intentional nod to "Chessy fans."
"I wanted to dress a little bit differently at home," Walter recalled of her time on set. "They said, 'Well, what do you want?' And I went, 'I'm in my kitchen. We're standing over food. Let me throw a little Easter egg for the Chessy fans because they're so vocal and I love them and they all dress like the character. So, let me do this.'"
However, Abbott Elementary's costume designer, Susan Michalek, was unfamiliar with the Parent Trap over-shirt. "I showed her the iconic picture of that scene — that everybody dresses as when they send me pictures of themselves dressed like the character." Walter continued: "I didn't think necessarily people were going to get it. I thought it was going to be just for me. Or a couple of people get it because they're really into it, but everybody got it and went nuts with it. It was really fun."
This isn't the first time Walter has made reference to her much-adored Parent Trap character. In 2021, the actor recreated one of the film's most iconic scenes with her co-star Elaine Hendrix (aka Meredith Blake), becoming an instant hit on TikTok.