Addison & Amelia's Grey's Anatomy Reunion Showed How Far They've Come
"Look at you, Amelia Shepherd, all grown up."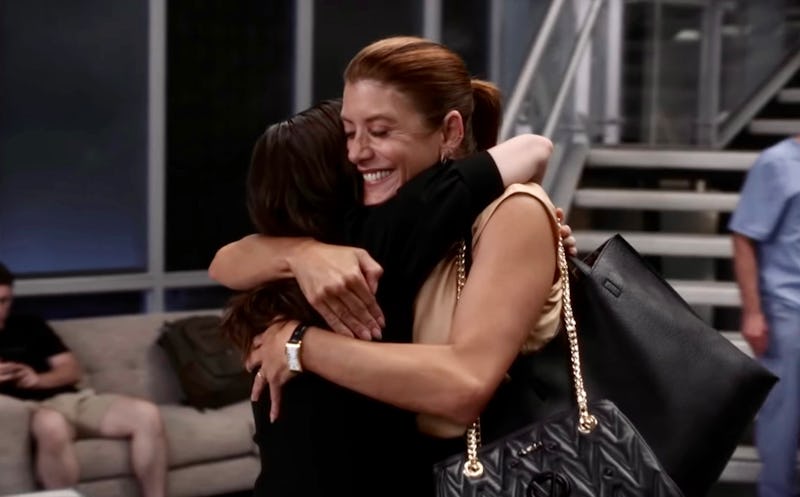 ABC/screenshot
Spoilers ahead for Grey's Anatomy Season 18, Episode 4. Addison's second episode in Grey's Anatomy Season 18 finally gave fans the Private Practice reunion they've been waiting for. The dynamic between Addison and Amelia hasn't changed, with the women bouncing between personal and professional life updates. On the other hand, neither of them are the same people they were when Private Practice concluded in 2013, leaving much ground to cover.
After the health of Addison's uterine transplant patient, Tovah, began inexplicably declining post-surgery, she enlisted Amelia's help on the neurological front. This wasn't the love fest fans saw in the previous episode, though. "Dr. Montgomery" grew increasingly impatient with "Dr. Shepherd" — as she insisted they address each other — drawing a clear line between business and pleasure.
Nonetheless, their tight sisterhood remained intact, as the they soon began opening up about their lives' ups and downs. Amelia reflected on her breakup with Link after she rejected yet another of his proposals, explaining that she felt him asking her to marry him at Maggie and Winston's wedding was "gaslighty and manipulative." True to form, Addison attempted to show her former colleague a different perspective (with a hint of sarcasm), before Amelia laid out her case for turning Link down, including that she felt the relationship jeopardized her sobriety.
Addison's vent session was a little more complicated. Yes, she's still married to Jake, and her son Henry is now a "video game-obsessed" 8-year-old. But she shared that she "lost it" during lockdown and was drinking so much red wine that she considered checking herself into rehab. She also admitted that she'd been having "dark, dark thoughts" and "daydreaming about going to sleep and never waking up." Amelia said she could relate, and later assured Addison that she was not being selfish in crediting the excitement of her groundbreaking uterine transplant as what ultimately made her "want to get out of bed in the morning."
In their final scene together, Addison revealed to Amelia that she almost left Jake two months into the first lockdown as a means of telling her to at least reconsider her relationship with Link. After explaining that she feels fine about not wanting marriage or more babies, Amelia replied, "I hated the life that he loved, and so I think that the sanest and kindest thing I could possibly do is to let him go — no matter how much it sometimes aches."
Addison's response? "Look at you, Amelia Shepherd, all grown up."
Speaking to reporters during an Oct. 18 conference call, actor Kate Walsh, who plays Addison, said it was "a total delight" to revisit her character's relationship with Caterina Scorsone's Amelia. "There's that great sort of sisterly relationship that they have," Walsh said, noting that the women's onscreen friendship "very much mirrors" the one she and Scorsone have in real life. "They needed their long overdue catch-up."
Though fans are sad that Walsh's two-episode run has now concluded, Addison could still return to the show in the future. "Right now, we're just doing a few episodes," Walsh added on the call. "Nobody knows what the future holds. I think the last year or so has been evidence of that. But for now, this is what we've got planned, to have Addison pop in, and we'll see what happens."