Grey's Anatomy Fans Have A Lot Of Mixed Feelings About The Season 17 Finale
Happiness and heartbreak abound.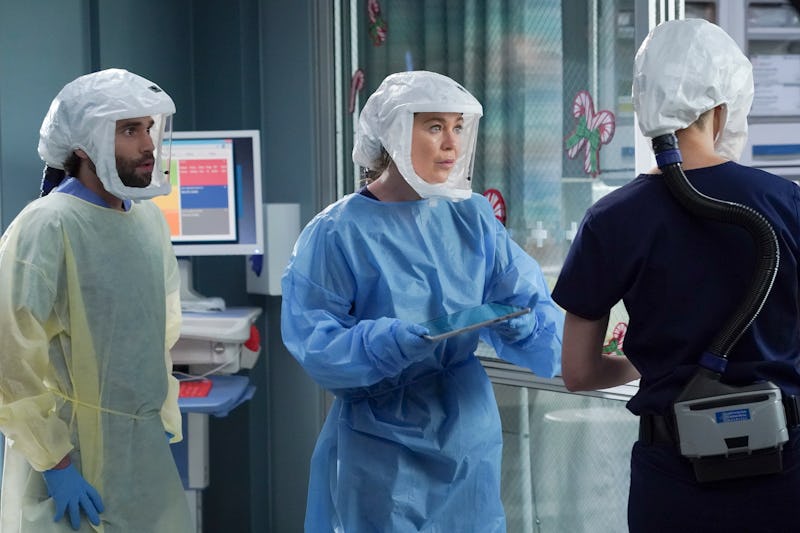 ABC/Richard Cartwright
Spoilers ahead for the Grey's Anatomy Season 17 finale. Between multiple weddings, an adoption, two proposals, and Meredith's return to the O.R., the Grey's Anatomy Season 17 finale covered a lot of ground. The June 3 episode began with Meredith scattering flower petals on a beach (but not that beach), with an onscreen graphic noting that the timeline had skipped ahead to April 2021. We didn't stay there long, however, as the action immediately jumped back eight months, leaving fans anxious to know how Meredith's beach would once again come into play.
Picking up in August 2020, Jo was still wallowing after being rejected from adopting orphaned baby Luna. But her self-pity was short-lived: the resilient surgeon jumped out of bed and decided to fight for Luna. It didn't hurt that she remembered she owns shares of Grey Sloan that she intended to sell to pay for an ace adoption lawyer. (The buyer of Jo's shares? The recently departed Tom Koracick, who made a brief FaceTime cameo much to Bailey's chagrin.)
Jo also got an assist from Link, who agreed to foster Luna (on paper, at least) in order to buy Jo time to work her magic. In the end, she was successfully approved for the adoption, allowing her to leave Alex behind once and for all — and move into Jackson's luxurious apartment (Jesse Williams also made a cameo via FaceTime). Actor Camilla Luddington, who plays Jo, was just as overjoyed as fans about her character finally getting a happy outcome. "My fav new line that Jo says in this finale is.. 'welcome home Luna' because my heart burst for her saying it," Luddington tweeted.
Meanwhile, Meredith returned to Grey Sloan — not as a patient — and took a very different approach to heading up the intern program than Richard, ultimately stealing Bailey's joy by nixing the traditional rounds and rousing speeches. After taking an interest in a COVID patient named Gerlie who'd collapsed in the Grey Sloan parking lot despite having recovered from the virus, Meredith found herself also struggling with the long-term effects of COVID. By the episode's end, however, she successfully performed a double lung transplant on Gerlie, so it's safe to say that Dr. Grey is fully back in action. (she even got a text from Cristina about performing the same procedure, though that's as close as fans got to Dr. Yang making a comeback this season.)
As for the reason Meredith was back on the beach, she put her feet on real sand for Maggie and Winton's wedding. As had already been teased, Maggie's father and Winston's Nana objected to the two getting married right now. Their reason? "This is broke," Mr. Pierce said of their backyard ceremony plans, noting that he had a savings account for his daughter's wedding. Amelia also couldn't attend because she was on call, so the couple decided to postpone the wedding until they could have a more elaborate ceremony with more than 10 guests. When the they finally tied the knot in the April 2021 scene, it was a much grander occasion — and fans even got to see how grown up Meredith and Derek's kids are now.
In other marital news, Link planned on proposing to Amelia on Christmas morning, but lo and behold, Owen stole his thunder, popping the question to Teddy in a yard filled with synthetic snow. Grey's fans were miffed both by Owen thwarting Link's romantic gesture and the fact that he and Teddy are fully back together in the first place.
Link eventually got his chance, though most fans may wish he hadn't. With the help of Zola, Bailey, and Ellis, he got down on one knee during Maggie and Winston's beach reception. However, the episode made clear that he and Amelia were not on the same page about marriage and more babies. It took little more than a look for Amelia to absolutely break Link's heart — and the rest of the Grey's fandom's along with it.
A dejected Link then went to Jo's looking for a place to crash, but Grey's otherwise ended Season 17 on a hopeful note: with the fully vaccinated Grey Sloan staff dancing it out at Maggie and Winston's wedding — and, soon afterward, happily applauding Meredith's triumphant return to surgery. Thus begins the long wait for Season 18 to premiere this fall.