Addison Rae Says It Was "Kinda Hard" Crediting TikTokers While Standing In Front Of Giant Signs On TV
She garnered backlash for not crediting dance creators on The Tonight Show.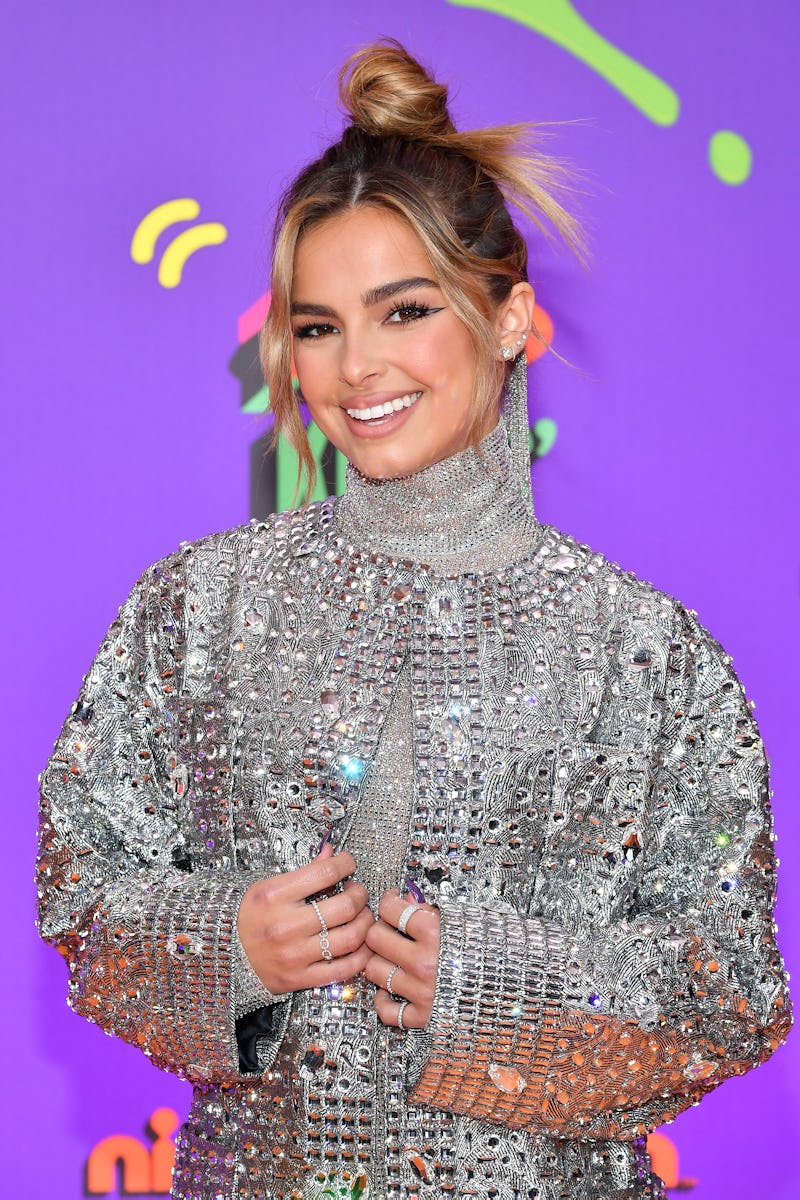 Amy Sussman/KCA2021/Getty Images Entertainment/Getty Images
Between her nearly 80 million TikTok followers, new makeup line Item Beauty, debut pop single "Obsessed," and starring role in the forthcoming She's All That remake, it's safe to say Addison Rae is having a huge year. Last week, she appeared on The Tonight Show to perform her new song, discuss her career and success with Jimmy Fallon, and teach the talk show host the steps to eight popular TikTok dances, including Megan Thee Stallion's "Savage" and The Weeknd's "Blinding Lights." After the episode aired, however, Rae and Fallon garnered backlash online for failing to credit the creators of the TikTok dances she performed, many of whom are Black. On March 29, the 20-year-old star spoke to TMZ about the controversy, noting that she didn't mean to snub the original choreographers during the segment.
"I think they were all credited in the original YouTube posting, but it's kinda hard to credit during the show," said Rae, who danced in front of giant white signs with plenty of blank space. "But they all know that I love them so much, and, I mean, I support all of them so much. And hopefully, one day, we can all meet up and dance together."
In the official YouTube clip's description, TikTok creators, including Stranger Things' Noah Schnapp (@noahschnapp), @jazlynebaybee, @flyboyfu, @kekejanjah, @yvnggprince, @macdaddyz, @thegilberttwins, and @theemyanicole, are credited for crafting the dances featured in the segment. But many viewers — including The View's Sunny Hostin — took issue with how the creators weren't credited on-air. "This is a miss @JimmyFallon. Let's give credit to the black creators," wrote Hostin on Twitter. Another user tweeted, "Addison Rae is the definition of white privilege, all of these dances are stolen from black creators on TikTok and she has given little to no credit. She's never had to work for where she is now."
While chatting with TMZ, Rae said she is discussing the backlash directly with The Tonight Show "behind the scenes," noting that the original creators "definitely deserve all the credit." She continued, "But it was so much fun. I had so much fun, and I'm very grateful and thankful. It was a great time." The multi-hyphenate also said she "for sure" plans to collaborate with the original dance creators and added, "Ever since the beginning, I've been talking to most of them and definitely want to collab with a lot of them."
This isn't the first time white TikTokers have been accused of using Black creators' work without crediting them. When the "Savage" dance first went viral, many popular users, including Charli D'Amelio, performed it without crediting Atlanta teen Jalaiah Harmon, who originated the choreography. "I was happy when I saw my dance all over, but I wanted credit for it," Harmon told The New York Times in 2020. "I think I could have gotten money for it, promos for it. I could have gotten famous off it, get noticed." Eventually, D'Amelio and Rae joined Harmon to perform the dance together and posted it online.