Alicia Silverstone Recreated An Iconic Clueless Moment For TikTok
The actor nailed her first post.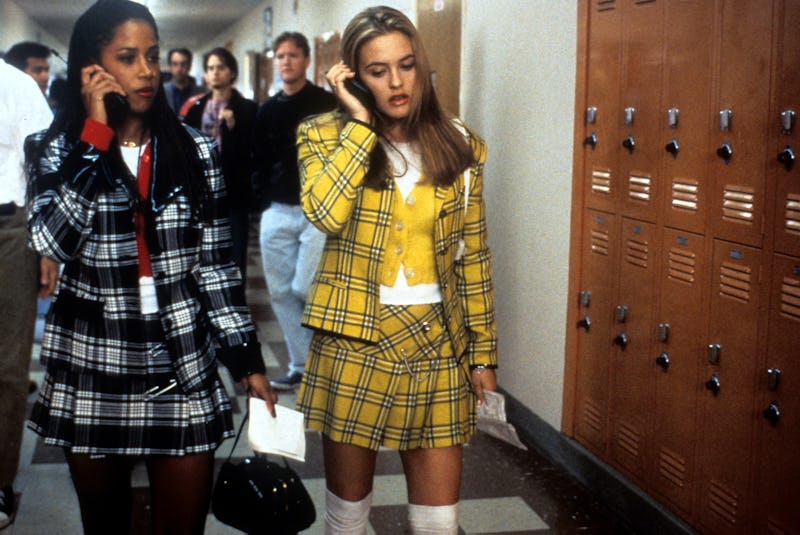 Archive Photos/Moviepix/Getty Images
Cher Horowitz may pre-date TikTok, but now that Alicia Silverstone is on the social media platform, she's already using it to celebrate her beloved Clueless character. For her first post, the actor recreated one of the most iconic scenes from the classic 1995 comedy — the "Ugh! As if!" moment. To bring it back in its full glory, she had help from her 10-year-old son, Bear, and, of course, a yellow plaid blazer.
The original Clueless scene comes early in the movie, as Cher explains via voiceover the problems with high school boys. "They're dogs," she says. "You have to clean them and feed them, and they're just, like, these nervous creatures that jump and slobber all over you." Immediately thereafter, a guy tries to throw an arm around her, prompting Cher to push him off her and exclaim, "Ew! Get off of me!" Then she famously adds, "Ugh! As if!"
In Silverstone's 2021 version of the scene, No Doubt's "Just a Girl" — one of the many bangers on the Clueless soundtrack — plays as she struts along outside. Again, a guy pops up and gets shoved away, but this time it's Bear. Silverstone delivers her iconic lines, complete with her best Cher facial expressions, but then she quickly switches back into mom mode to give Bear a big hug. "Ugh! As if... I wouldn't join TikTok," she captioned the post.
Bear's willingness to recreate Clueless scenes with his mom might stem from the fact that he's a fan of the movie. She told Entertainment Tonight in 2020 that she took him to a screening in a cemetery and he later floated some ideas for a sequel. His thought was that an adult Cher "drinks a lot and maybe she's a makeup artist," according to Silverstone.
The Bad Therapy star, on the other hand, has been less convinced that there should be a sequel. "I think what's really hard about Clueless to re-do it is that Cher learns how to become a whole human," she told ET. "Where do you pick her up? Do you pick her up from the evolved self or do you pick up from she's relapsed and now she's back to her old ways?"
Whether or not a true sequel ever comes to pass, there has been enthusiasm behind some form of a Clueless revival. In August 2020, Deadline reported that Peacock was developing a spinoff centered on Dionne, Cher's best friend portrayed by Stacey Dash. Will & Grace writers Jordan Reddout and Gus Hickey were involved, and they were said to be taking a darker approach. Before the project landed at Peacock, Deadline reported it was described as "Mean Girls meets Riverdale meets a Lizzo video."
Clueless already has a place in movie history regardless, and thanks to Silverstone's new TikTok, fans and followers might get more videos that pay tribute to it — hopefully not sporadically.